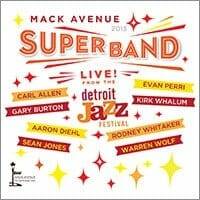 Mack Avenue Superband
Live From The Detroit Jazz Festival 2013
Mack Avenue Records
The Mack Avenue Superband is an ensemble of jazz artists from the Mack Avenue roster. Each of these participants is a seasoned leader in their own right. This album documents a live concert at Detroit's Hart Plaza.
Virbraphonist Warren Wolf composed "Soul Sister", a mid tempo piece that kicks off this exciting set. He sets up his label mates as they each take their respective solos. Kirk Whalum, wails on tenor sax, then Sean Jones solos on trumpet; Evan Perri cuts it up on guitar, and finally it's Aaron Diehl on piano.
Sean Jones takes a flugelhorn solo on his never before recorded composition "Of Mars and Venus"; Whalum follows this time on flute. Jones has seven albums of his own on Mack Avenue Records.
Jones, Wolf and Whalum "raise a joyful noise" on a stirring rendition of "Speak to My Heart" composed by Donnie McClurkin.
Pianist Aaron Diehl plays "Blue Nude", "which opens with a mysterious, sensuous section that resolves into a minor blues theme". He is accompanied by Wolf's vibes.
Gary Burton, the greatest mallet player I know, and trumpeter Jones explore "Chick's Tune" an early Chick Corea opus. Then Burton follows with Corea's "Senor Mouse" as arranged by Wolf. The New Gary Burton Quartet have two albums with Mack Avenue.
"Troublant Bolero" is a Django Reinhardt piece which features Diehl's piano and Perri on guitar. Perri is also guitarist for The Hot Club of Detroit, who have recorded four albums for Mack Avenue.
Drummer Carl Allen's soul jazz piece "Relativity" is explored. Whalum's sax, Jones trumpet, and Wolf's vibes are highlighted.
Whalum's classic soul tenor is featured on "I Want Jesus to Walk with Me".
The concert closes with Dizzy Gillespie's "bebop era anthem", "Two Bass Hit" with Burton on the vibes.
Bassist Rodney Whitaker is the musical director for the band. This is 76 minutes of great Jazz.
Richard Ludmerer