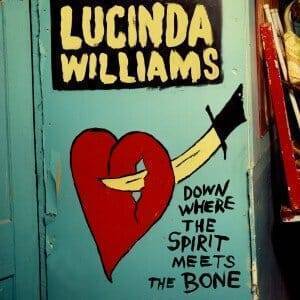 Lucinda Williams
Down Where The Spirit Meets The Bone
Highway 20 Records
Lake Charles, La. native Lucinda Williams recorded her first album in 1978, but it wasn't until ten years later that she began to be noticed. In 1988 she released her self titled album "Lucinda Williams" containing her song "Passionate Kisses". In 1992 that song was covered by Mary Chapin Carpenter and in 1994 it won her a Grammy for "Country Song of The Year".
In 1998 Williams released "Car Wheels on a Gravel Road", which became her breakthrough into mainstream music. It won her another Grammy as "Best Contemporary Folk Album". Williams began to tour nationally. In 2002 Williams was named "America's Best Songwriter" by Time Magazine. Her last album was 2011's "Blessed".
This new double album is Williams' twelfth overall. Still present is her "trademark melancholy and southern Gothic starkness". The album is being hailed as country soul but is also receiving airplay on blues music radio stations across the country. Williams sings on all tracks but only plays acoustic guitar on two of them. The swampy sounding band includes: Greg Leisz, electric guitar; Davey Faragher, bass; and Pete Thomas, drums. Additional musicians include guitarists Val McCallum, Jonathan Wilson, and Doug Pettibone; bassists Sebastian Steinberg, Bob Glaub, and David Sutton; and keyboardist Patrick Warren.
The album open with a poem titled "Compassion" written by Lucinda's father Miller Williams. It was set to music by Lucinda and is performed solo with just her guitar. It contains the lyric which became the album's title "Down Where The Spirit Meets The Bone".
Then the album begins to rock. "Protection" has the band getting into an infectious groove. Lucinda's raw voice is perfect as she sings "I need protection from the enemy of love".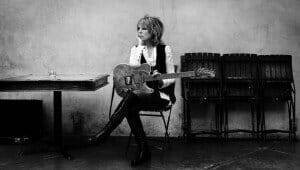 Williams can take on a social issue and write a topical song. On "East Side of Town" she sings "I hear you talk about your millions and your politics…you wanna see what it means to suffer, you wanna see what it means to be down, then why don't you come over to the east side of town". Ian "Mac" McLagan sits in on the Wurlitzer organ.
She can get more specific. On "West Memphis" she sings "somebody planted the evidence, and he's been lying ever since, but that's the way we do things in West Memphis". Tony Joe White guests on electric guitar and harmonica.
"Foolishness" reads "What I do in my own time, is none of your business and all of mine…but I know the truth even if you don't…none of you liars in my life, none of your pie in the sky…I ain't gonna follow you anywhere, none of your pie in the sky". McLagan is on piano.
"Wrong Number" is a beautiful melody with haunting lyrics, "nobody here by that name".
"Stand Right By Each Other" contains the refrain "We gotta stand right by each other, Gotta try harder baby, I gotta stand right by you, and you gotta stand right by me".
"It's Gonna Rain" features Bill Frisell with his evocative electric guitar and the harmony vocal of Jacob Dylan. "I'm so tired of these overcast skies, I'm so tired of the looks in people's eyes, I can't wait 'til I can go away, and it's gonna rain again today".
"Something Wicked This Way Comes" is absolutely fabulous. For some reason I imagine this sung as a Koko Taylor type blues "something wicked this way comes, the likes of which you've never known, hellfire and brimstone, something wicked this way comes".
"When I Look at The World" is another beautiful melody "I've been rejected and had my patience tried, but then I look at the world and all its glory, I look at the world and it's a different story, each time I look at the world".
"Walk On", "life is full of heartbreak, but it's never more than you can take…So walk on, Come on girl, Walk on".
"Stowaway in Your Heart", "thank you for giving me a place to keep my love".
Twenty great songs, and each time I listen, I find another favorite. Williams decides however to end this two cd set with "Magnolia" by JJ Cale.
This may very well be the best we've ever heard from Williams. Better get one.
Richard Ludmerer