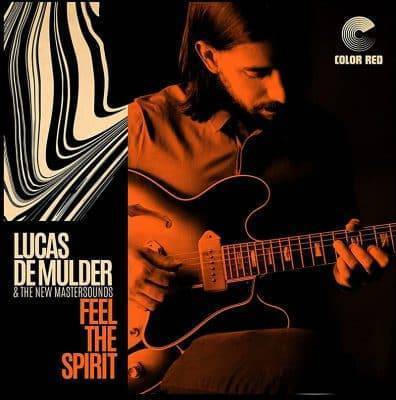 Lucas De Mulder & The New Mastersounds
Feel the Spirit
The Drawbars – One Finger Only
Color Red
We made you aware of the funky, mostly organ-oriented music coming out of the label Color Red with our review of the Tim Carman Trio in late February. There's plenty more where that came from, most recently Madrid-based guitarist Lucas de Mulder will unveil his debut album Feel the Spirit produced by Eddie Roberts of The New Mastersounds. With an obvious nod to Grant Green in its title and backed by drummer Simon Allen and organist Joe Tatton of The New Mastersounds, the full-length record finds De Mulder as the new emerging force in funk and boogaloo music which is enjoying a renaissance of sorts as evidenced by the guests on the record recruited by Roberts. – Nate Edgar of The Nth Power (electric bass), Chris Spies of Honey Island Swamp Band (organ), Jeremy Salken of Big Gigantic (drums), Gabriel Mervine of the Motet (trumpet), and Alejandro Castano of The Gratitude Quintet (drums). The Nth Power were at Newport Jazz in 2022 and Big Gigantic is slated for 2023, attesting to the popularity of the funk/jam band sound with the organ trio as the catalyst.
The obvious question is how a guitarist from Madrid hooks up with Roberts and assembled guests. The story goes like this. Roberts' all-star soul project Matador! Soul Sounds was touring Spain and he and De Mulder at one point found themselves in a jam session, struck by the affinity each had for Grant Green's music. A few weeks later De Mulder sent Roberts a demo tape and was then invited to Denver to record at Color Red Studios.
The robust and spirited "Ginger Beat," the album's first single, is also the opening track. The upbeat tune reflects the zest of tasting ginger for the first time. The relentless beat of "Comes Out at Night" simulates a night driving scene in a movie where the driver is unfamiliar with scenery in a new city and is observing carefully. De Mulder is mostly riffing and comping to Tatton's organ before delivering a crisp solo of his own, but the groove is consistently infectious. Trumpeter Mervine adds punch to the funky "Several Times" as Castano gets behind the kit while staccato rhythms of "Go Ahead" and "Hot Barrio" continue the classic organ trio sound with Chris Spies on the B3.
Tatton, Castano, and De Mulder, coaxing pure notes from his Gibson ES 330, stretch out on "Keep Walking," the longest track at seven and a half minutes as the relentless grooves show no signs of abatement through a simmering section features Castano's crisp snare and cymbal work. (Note: this track is on the CD only, not the LP). De Mulder's title track has those tailor-made Booker T. & the MGs grooves for radio single while "Fruit Salad" pushes the dynamics into some heavy chords as Tatton takes a spirited flight on the B3, which De Mulder answers with rapid runs of his own. "Warm Nights" introduces hints of reggae and "Say Goodbye" with Roberts, Salken, and Edgar joining nods to the influence of Grant Green's Live at Club Mozambique (the preeminent example of Green's funk style by the way) and The New Mastersounds' Live in San Francisco. All the preceding are De Mulder originals, yet he chooses to close with a cover of the Childish Gambino hit, "Redbone," giving it a suitably jazzy and, of course, funky turn with some of his most impressive guitar work on the project. The CD version also has another track, the lightly simmering "Underground Dance."
The Drawbars
To further emphasize the fact that we are in a renaissance of sorts with organ-based trios, Color Red has tapped into a trio from Germany, The Drawbars. One Finger Only was recorded at Yeah! Yeah! Yeah! Studios in Hamburg. The album has similar elements of jazz and funk inherent in the classic organ trio but leans a bit toward psychedelia as well (i.e. "Let's Do It Again," Skyline"). Band leader bassist David Nesselhauf formed the trio in 2018, hand picking his mates from numerous jam sessions around his city. Keyboardist Chris Haertel plays a number of vintage organs, pianos, and Wurlitzers, while drummer Julian Gutjahr keeps it all moving. They've labeled their sound as "off jazz" a bit more contemporary, jam band styled, and less associated with the classic sound of Grant Green for example but still emblematic of the danceable organ trio sound. It would behoove you to check them out as well.
Help Support Making a Scene
Your Support helps us pay for our server and allows us to continue to bring you the best coverage for the Indie Artists and the fans that Love them!
Make a one-time donation
Make a monthly donation
Make a yearly donation
Choose an amount
Or enter a custom amount
$
---
Your contribution is appreciated.
Your contribution is appreciated.
Your contribution is appreciated.
Donate
Donate monthly
Donate yearly
Subscribe to Our Newsletter