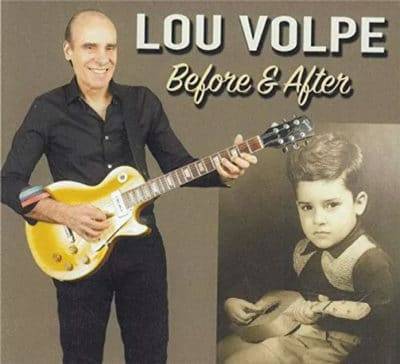 Lou Volpe
Before & After
Jazz Guitar
Let's acknowledge that moat of the artists you read about on these pages are blues musicians. Even though the record label above and perhaps some of guitarist Lou Volpe's previous work my steer toward jazz, this writer finds plenty of blues in Volpe's style. Think back to Larry Carlton of the Jazz Crusaders or the '70s when George Benson recorded for CTI. Volpe plays in that similar, highly lyrical R&B/blues/jazz style. His solos are not only accessible, they are oft unpredictable too. He doesn't try to dazzle, it's more about the groove but his feel is deeply grounded in the blues.
If you've heard Volpe before it's likely been accompanying a vocalist. His last album, Remembering Ol' Blue Eyes, after all, paid tribute to Sinatra. He's toured with Bette Midler, Judy Collins and Herbie Mann as well as Chet Baker, the Manhattan Transfer, David "Fathead" Newman, Joey DeFrancesco, Les McCann, Bo Diddley, Roberta Flack, and Phoebe Snow, amongst several more. He also performed with Herbie Hancock at Lincoln Center. Suffice to say he's versatile across melodic jazz, danceable R&B, and Adult Contemporary.
Yet, aside from that esteemed company, this may well be his "coming out party," a chance to stretch out on 11 of his originals and reinvent two standards along the way. It appears these were culled from a few sessions as Volpe is accompanied by three different bassists (Stanley Banks, Pete Falbo, and Motoki Mihara), three percussionists (Gary Fritz, John Romagnoli or Richie Morales) and one consistent drummer, Buddy Williams.
Some of the highlights include the Pat Metheny-styled opener, "Up the Road," the danceable "Three Rivers," the joyful strut of "Coming Your Way," the infectious groove of "A to Z" and the inventive "Travel Light" where he uses harmonics as well as single notes. He takes both standards, "Stella by Starlight" and "Summertime," played back to back in the middle of the sequence, into brand new territory and moves slightly out of his comfort zone with the Brazilian grove of "Perseguidor De Suenos (Dream Chaser)." "Solar Dance" is emblematic of its title, a highly melodic, danceable tune. "Double Summer" sets an appropriately lazy mood and the lush closing title track leaves the listener wanting even more. Throughout, Volpe both sets grooves and floats above the rhythmic patterns of his bandmates, exhibiting a real flair for melodic lines and superior tone.
So, this is one that should appeal not only to jazz guitar fans, but blues and soul listeners alike.