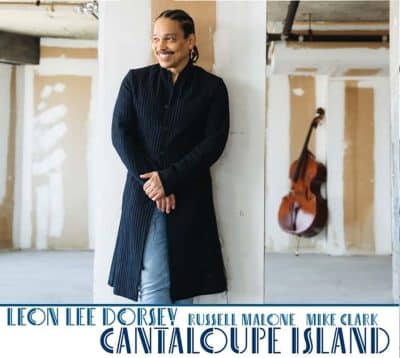 Leon Lee Dorsey w/ Mike Clark and Russell Malone
Cantaloupe Island
Jazz Avenue 1
The bass-drum team of Leon Lee Dorsey and Mike Clark are on a certifiable roll. This writer has reviewed three of their efforts, all with pianists – Manuel Valera, the late Harold Mabern, and most recently Mike LeDonne. The duo now turns to the esteemed guitarist Russell Malone for this trio outing, their sixth, entitled Canteloupe Island. Their previous albums have brought so much rollicking excitement and a real feel for not only Latin and hard bop, but deep colorings of the blues, especially with LeDonne and Blues on Top, that there was just a hint of trepidation for this one, thinking it may be much quieter. That notion is dispelled immediately with the opening title track, a funked-up version of Herbie Hancock's tune from his 1964 Empyrean Isles. Part of that is due to the Headhunters drumming approach Clark takes to his kit (yes, he was a integral member of Hancock's breakthrough Headhunters band in the '70s) but much of it has to do with Malone. The track sets the tone for the record, which draws heavily from the classic Blue Note period with tunes from Horace Silver, as well as from guitar greats Kenny Burrell and Wes Montgomery. There is also a tune from Prince along with two standards.
Malone, as many of you likely know, has been one of the premiere jazz guitarists of the past two decades, a vital member of Ron Carter's Golden Striker Trio (with pianist Donald Vega) as you've seen him prominently featured on the recent PBS documentary, "Ron Carter: Finding the Right Notes." Known as a terrific improviser, Malone points to Wes Montgomery and George Benson as his two major influences. He has the ability to establish killer riffs like the best rhythm guitarists, produce rich chords, and to pick notes in the soul-blues style of Grant Green. He gives this trio all the melodic and harmonic colorings they need, and more whether as its lead voice or as an accompanist. All these roles and techniques are in evidence on the jaunty Horace Silver waltz "Barbara" from (from Blue Note's 1975's Silver 'n Brass) but his gentle strumming behind Dorsey's melodic bass solo is especially noteworthy. Not to be remiss, Clark's work on the cymbals stands out here too. Malone's bluesy soulful side comes to the fore on Silver's "Sister Sadie" (from Blue Note's 1959 Blowin' the Blues Away).
"Bumpin' on Sunset," is the first of two Wes Montgomery tunes, both from 1966'sTequila. Malone delivers a soul-groove, emulating Montgomery; signature smooth octave work that was first introduced on this Latin-tinged album. Montgomery's "The Thumb," an oft-covered tune, closes. Clark engages in some interactive playing here with Malone akin to a call-and-response of sorts, riding the hi cymbal and skittering on his snares while Pittsburgh native Dorsey walking line echoes another legendary Pittsburgher bassist, Ray Brown. Clark takes it down to a whisper behind Dorsey's liquid bass solo before Malone returns to exchange vigorous eights with the drummer.
Of particular interest is the rather surprising cover of Prince's "Thieves in the Temple" (from his 1990 soundtrack album to the film Graffiti Bridge) with Clark going fat on the funky backbeat while Malone carries Prince's vocals on his guitar. Again those salient characteristics of Malone's playing are evident to double-timed comping and rich chord melodies, to blues-like string bending and punctuating single notes on this pop tune (which was also covered by Herbie Hancock on his 1996 album, The New Standard). The trio is really cooking at the three-and-half minute mark.
The other three tracks reveal the lush, tender side of the trio, featuring brush work from Clark, melodic bass work from Dorsey and the melodic lyrical side of Malone's playing on the Ray Noble ballad "The Very Thought of You," the waltzing standard "That's All," and Kenny Burrell's ballad "Listen to the Dawn" sequenced to give a change of pace, although arguably the energy level sags somewhat in the second half of the album.
Rest assured, the duo of Dorsey and Clark sustain their winning streak and Malone, no stranger to a trio configuration, plays every bit like the MVP he is.
– Jim Hynes
Help Support Making a Scene
Your Support helps us pay for our server and allows us to continue to bring you the best coverage for the Indie Artists and the fans that Love them!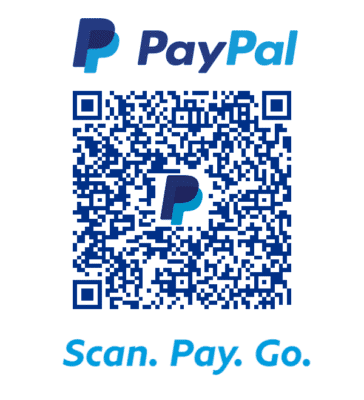 FOLLOW US ON INSTAGRAM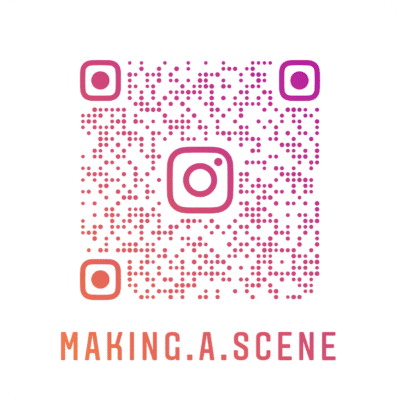 Subscribe to Our Newsletter