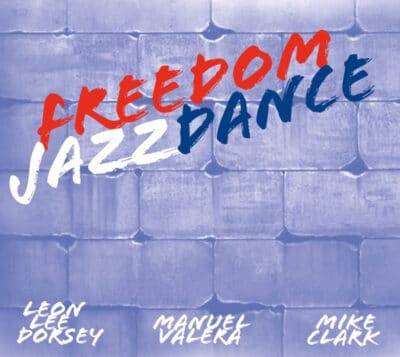 Leon Lee Dorsey
Freedom Jazz Dance
Jazz Avenue 1
Bassist Leon Lee Dorsey and legendary drummer Mike Clark are a tandem that just keeps on chugging, raising curiosity as to who will be the third member to join them on their next outing. Freedom Jazz Dance marks their fourth collaboration, having begun with 2019's Monk Time (with guitarist Greg Skaff, 2020's Play Sgt. Pepper (with pianist Michael Wolff) and this year's Thank You Mr. Mabern (featuring the late great pianist Harold Mabern), they now team with Cuban-born pianist Manuel Valera. This set is dedicated to the late Puerto Rican-born piano master Hilton Ruiz, with whom Dorsey played in his waning years. Valera was originally a saxophonist but switched to piano full-time upon moving to NYC in 2000. He has since issued 13 albums as a leader and, like Gonzalo Rubalcaba, is equally comfortable in the Cuban stylings of son and danzón as he is in bebop and hard bop.
They open with the Eddie Harris penned title track with Valera playing exploratively, switching between hard bop and Cuban comping, propelled by Clark's loose, nimble touch, especially on snare as Dorsey holds down the funky bottom before he solos, transitioning to a quieter, but no less rhythmic Clark. Dorsey's "Baptism" follows in more lyrical fashion with Clark staying busy on the kit before the trio first honors Ruiz in "Home Cookin'," moving it away from a deep Latin feel into one tinged with a Horace Silver-like soul jazz infused with strains of Wes Montgomery's "Road Song" on the theme with plenty of Valera improvisation in his solo mid piece.
By now it's time to settle things down as they do with the Dorsey composed ballad "Until the End Of Time" featuring Valera in gentle, glissando mode while Clark proves he's not only a powerhouse but one who can deftly paint with brushes too. They segue into a rousing, swinging version of the standard "Autumn Leaves," giving it an Afro-Cuban sheen and shifting midway from 12/8 to a Bud Powell-like 4/4 where the trio swings hard before returning to the looser 12/8 meter. Dorsey's bass introduces Jobim's classic "How Insensitive" which evolves into a sultry bossa nova groove a little over a minute in, the tune marked by Dorsey's highly lyrical plucking. Intensity returns in the up tempo "New Arrival," another Ruiz composition which appeared on the pianist's 2005 Steppin' with T.P. (with Dorsey) and his 1991 Piano Man with Buster Williams and Billy Higgins. Again, we hear the Bud Powell influence in Valera's solo.
The trio closes with Dorsey's Chillin' featuring an extended, explorative, sometimes quoting Monk's "Epistrophy" excursion for Valera while Dorsey and Clark lay relatively low, excepting Dorsey's old school walking bass solo. As with their previous recordings, Dorsey and Clark provide tight interplay and inventive soloing while brightly showcasing Valera's piano talents.