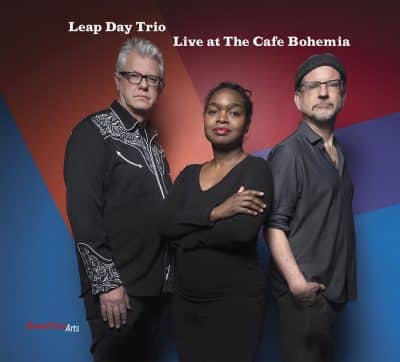 Leap Day Trio
Live at the Café Bohemia
Giant Steps Arts
The Leap Day Trio (Matt Wilson, Jeff Lederer, and Mimi Jones) christen the reopening of Greenwich Village's famed Café Bohemia sixty years later. What a story! The club originally opened in 1955, when Charlie Parker offered to play the room for free drinks. The club barely survived two Leap Days before closing in 1960 without Bird ever having played there. Yet, during its brief 5-year-run the club hosted these recordings – Kenny Dorham's 'Round About Midnight at the Café Bohemia and two volumes by Art Blakey's Jazz Messengers, both on Blue Note; Randy Weston's Jazz à la Bohemia for Riverside; a pair of Charles Mingus albums featuring Max Roach. Cannonball Adderley was discovered at the Bohemia when he sat in with Oscar Pettiford, who penned "Bohemia After Dark" in tribute to the club. Herbie Nichols was the house pianist, and the club was the testing ground for the Prestige recordings of the Miles Davis Quintet. Marvin Koner's famous cover image for Davis's 'Round About Midnight was snapped at the Bohemia, its red tint coming not a filter but from a red fluorescent light above the bandstand. The club reopened in 2019 in its original Greenwich Village space, now the basement of the Barrow Street Ale House.
This live recording features drummer Wilson, saxophonist Lederer and bassist Jones giving the club a celebratory rebirth while trying hard not to feel the weight of its storied history. These sessions took place (when else?) on Leap Day and Leap Day Eve 2020, just four months after the Bohemia reopened – and barely before live music experiences were shut down for several forthcoming months. Wilson and Lederer have long history together in each other's bands, but Jones is the new addition, hence the Leap Day Trio. Photographer/engineer Jimmy Katz proposed a recording date at the venue, which is not a large space, making the trio a logical configuration. All three brought music to the sessions but chose to keep them labeled (or really unlabeled) as collective pieces. The idea was to be new but to respect tradition at the same time. "I was trying not to feel the weight of history," Lederer says. "I thought I was cool with it, but then we walked in on Friday night and the first face I see at the table is Joe Lovano. Joe is a friend, but at the same time he's still a hero. It felt like such an event, all tied with the history of the place." Over the course of both nights, Judy Silvano, Allison Miller, Mary LaRose, and Chris Parker also attended.
So, yes this is essentially an acoustic, chordless saxophone trio with Lederer exclusively playing tenor. They begin with "Dewey Spirit," a nod to Wilson' mentor, Dewey Redman. Introduced by Wilson's crashing cymbals, Lederer enters in his off kilter, screeching Albert Ayler style, letting us know that we are in for a set of boundaryless improvisation. The trio only rehearsed twice before the gig but felt comfortable enough to let it all flow freely. One feels the energy of the trio and the room instantly, complete with exhortations from the audience when Lederer reaches certain notes and/or Wilson finds magic on his kit as he often did. Lederer is especially expressive on his horn, often sounding like a vocalist or spoken word artist the way he annunciates certain phrases and notes. While "The Dream Weaver" plays with a similar spirituality of Charles Lloyd's tune of nearly the same name, it is indeed different and proves to be a stellar feature for bassist Jones. "Gospel Flowers" previously appeared on a date that Lederer recorded with drummer Jeff Cosgrove and organist John Medeski. The nine tracks run a little past an hour with each mostly in the six-eight minute range, allowing for ample collective playing and solos from each in every track. Strap yourself in, there is nothing remotely straight-ahead or mainstream in the offing; this is pure adventure.
Expect more recordings both from Leap Day Trio and from the Café Bohemia. This is certainly a fortuitous beginning.
Help Support Making a Scene
Your Support helps us pay for our server and allows us to continue to bring you the best coverage for the Indie Artists and the fans that Love them!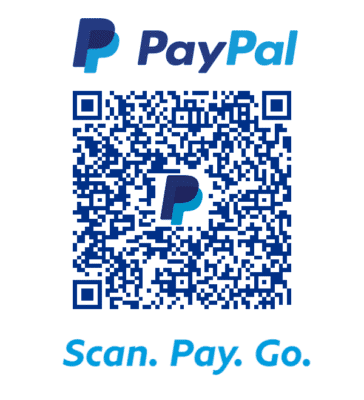 FOLLOW US ON INSTAGRAM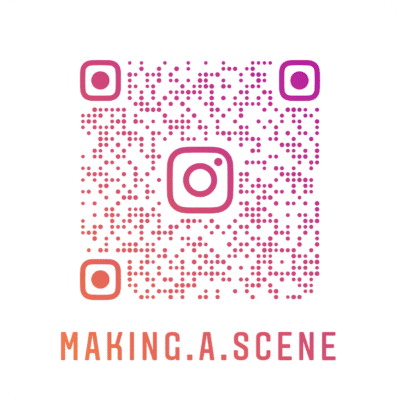 Subscribe to Our Newsletter