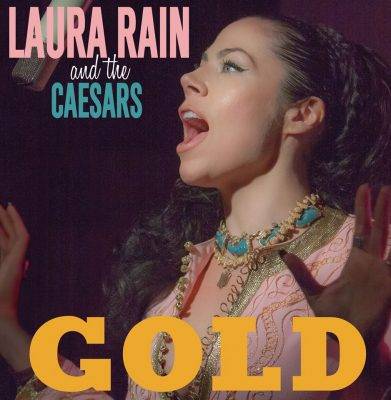 Laura Rain & The Caesars
Gold
LRC Records
Laura Rain grew up in the Detroit suburbs. Her mother loved Funk and took Laura to see live music as often as possible. Her dad loved Opera. Rain started listening to Aretha Franklin when she was fifteen. Rain got started in the Detroit blues scene as a featured vocalist with Howard Glazer. She attended The University of California in Los Angeles. She is also a classically trained Verdi soprano and can sing opera.
After returning to Detroit she met guitarist George Friend. Friend who has also played with Janiva Magness and Robert Gordon has an album of his own, 2004's "Looka Here", on the Bluesleaf label. Friend is Rain's guitarist and in 2012 he produced their first album, Laura Rain and The Caesars "Electrified". The sound of the Caesars is inspired by the R&B of the mid sixties. Influences such as Johnny "Guitar" Watson, Sly and The Family Stone, Otis Redding, Johnny Taylor, The Ohio Untouchables, Betty LaVette, and Parliament-Funkadelic can be heard in Rain's music. Their follow-up recording was 2014's "Closer".
This newest album "Gold" was released in October 2015. All of the songs are written by the team of Rain and Friend. The artwork features Rain in a skin tight gold lame jumpsuit reminding us of the James Bond movie "Goldfinger" circa 1965. The Caesars consist of Rain, vocals; Friend, guitar; Darryl Pierce, Scott Veenstra, or Leonard King, drums; James Simonson or Gwenyth Hayes, bass; Duncan McMillan, keyboards; Rick Beamon, percussion; and the horn section of Johnny Evans, tenor sax; Mark Kieme, baritone sax; and John Douglas, trumpet.
The full band with horns is heard on the opener "Work So Hard, hard hard". Rains strong vocal is augmented by Friend's fabulous production. The full band is heard again on the title track "Gold" which has a classic Motown sound and on "Better Than Me".
"Cherry Pickin" is Rain at her most sensual. It's a perfect tune for airplay with Veenstra on his tom toms and a great baritone sax solo by Kieme. "Ring on The Table" is a story song with a narrative by Rain. Evans on sax and Douglas on trumpet are featured. "Pay to Play" exploits a dance beat and features a nice guitar solo from Friend.
The band becomes a four piece on "Hard Times"; on the dramatic "Lonely Girl" and on "Raise Your Hand" which features Friend setting up the rhythm on his guitar before voyaging on an oceanic solo. The closer "Ready to Love" is another sensual vocal from Rain.
Rain is taking risks as she is modern soul at its best. There is a lot of mileage left on this recording so be sure to give it a spin.
Richard Ludmerer