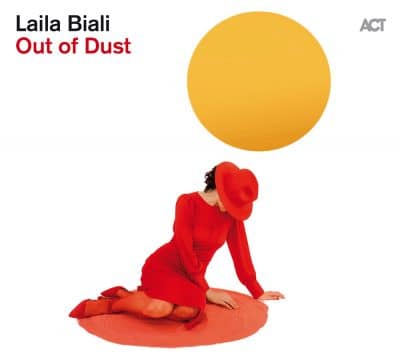 Laila Biali
Out of Dust
Self-released (in U.S.) labels elsewhere
We are reminded constantly that some of the best music comes from across our northern border. Just this week we heard again from Canadian genre-defying Basia Bulat, a three-time Polaris Music Prize finalist and three-time Juno Award nominee, who released Are You in Love? This Friday we have a roots/jazz debut from Western Canada's talented singer-songwriter Maya Rae. And, yes, we're here to tell you about the most decorated of the three, the multi award-winning Canadian singer-songwriter, pianist and CBC Music national radio host Laila Biali, who is releasing her eighth album, Out of Dust. And, like her 'sisters,' she is genre defying too, ostensibly jazz but with flairs of pop and R&B too.
Biali has headlined festivals and venues spanning five continents from New York City's Carnegie Hall to Beijing's National Centre for the Performing Arts and supported international icon Sting. In 2019, Laila's eponymous release won her a JUNO (Canada's GRAMMY) for "Vocal Jazz Album of the Year." The year before that, she was awarded top prize at the Canadian Songwriting Competition in the Jazz category. Laila was also the youngest-ever double winner at Canada's National Jazz Awards when she was named "SOCAN Composer of the Year" and "Keyboardist of the Year." She received her first JUNO nomination for Tracing Light (2011) and ranked in DownBeat Magazine's "Best Albums of the Year" for Live in Concert (2013). In September of 2017, Laila was brought on as the host for CBC Music's national radio show, Saturday Night Jazz, a weekly show broadcast to listeners across Canada.
Her supporting cast is a testament to her talent and reflection of the respect she has among her peers. Co-produced by Biali and her husband Ben Wittman, the impressive line-up includes multiple GRAMMY nominees and winners: vocalist Lisa Fischer, saxophonists John Ellis (tenor, bass clarinet) and Godwin Louis (soprano), drummer Larnell Lewis, and trombonist Alan Ferber, who composed each of the horn arrangements heard throughout the recording. Including the string quartet that graces five tracks and the three background vocalists who appear on a mostly different five, there are 20 in the credits, including Canadian native Glenn Pascha on keys (Ollabelle, Rosanne Cash), playing mostly organ while Biali plays mostly piano.
Comprised of ten original tracks and a reimagined take of Gregory Porter's "Take Me to the Alley", Out of Dust is a celebration of life; warm and uplifting even as it confronts Biali's recent challenges – and the current political climate – head-on. Throughout the past few years, Laila Biali has experienced triumph, struggle, and tragedy. For nearly every major conquest—a highly acclaimed return to jazz, winning the JUNO Award for Vocal Jazz Album of the Year, touring the world—the singer-songwriter has faced a private debilitating crisis. In just a few short years, Biali lost a close friend, mourned a family member, and dealt with health challenges of her own. It was a period of change and heartache—but it was also a season of great inspiration and hope leading to this highly personal album.
"These new songs took shape as I processed my own feelings of doubt and loss," Biali reveals. "I believe that nothing is wasted, that even life's greatest trials can produce something meaningful, if only to make us more empathetic to the struggles of those around us."
The political is personal on the brassy album opener, "Revival," buoyed by several vocalists including Fischer. Her fervor is evident from the outset with lines like, "Come on down/There's a fire underground!" This fervor animates the entire album, even its quieter, more personal moments such as the graceful "Monolith," where we gain a true appreciation of her vocal range, spanning alto to a glorious soprano. Louis' pure tone on the soprano here and the others he plays on (especially "Glass House" and "The Baker's Daughter") will evoke those jazzy Joni Mitchell albums with Wayne Shorter or Bob Sheppard, but overall Biali's sound is "bigger."
Bialia's tender side comes to the fore on "Wendy's Song," a piano ballad dedicated to the friend she lost, imbued by Ellis' tenor sax solo and an uplifting sequence before she quietly closes. "Glass House," which she co-wrote with her husband, addresses the after-effects of a family member's struggle with mental health issues. "Sugar" vigorously pushes the tempo that's calmed by "Alpha Waves." "Take the Day Off" – co-written with Joshua Biali-Wittman, is about healing with Biali singing that it's OK to "pull the sheets over your head" and "unwind" when you need to. Even "Take Me to The Alley," the album's sole cover, holds special meaning for Biali – she sang an ethereal version of the Gregory Porter song at her friend's memorial. The album also features Biali's first French co-write, "Au pays de Cocagne," which was created with francophone singer Sonia Johnson and features Biali's heavenly vocal underpinned by strong support from the string quartet.
"There's a line from a song by the indie gospel group, Gungor, that has become like an anthem to me," Biali says. "'He makes beautiful things out of dust.' That's where the title for the album comes from, and as a songwriter and musician, my ultimate intention and hope is to spread a little more love and light." This is truly beautiful music we could all use right now in these social distancing times.