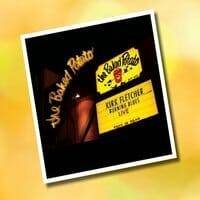 Kirk Fletcher
Burning Blues: Live At The Baked Potato
Independent
Kirk Fletcher is one of the most complete guitarists on the scene today. He can lay down the rhythm before taking a guitar solo and knows how to play behind a harpist or vocalist to make them sound better. Fletcher will turn forty years old this December. He recorded his first album "I'm Here and I'm Gone" in 1999 on the JSP imprint. Vocalist Jackie Payne guests on that album and it was produced by Jimmy Morello.
2004 was a big year for Fletcher as he released "Shades of Blue" on Delta Groove Records. From 2004 until 2008 Fletcher was also the lead guitarist for The Fabulous Thunderbirds and he appears on their 2005 "Painted On" recording. Since 2004 Fletcher has appeared on six Mannish Boys studio albums; each receiving at least a Blues Music Award Album of The Year nomination. In 2010 Fletcher released "My Turn" on the Electro Groove label. For these reasons Fletcher has been nominated four times as Best Instrumentalist – Guitar at The Blues Music Awards.
In December of 2013 Fletcher appeared for two nights at The Baked Potato in Los Angeles, California. Those sets were recorded and released on this new album.
On the first night guitarist Fletcher was joined by Travis Carlton, bass; and Lemar Carter, drums. ­­They performed "Rock With Me" written by Kim Wilson and first recorded by The Fabulous Thunderbirds in 1979; Fletcher's vocal is right on the money. Stevie Ray Vaughan's beautiful composition "Lenny" written with Double Trouble follows and Carlton and Carter show that they are up to the task on this solid version. Fletcher's guitar playing is beautiful.
"Natural Anthem" composed by Jesse Edwin Davis is reprised as it also appeared on Fletcher's "My Turn". Davis was Taj Mahal's first guitarist and he appears on Mahal's first four albums; he also recorded three albums of his own. This song appears on Davis' 1973 recording "Keep Me Comin'". Davis unfortunately passed away due to a drug overdose in 1988. "Found Love" was written by the great Jimmy Reed who died in 1976. It was released as a single in 1960 and reached #16 on the R & B chart. "Blues for Robben and Larry" is a Fletcher original inspired by Robben Ford and Larry Carlton who have recorded together several times. "Blues for Kleopatra" is another Fletcher original.
On the second night Fletcher's band included Carter, drums; Calvin Turner, bass; and Jeff Babko, organ and piano. The band opened with Freddie King's "Funnybone". Fletcher is a great interpreter of King so this number is spot on. "I'm in Love" was written by Bobby Womack and recorded by Wilson Pickett in 1967. It appears on Pickett's Atlantic Records album of the same name. "Congo Square" is credited as traditional but was written and recorded by New Orleans trumpeter Johnny Wiggs in 1948. "Ain't No Way" was written by James Earl Thompson a.k.a guitarist Jimmy Johnson. "El Medio Stomp" is another Fletcher original with great solos from Fletcher, Turner, and Babko.
This set from Fletcher is highly recommended as it sounds better each time I re-listen.
Richard Ludmerer