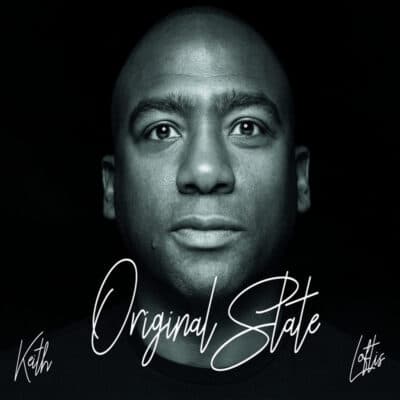 Keith Loftis
Original State
Long Tone Music
Original State is saxophonist Keith Loftis' fourth album as a leader. Loftis is the saxophonist for the three-time Grammy nominated Baylor Project, among his other pursuits. This is a new quartet for him in this lyrical, free blowing, mostly swinging session that features six originals in the nine selections of generous length, all exceeding six minutes with four in the nine-minute range. Joining Loftis on tenor and soprano, are pianist John Chin, bassist Eric Wheeler, and drummer Willie Jones III. They recorded entirely acoustically in one room, shaping each composition in the moment such that it exudes the spontaneity and energy Loftis was seeking. This is his first leader album in a decade. Though it has a more contemporary sound, his highly lyrical blowing is so strong here that it almost brings one back to the kind of saxophone-led quartet efforts from the likes of Rollins, Stitt, Shorter, and dare we say, Coltrane. It is that strong!
The album begins with "Oak Cliff," commencing with an eight-bar drum solo and morphing into a mid-tempo swinger written for Loftis' long-time friend, the late trumpeter Roy Hargrove. It takes its name from the Dallas neighborhood where he and Hargrove grew up. Michael Stanton's "Premonition" begins with an extended bass solo and blossoms into a bright, hard swinging, uplifting tone where each quartet member plays robustly with Willie Jones III driving the proceedings through Loftis' and Chin's spirited eloquent solos. Wheeler and Jones III engage in dialogue before Loftis rejoins to take it home. "Falls Beauty" is simply gorgeous balladry rendered with superb tenor tone by Loftis and elegant piano from Chin while "Brigitte's Smile, written for the leader's wife, sparkles in a playful way with each player getting a chance to stretch out. Chin raises the bar with his dynamic, rapid-run solo that Loftis responds to with robust tone and rousing vigor.
The tempo recedes at the outset of "The Intangible," as Loftis delivers sustained beautifully toned notes before going into a more conversational mode, prompted by Chin's comping, followed by his shimmering solo, then Wheeler's before Loftis rejoins. "Smoke & Mirrors" is a hard bop tour-de-force with Loftis seemingly reaching every note on his tenor while "Wifi Addiction" is more explorative, imbued also by Chin's inventive piano lines. A clear highlight is Loftis' reimagining of the Isley Brothers hit, "For the Love of You." He delivers it as a fiery waltz, soaring on soprano, giving it what he terms "the Coltrane treatment," inspired by the go-to albums he grew up such as Wayne Shorter's Ju-Ju and Speak No Evil as well as Trane's Crescent. The album concludes with Loftis giving a master class in lyrical balladry on Victor Young's "Weaver of Dreams" with the rhythm section giving restrained, delicate, and stately support.
The album was engineered by two-time Grammy winner Bass Bob Brockman, who was behind the board for many Blue Note sessions, including five albums for the Tony Williams Quintet. Not only is the sound pristine but the playing from each member and the keening interplay in this democratic outing is top shelf. They strike a balance of staying loose while still focused on the essence of the compositions, making this one of the best albums this writer has heard year to date.
More on Keith Loftis
Currently, Loftis works with vocalist and educator Dr. Ruth Naomi Floyd in the Ruth Naomi Floyd Presents: The Frederick Douglass Jazz Works series. He is also a main fixture in the 3x Grammy nominated husband and wife duo The Baylor Project featuring Jean & Marcus Baylor and a touring member of 4x Grammy award winning bassist Christian McBride's A Christian McBride Situation and The Christian McBride Big Band.
With Original State, Loftis has released four albums as a leader, including The Music of Keith Loftis in 2001, Back To Basics, a rare recording with his brother, vocalist Terry Loftis from 2008, and Simply Loftis, his 2011 full-length album featuring Roy Hargrove and produced by master drummer Michael Carvin. He has appeared on a number of acclaimed recent releases including Robin McKelle's Alterations, Kenyatta Beasley's The Frank Foster Songbook, Aaron Whitby's Cousin From Another Planet, (all three of which were covered on these pages) and the multi-Grammy nominated Baylor Project, on both The Journey and on Generations, from The Baylor Project , the latter of which was just released.
Help Support Making a Scene
Your Support helps us pay for our server and allows us to continue to bring you the best coverage for the Indie Artists and the fans that Love them!
Make a one-time donation
Make a monthly donation
Make a yearly donation
Choose an amount
Or enter a custom amount
$
---
Your contribution is appreciated.
Your contribution is appreciated.
Your contribution is appreciated.
Donate
Donate monthly
Donate yearly
You can donate directly through Paypal!
Subscribe to Our Newsletter
Find our Podcasts on these outlets