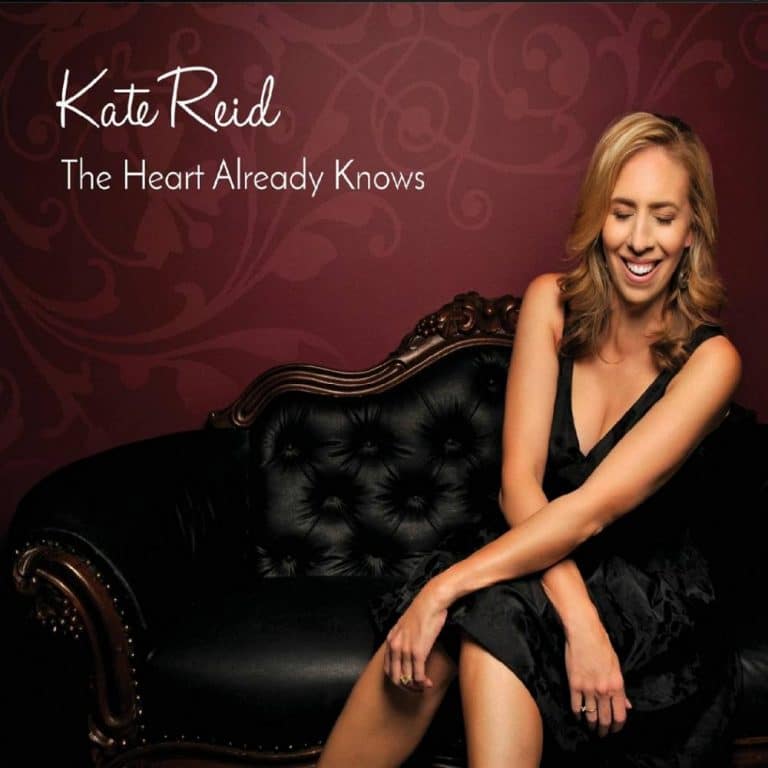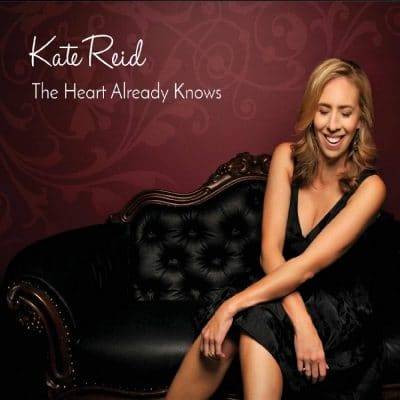 Kate Reid
The Heart Already Knows
Self-released
Vocalist Kate Reid takes a courageous path on The Heart Already Knows, her third release.  Rather than sing with a conventional rhythm section, Reid recorded this project in various duo formats, just her vocals accompanied by either a guitarist or pianist. Not only were many of the songs outside her comfort zone, but she was playing with many acclaimed musicians that she had never met. By her own admission, this is the fun and challenge of music – finding out what's possible in musical moments.  In this case, she had to take risks and see whether her accompanist was up for the ride. Given the talent in place, it worked beautifully.
Reid is a pianist herself and both played and sang on her two previous albums that featured some of L.A.'s top musicians. Perhaps her relocation to Miami where she is currently Associate Professor of Jazz voice at the Frost School of Music at the University of Miami provided a new kind of stimulus. She taught at Cypress College in L.A. too while playing in many southern California clubs. She's also done considerable work as a studio and session singer as well as film credits. They include "Planes," Star Trek into Darkness," "Oz– The Great and Powerful," "Epic," and "Men in Black -III."
Reid has the classic qualities of the best jazz vocalists – attuned to the song' lyrics and harmonic structure  to deliver nuanced phrasing in her sultry, smoky alto voice. She offers, "I hadn't worked with four of the five musicians before. I wanted this to be a journey of discovery. The essence of jazz is spontaneity; therefore little to no rehearsals worked well for this project." Reid did arrange most of the songs on this album.
She tapped Peter Eldridge, vocalist/pianist/composer and founding member of New York Voices to produce. They have been friends for several years and Eldridge helped her pick the tunes and urged her to do some outside the jazz genre including tunes from James Taylor and Joni Mitchell. Eldridge co-wrote two of the tunes himself.
Perhaps her best known duo partner is pianist Fred Hercsh who also composed 'Stars" and the closing "Lazin' Around With You." Hersch is a ten-time Grammy Award nominee and continues to earn countless awards.  He appears on the balls "No More," one associated with Billie Holiday and to a lesser extent Irene Kral. They also collaborate on "If I Should Love You" and the previously mentioned closer.
Taylor Eigst is the other pianist and he received two Grammy nominations in 2006. Eigst is heard on one of Eldridge's co-written tunes, "Busy Being Blue," a song that Reid sang while auditioning for her job at The Frost School of Music, and also on James Taylor's "The Secret of Life."
Three guitarists participate in the six other tracks. The acclaimed Paul Meyers joins for Ellington/Strayhorn's "Something to Live For" and Ellington's "Just a Lucky So and So." Notably, Reid's husband, Steve, played trumpet in Mercer Ellington's band for eight years, adding to her affection for Ellington's music. Larry Koone hails from L.A. and plays on the bluesy "Confessin'" as well as Joni Mitchell's "Two Grey Rooms," arranged by Eldridge. Finally Romero Lubambo, a Brazilian guitarist, shows his versatility performing on the Hersch tune "Stars" and "Minds of Their Own," where Eldridge contributed lyrics.
[amazon_link asins='B07BYM2D9P,B07CF483W5,B07CBJQ54K,B07CBJJF2X,B07CBJD6VV,B07BZ7XM5H,B07BYZJBFN,B07BYVCXKR,B07BYSJML7′ template='ProductCarousel' store='maasc-20′ marketplace='US' link_id='b4da6283-e1d3-11e8-997f-59e3c750b00e']