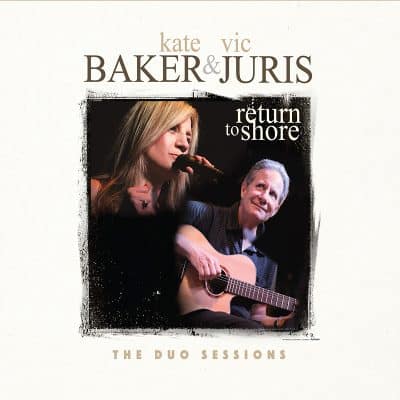 Kate Baker and Vic Juris
Return to Shore – The Duo Sessions
Strikezone
We're just a tad late for this one; shame on us if we were to overlook it. The husband-and-wife duo of vocalist Kate Baker and the late esteemed guitarist Vic Juris is one of the most intimate, tender recordings in recent memory. Produced by guitarist Dave Stryker, Return to Shore displays the immense talents of both musicians and boasts an interesting selection of familiar pop tunes and originals, performed with jaw-dropping eloquence and telepathic connectivity. Stryker, who coincidentally is the couple's next-door neighbor says, "I'm moved by the beauty, how Kate tells a story with the lyrics in such as personal way…and the palpable connection between her and Vic -whose playing is on another level here." The duo performs a repertoire of materials from Brian Wilson, Joni Mitchell, Doug Webb, Lerner and Lowe, and others mixed in with their own compositions.
The genesis for the project began several years prior to Juris' untimely passing nearly three years ago, when the duo entered engineer Paul Wickliffe's recording studio in early 2019 to track six of the ten songs that comprise this eventual release. In late December 2019, Juris passed away after a relatively brief but valiant battle with neuro-endocrine cancer. His untimely death at age 66 was a major blow to the music community. For over forty years, Juris' extensive stylistic breadth and superb technique made him a first-call sideman, and a true "musician's musician" in every sense of the phrase. While he had several important musical partnerships throughout his career, including a 20-year tenure in saxophonist Dave Liebman's band, among the most meaningful of his collaborations was the duo he had with Baker.
The skilled vocalist, who appears on record for the first time here, is a valued educator and vocal coach. She and Juris have highly compatible styles and performed together often. Despite their frequent live appearances, the duo never released an album together. When Juris passed, the recordings from 2019 took on new significance, and with Stryker's help with four home recordings, Baker wanted to deliver one last document of her late husband's work. "When we were thinking about songs to do, we wanted to do all new tunes – there was no theme," reflects Baker. "But in reality, the theme was there all along. But neither of us knew what was coming. I think the spiritual world was giving us a message."
This is evident from the opening track, Brian Wilson's "God Only Knows." Baker relates that after a home recording session of the tune (one that they rarely performed), Juris felt unusually fatigued. Like a signal from above, it unfortunately was a harbinger of the worst. The doctor confirmed that Vic had cancer. The title track, "Return To Shore," first came to Baker's attention when she heard Juris perform it in duo with Larry Coryell. Struck by the beauty of the tune, she wrote original lyrics and a shout chorus. For those not familiar with Juris' guitar style, you'll hear how his amazing technique echoes the styles of Barney Kessel and Pat Martino but will also detect an inventiveness that enabled him to play Liebman's complex harmonic music for two decades, not to mention his work in fusion and in organ trios with the likes of Jimmy Smith, Don Patterson, and Wild Bills Davis, a connection that he and Stryker share.
"I've Grown Accustomed to His Face," the Lerner and Loewe standard made famous by the 1960's Broadway show My Fair Lady, was a frequent vehicle for the duo. As pointed out in liners, this recorded version was played at Juris' funeral, as the penultimate example of the couple's synergy. Mitchell's oft-covered "Black Crow" is the first of two Mitchell songs herein. A staple of their live performances, it showcases Vic's singular playing on the Martin guitar, and together they put their own stamp on the tune with an inventive arrangement. Following is an intimate take on Jimmy Webb's "The Moon Is A Harsh Mistress," clearly one of Baker's strongest vocal performances among the ten, as she conveys a wealth of emotion, at times singing barely above a whisper.
Another Juris-Baker original, "Moonscape" follows a similar pattern to the title track, first penned by Juris with Baker later adding lyrics. The Ivan Lins-penned "Madalena," made famous by Elis Regina, comes next. Another live favorite, this had long been a vehicle for Juris to improvise in his guitar solos. The second Joni Mitchell offering is the enduring "Both Sides Now," which got an infusion of new life with Mitchell's performance of it at the 2022 Newport Folk Festival, undergoes a completely different arrangement and sense of phrasing here. It's especially dear to Baker who recalls performing this together on one of the last gigs before he passed. The final two selections are also very meaningful for Baker. Alec Wilder's "Blackberry Winter" has become sort of a signature song for the vocalist in live performances. "Are You Kind," an original composition composed by Baker and her friend Shari Miller, was originally written for her father, who passed at age 55, obviously taking on new significance upon Vic's passing. It ends the album on a hopeful and uplifting note with the lyric, "now I feel love, now I feel pain, now I feel the life pulse through my veins. I walk in grace, I walk that line, I take the time to be kind, I try to be kind."
The deep love of the couple oozes through this recording but there is never a sappy moment, just brilliant musicianship from both.
Help Support Making a Scene
Your Support helps us pay for our server and allows us to continue to bring you the best coverage for the Indie Artists and the fans that Love them!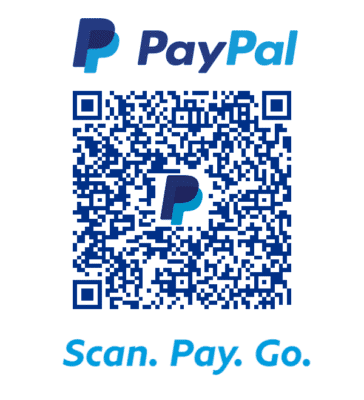 FOLLOW US ON INSTAGRAM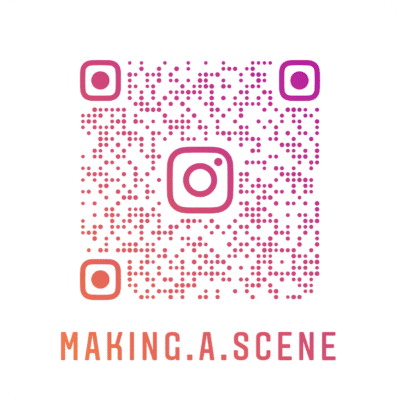 Subscribe to Our Newsletter