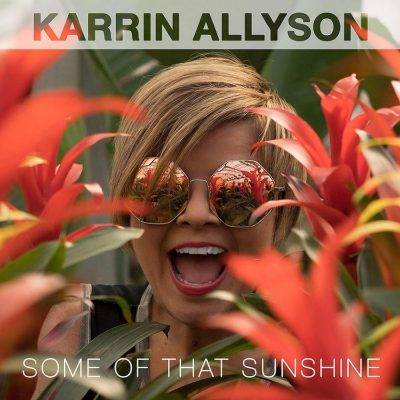 Karrin Allyson
Some Of That Sunshine
Kas Records
Karrin Allyson Schoonover was born in Great Bend, Kansas and raised in Omaha Nebraska. She attended the University of Nebraska at Omaha and studied classical piano.  At night she sang in her own jazz ensemble at various Omaha nightclubs. She moved to Kansas City where she released her debut recording "I Didn't Know About You" in 1992. A year later the album was picked up and re-issued by Concord Records. While living in Kansas City, Allyson released eight more albums all on Concord. In 1998 she moved to New York City. Allyson has received five Grammy nominations for Best Jazz Vocalist, including nominations for her last two albums in 2011 and 2015. Allyson has been called a "singer with a feline touch and impeccable intonation".
This new album showcases Allyson as vocalist, and also in her new role as songwriter. "It feels like coming home in a way, as a young musician I was writing songs in a variety of styles, even before I discovered jazz. I loved the singer-songwriters of my youth and I followed their influence. Now after years of performing all sorts of jazz and Brazilian and French music, I'm coming back to where I started."
Allyson's ensemble includes Miro Sprague, acoustic piano and Rhodes; co-producer Chris Caswell, Hammond B-3 and accordion; Rod Fleeman, guitar; Jeff Johnson, bass; and Jerome Jennings, drums and percussion. Special guests include violinist Regina Carter, saxophonist Houston Person, and bassist Lee Sklar.
Allyson opens with the blues based "Wish You Were Mine" written years ago when she still lived in Kansas City. "Home" was written about her first house and its idyllic country setting "it reminds me who I wanna be, when I walk among the tallest trees, longing to belong with-in my own space"; Sprague takes a beautiful piano solo.
Allyson plays acoustic piano on "As Long As I Know You Love Me" and states the song is for "all those that I love". The title track "Some Of That Sunshine" features Carter on violin adding a playful swing-like touch to the production.
"Time is A Funny Thing" is a moody contemplative romance ballad featuring some great playing from the band. "You Don't Care" includes lyrics from Allyson's dad Vic Schoonover. "One of These Days" features Sklar sitting in on bass.
"Just As Well" features the soul jazz saxophone of Person. The expressive Person is featured again on both the bluesy "Nobody Said Love Was Easy" and "Right Here, Right Now".
Acutely aware of politics and its challenges Allyson has penned "Shake It Up" with the lyric "these privileges we have, they haven't always been there, someone had to shake it up". "Big Discount" includes the line "a woman's place is in the house and the senate" with Carter added again on violin.
Allyson recently completed a three night stand at Manhattan's uptown Jazz club "Smoke Lounge". If you like soulful heartfelt songs beautifully sung go see her when she appears in your town. You too can take home "Some Of That Sunshine".
Richard Ludmerer
[amazon_link asins='B07FMPFRP4,B011WGRYG8,B000UAYD44,B0000006O3,B000UAWH8I,B0028NSE5A,B0015S2AJ0,B004SC8WCY,B00005J716′ template='ProductCarousel' store='maasc-20′ marketplace='US' link_id='dca64007-acb9-11e8-a27f-d3da01f2bda8′]