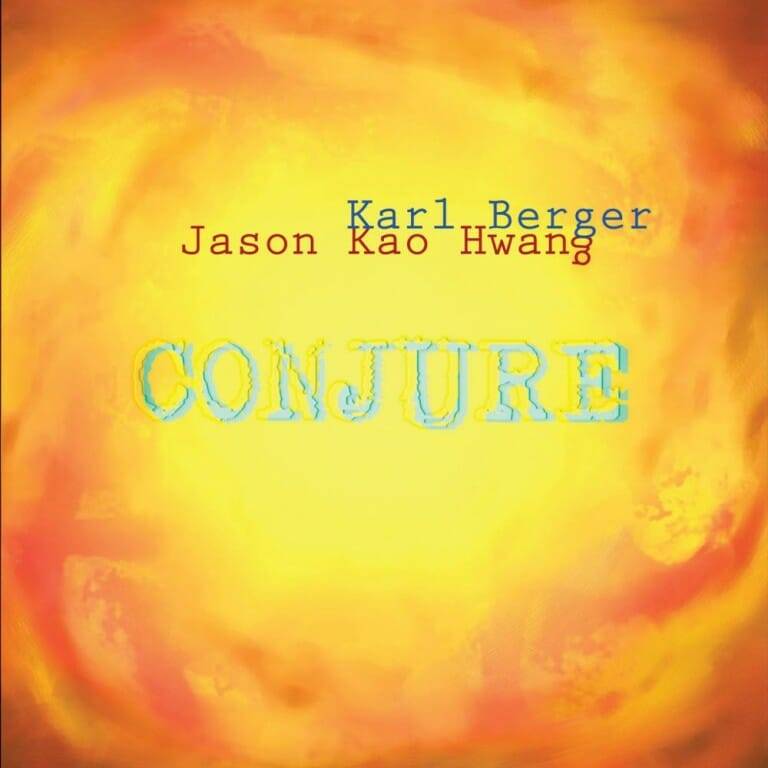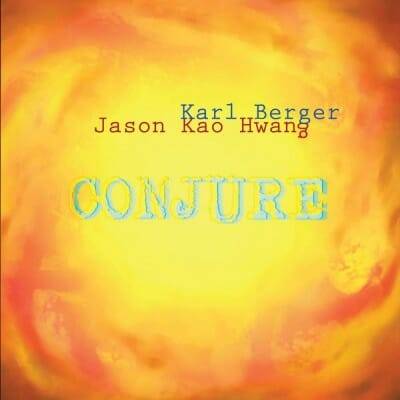 Karl Berger-Jason Kao Hwang
Conjure
True Sound Recordings
We have covered the outstanding violinist and composer Jason Kao Hwang on these pages before with his Burning Bridge band and the album Blood, Delivering very edgy and highly creative sounds. Here he is paired with avant-garde vibraphonist Karl Berger, certainly a collaboration that in some ways seemed predestined given the improvisational talents of both. To be sure, this is a quiet, contemplative, mostly melancholy mood-inducing set of compositions, freely improvised in the moment with Berger playing either piano or, his customary vibraphone while Hwang plays violin or viola. Admittedly, it may not be for everyone, but it is a nice piece of music to put on late at night, listening alone, perhaps with a glass of wine in hand. Be prepared for haunting, atmospheric and, at time, trance-inducing sounds from these two masters.
Listening to Hwang coax amazing sounds by plucking his strings on "Vanishing Roots" or Berger's unpredictable piano chords and vibraphone notes may be unlike anything you've heard from a duo. One can surely sense conversations, interplay, and a series of counters from each in these pieces. The dark tones of Hwang's viola on "Faith" resemble those of a cello. The plucking strings and Berger's vibes on "Below Zero" are downright spooky, almost menacing while the lengthy "Water Finds Water" is a series of hypnotic wave-like sounds, punctuated at unpredictable intervals by vibraphone notes. The closer "Arise" has Hwang drawing almost a yawning, groaning, against-the-grain sound that lightens as the piece progresses until it resumes once more against dark chording from Berger.
Hwang relates this, "It was a crisp sunny March afternoon when I drove up to Woodstock to record with Karl in his home studio, which is named after his wife, Ingrid Sertso, a great vocalist. Having played in Karl's creative Music Orchestra, we were familiar with each other and understood that our music making of that day would be spontaneous and unpredictable, as life is. Without written score or any predetermination we opened ourselves to each other into the unified mystery and light conjured within each of these journeys for which I am grateful."
Karl Berger is a six-time winner of the Downbeat Critics' Poll as a jazz soloist. He is also the recipient of numerous composition awards, including commissions by the NEA, NYSCA, the Rockefeller Foundation, and many European radio and television stations. Berger appears on many jazz labels and has played with too many artists to mention yet this list will serve to indicate the kind of company he typically keeps; Don Cherry, John McLaughlin, the Mingus Epitaph Orchestra, Dave Holland, Ed Blackwell, Pharaoh Sanders and James Blood Ulmer, to name just a few.
Jason Kao Hwang, in addition to leading the octet Burning Bridge, also leads quintet Sing House and the Critical Response and Human Rites trios. In 2019, 2013 and 2012 the El Intruso Jazz Critics Poll voted him Violinist of the Year. The 2012 Downbeat Critics' Poll voted Hwang as Rising Star for violin. As a composer, Hwang has received support from Chamber Music America, US Artists International, and the NEA. As a sideman, he has worked with Anthony Braxton, Oliver Lake, Henry Threadgill, Reggie Workman and many others.
This is the result of two highly improvisers clearly in their own special moment. You need a quiet, undisturbed time to listen. You may find it calming, or meditative.