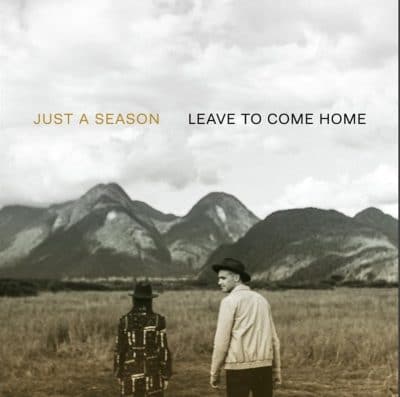 Just a Season
Leave to Come Home
Northern Electric
Hailing from Vancouver, the Americana band Just a Season delivers their third album, Leave to Come Home. Like the theme of so many albums recorded during the pandemic, the band reassures us not to sink too deeply into introspection, to put the darker times behind us because better days lie ahead. It's expressed best in the gripping infectious opener "You're Gonna Be Okay," a harbinger of several more hook laden songs that just grab by lapels and won't let go. Seriously, many of these songs will linger in your head for days whether it's "Queen of the Underground," "That Sunday Sound," "Will You Stay?" and more.
Multi-instrumentalist Scott Smith (vocals, guitars, banjo, pedal steel) an in-demand sideman in the Vancouver music scene, is the frontman and songwriter. Smith brings some new elements to the band's sound on this effort, joined by second guitarist John Sponarski, harmony vocalist Ashley Grant, and drummer Liam Macdonald who plays vibraphone on the title track and the spacy instrumental "Stars Burn Out." Bassists Brad Ferguson and Erik P.H. Nielsen who doubles as producer, share duties as do drummers MacDonald and Leon Power. Meredith Bates (Violin) and Peggy Lee (cello) add strings while Matt Kelly (keyboards, pedal steel) (City and Colour) weaves in many colors and textures, in a Garth Hudson-like way.
The twin guitar Allmanesque intro to "She's the One" is an interesting touch as the song becomes more a mid-tempo ballad (i.e., "Blue Sky") rather a rousing rocker. In fact, the band is equally adept at folk, country, and rock. It's tempting to use The Band in this context, but Just a Season has one, not three lead vocalists, sings about contemporary issues than southern tales, and has different instrumentation. Following the stunning opener, Smith begins the British Isle folk-like title track with some impressive finger picking and as the song unfolds Kelly colors in with his swirling, caressing keys as Smith sings, "we know we'll never run dry." Tempo kicks up with jangling guitars in "Queen of the Underground," about helping a friend chase her dreams. Gentle banjo plucking and single piano notes form the backdrop for the determined ode to conquer addiction, "I Will Fight, I Will Fight and I Will Win," which blossoms into a chorus of affirmation buoyed by the combination of swirling organ and pedal steel.
Other highlights include the banjo driven/ harmonica on rack, rather sparse "Saw You Yesterday," a solo foray for Smith, in which he cites cities from Montreal to New Orleans. "That Sunday Sound" brings an infectious Bobby Charles/The Band -like (yes it fits for this one) groove with classic country guitar picking, a pinch of slide guitar and plenty of swagger – "talking about religion while playing in a rock and roll band." Smith goes solo again for "Never Too Far From the Blues," recognizing that even the most positive outlook can quickly fade. Here he employs almost his full arsenal – acoustic guitar, mouth harp, and pedal steel. "Will You Stay?" rings with one of those indelible choruses that has (pardon the word choice) staying power. Kelly assumes the spotlight here, playing both piano, organ, and pedal steel. The instrumental "Stars Burn Out" serves as an interlude of sorts to the ebullient closer "Anything You Want," which is yet another reassuring song in keeping with the theme.
As Smith sings in the title track "Don't let them put out your fire," he wants us to go forward confidently. So, put this one in your player when you need inspiration. It will likely stay there for weeks on end. Not having heard their two previous releases, this writer will be searching those out too.
Help Support Making a Scene
Your Support helps us pay for our server and allows us to continue to bring you the best coverage for the Indie Artists and the fans that Love them!
Make a one-time donation
Make a monthly donation
Make a yearly donation
Choose an amount
Or enter a custom amount
$
---
Your contribution is appreciated.
Your contribution is appreciated.
Your contribution is appreciated.
Donate
Donate monthly
Donate yearly
Subscribe to Our Newsletter