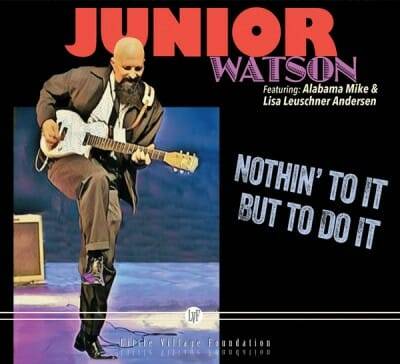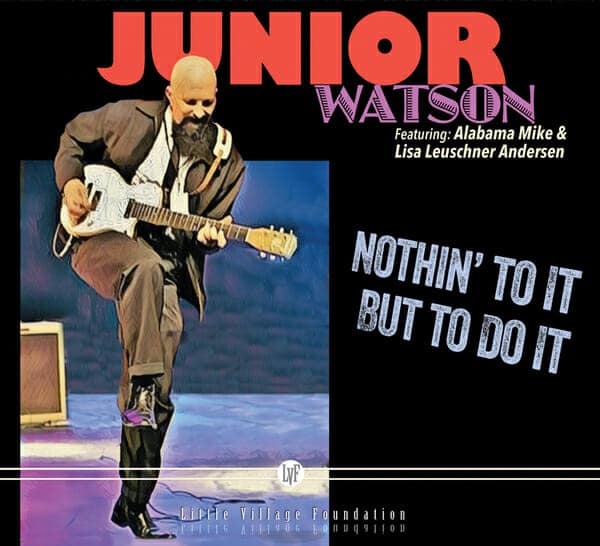 Junior Watson
Nothin' To It But To Do It
Little Village Foundation
West Coast guitar phenom Junior Watson was influenced by Tiny Grimes, Jimmy Rogers, Eddie Taylor, Guitar Slim, and Earl Hooker. He was a founding member of The Mighty Flyers in the early 1980's and spent a decade with them. In the 1990's he performed with Canned Heat. Besides recording with both The Mighty Flyers and Canned Heat, Watson has recorded with George Harmonica Smith, Jimmy Rogers, William Clarke, Kim Wilson, The Hollywood Fats Band, James Harman, Mitch Kashmar, Charlie Musselwhite, John Nemeth, Kid Ramos, and Mark Hummel; just to name of few of the sessions he appears on. He first recorded with Chris "Kid" Andersen in 2003. Watson also has five previous recordings under his name the last being in 2012. That makes this new album quite an event.
The album is co-produced by Watson and his old friend Andersen. The band includes Watson, guitar and vocals; Executive Producer Jim Pugh, piano and organ, "Sax" Gordon Beadle, saxophones; Gary Smith, harmonica; Andersen, various instruments; Kedar Roy, bass; and Andrew Guterman, drums. Vocalists include Lisa Leuschner Andersen and Alabama Mike. The album is recorded, mixed and mastered at Greaseland Studios in San Jose.
Andersen states "I have never heard any guitarist combine the blues with such jazz-tinged playfulness and unpredictability, and with such a seductive fat and greasy tone. Instantly recognizable and 100% original. There is no guitarist on earth I value higher than Junior Watson".
Watson has selected thirteen obscure 1960's era R n' B recordings to cover including four instrumentals. Guitarist Watson opens with "Up and Out" recorded by the Arizona Blues Hall of Fame inductee Duke Draper in 1965. Also featuring "Sax" Gordon and Pugh on organ, the sound is reminiscent of Booker T & The MG's. "Ska-Ra-Van" is credited to Duke Ellington who first wrote and recorded the song "Caravan" in 1936, but the Jamaican band The Skatalites led by founding member saxophonist Roland Alphonso re-interpreted the song in 1965. Summer Love" written by Felix Garcia was the B-side to "Two Tacos" a 1958 single by Felix And His Guitar With The Hot Peppers. "Space Flight" was written and recorded by Sam Lazar in 1960 and featured Grant Green on guitar. A fifth instrumental written by Watson, "Pee Wee Classic", is a tribute to guitarist Pee Wee Crayton. On these Watson's guitar playing and solos are off the charts.
"Don't Freeze On Me" was written by Ken Curtis and recorded by Jessie Mae in 1962. It features a fabulous vocal from Lisa who is stepping up as lead singer for the first time. Lisa sings on a fabulous version of Elsie Mae's 1964 single "Whole Lot Of Lovin'"; Elsie was a background singer with James Brown and the original "T.V. Mama". Lisa also sings on "One Way Street" an unreleased 1966 track by Stax recording artist Sharon Tandy written by the songwriting team of Isaac Hayes and David Porter. Lisa sings again on two more songs Yvonne Fair's "I Found You" and Chuck Sims' "You're Gonna Need Me Before I Need You". Lisa is a jewel as she makes a lasting impression.
"Louella" is credited to Big Don Gray and sung by Watson. Watson has great vocal clarity as "Sax" Gordon once again proves he is a force to be reckoned with. Watson also sings on the wicked "Well, You Know" originally sung by Dusty Brown in 1959 and featuring Smith on harmonica; and again on "So Glad She's Mine" originally recorded by Charles Williams in 1956.
"A Shot in The Dark" was co-written by Watson and Michael Benjamin a.k.a. Alabama Mike. It features a fabulous tenor vocal from Mike who sings again on "That's Tough", written and originally recorded by Joe Boot & The Fabulous Winds (with the Floyd Standifer Orchestra) in 1958.
Watson is a magician as his guitar playing includes unexpected twists and turns giving the music a sort of reckless abandon. He was once described as "a train off the tracks". This fabulous recording should place Watson in contention for Best Instrumentalist – Guitar at the next Blues Music Awards.
Richard Ludmerer