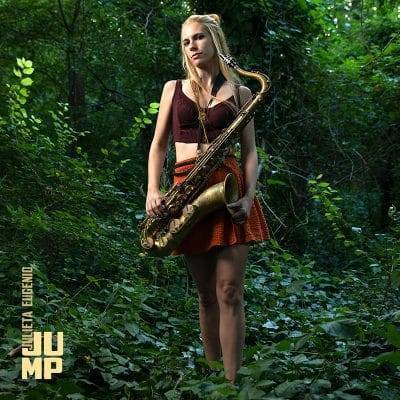 Julieta Eugenio
Jump
Greenleaf Music
Argentinian-born saxophonist Julieta Eugenio makes her debut in a trio with Jump on Dave Douglas' Greenleaf Music label, the same one behind fellow saxophonist Donny McCaslin's trio effort Recommended Tools in 2008. Eugenio's trio includes bassist Matt Dwonszyk and drummer Jonathan Barber, both of whom are based in Connecticut where the trio woodshedded these pieces for a month before recording in Brooklyn. Although Eugenio delivers an album of mostly original material based on her experiences living in NYC, the album art picture her against a backdrop of dense forested green, which matches the notion of freedom she is pursuing in her music.  As she says in the liners, "JUMP will take you on a musical journey of sensations inspiring you to reflect on life, explore yourself and to take the JUMP, or jumps, you may need in your life, to feel free, to feel alive."
Setting out in the sax trio tradition paved by artists like Sonny Rollins and Joe Henderson, speaks to a certain level of confidence in her ability. Her bravado never shrinks as she delivers 60 minutes of melodic and evocative improvisational playing across these ten pieces. She leads off with "Efes," which translates to the plural of the letter "f" (i.e., more than one "f"), although not the key of F. Eugenio is hinting here at a unique synesthesia: she associates this tune with a yellow-orange hue and an array of "Efes." Right away we hear her clear tenor tone, underpinned by an energetic Barber and steady Dwonzsyk. The title track is more reflective, delivered in waltz-like manner that in some ways evokes Eric Dolphy's trio recordings in terms of mood, Eugenio comments, "a period of loneliness, sadness, many changes, but a deep feeling of peace at the same time, getting rid of old habits. A jump into the unknown, the adrenaline of letting it go and feeling free again." Dwonszyk matches these emotions in his ruminating bass solo.
The polarity of loneliness and exhilarating freedom run parallel to the chaos of urban life pitted against the peace found in nature.  They pretty much define her thought patterns to these pieces. For example, "La Jungla," with a percolating Barber drum solo, represents the intensity of living in NYC while "Snowbirds," which begins calmly and morphs into a hard swinger behind the drummer's frenetic kit work; and the funky, equally visually evocative "Raccoon Tune" play to the nature theme.  The latter is a showcase for her trio mates who each step forward with animated solos.
The album's two standards, "Flamingo" and "Crazy He Calls Me," although perhaps deviating thematically, depict the leader in full command of her instrument needing little accompaniment as she renders the latter as a tenor-bass duo with Dwonszyk.  The album's most solemn, deep moments come with the ballad "For You," a piece inspired by the writing of Strayhorn and Mingus, both of whom were masters of expressive emotions.  Eugenio describes it as a journey from pandemic, stay-at-home induced pain to the initial feelings of redemptive healing. She then takes the healing phase further in the brighter "Another Bliss" and "Tres," the latter the album closer.
Not only does Eugenio soar freely, but she does so with a superb sense of control, never approaching reckless abandon.  Each piece has a clear purpose. Not only that; she finds the balance of delivering tight trio interplay and giving her mates plenty of opportunities for individual expression as well.
As an observation, while female saxophonists were rare just a few years ago, the tide is changing somewhat.  Melissa Aldana is making her Blue Note debut this same week. Roxy Coss will issue her second quintet recording later this month, and Nicole Glover has just become a  member Christian McBride's new band. We've heard both Glover (as band member) and Tarantino (as leader and band member) on many recent recordings.  They are just a few examples, lest we not mention Lakecia Benjamin, Matana Roberts, Tia Fuller, Jane Ira Bloom, and many others. Now we can welcome Eugenio, who can step forward proudly to join this budding list.
Help Support Making a Scene
Your Support helps us pay for our server and allows us to continue to bring you the best coverage for the Indie Artists and the fans that Love them!
Make a one-time donation
Make a monthly donation
Make a yearly donation
Choose an amount
Or enter a custom amount
$
---
Your contribution is appreciated.
Your contribution is appreciated.
Your contribution is appreciated.
Donate
Donate monthly
Donate yearly
You can donate directly through Paypal!
Subscribe to Our Newsletter