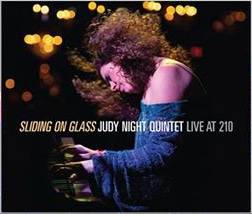 Judy Night Quintet
Sliding on Glass
BluJazz/210 Live
Sometimes second careers prove very rewarding and lead to some unexpected paths. Keyboardist and bandleader Judy Night spent most of her adult life as a practicing pediatrician but realized that she needed to fulfill her life-long passions for composition and playing, ultimately becoming a partner at and directing the music program of Chicago's fastest growing new nightclub/venue 210 Live in Highwood, IL (Chicago North). Judy plays at 210 with her quintet and recorded her first album Sliding on Glass live at the club on August 5, 2018.
After playing at 210 on a monthly basis with a trio in early 2016, soon after the club opened (originally as "210 Restaurant"), Judy realized that the club was seeking a partner. A bit reticent at first, she became a partner, and established a venue with a full-fledged music program. Judy greets each guest and often sits in at the club's Hammond B-3 and Kawai Grand regularly with bands playing there.
Judy started playing the piano at the age of seven. She was in the top jazz bands at Harvard University, where she played alongside Joshua Redman amongst many other talented musicians. Judy did two non-degree semesters at Berklee School of Music, but ultimately pursued medicine as a profession.
She has assembled a great quintet including: Justin Kramer, Jackson Kidder, Brian Wilkie and TC Furlong. She has been working with Kramer (drums) in various projects for nearly ten years, and he is essentially her musical co-leader. TC, Brian and Jackson have been with the project for one, two, and two and half years respectively. Jackson, the youngest member, is the bassist. Brian Wilkie is an integral part of the Chicago honky-tonk, country and jazz scene on both guitar and pedal steel, and TC Furlong of the Jump 'N The Saddle band is regarded as one of the finest pedal steel players in the country. You won't find many jazz units with this kind of instrumentation outside of Charles Lloyd's Marvels with Bill Frisell (guitar) and Greg Leisz (pedal steel). Just as Lloyd plays sax and flute as leader, Night plays piano and synths as leader in her quintet.
The album begins with the late John Abercrombie's "Timeless," showing the interplay between Wilkie's guitar and Kidder's double bass, following some gorgeous piano. Listen also for Kramer's snare work leading into Wilkie's solo. Wilkie's reverberating tone is bluesy and heavier than most jazz guitarists. All get their due on "Scarborough Fair" with Kramer especially outstanding before the emotive reading of the Christmas carol/call to peace of "Do You Hear What I Hear" that features some of the set's best guitar interplay. Night has a beautiful piano touch throughout, whether soloing or chording.
Night arranged the King Crimson tune "Moonchild," from one of her favorite albums, In the Court of the Crimson King, in which she plays both piano and synthesizer. Paul Simon's "Cecilia" was inspired from some strains in "Do You Hear What I Hear" and it's primarily piano as the shortest cut at under three minutes. Classic jazz fans will recognize Night's fond rendering of Horace Silver's "Lonely Woman" from his iconic album Song for My Father. TC Furlong beautifully carries the melody of Glen Campbell's "Wichita Lineman" before the set closes with the only original, the title track, which features strong passages from Night, Furlong and Wilkie. Night cites its simplicity and several sequences sound familiar somehow.
The Judy Night Quintet have a terrific sense of tone and melody, playing in a very relaxed way, with high levels of communication, interplay and harmony. It's a wonderful listen.