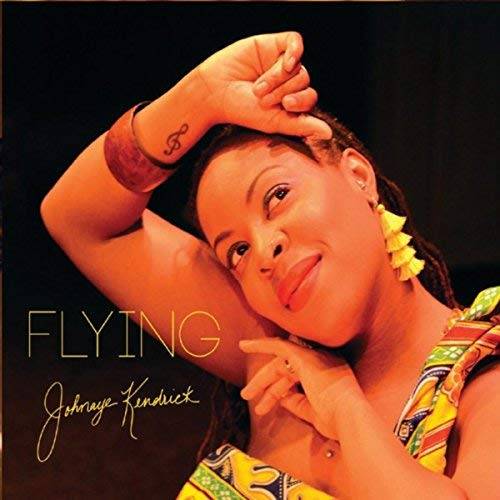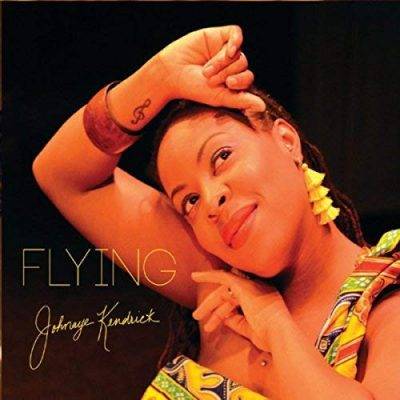 Johnaye Kendrick
Flying
Johnygirl
Vocalist, composer and Thelonious Monk Institute grad Johnaye Kendrick has released her second album, Flying, on her own label. Kendrick is San Diego born and bred but is currently based in Seattle.  Produced and arranged by Johnaye, who also plays harmonium, this set includes six well-constructed originals and six inventive arrangements of covers form both jazz and pop. She has an amazing vocal range; delicate, emotive, and smooth, particularly in the high registers. She's a skilled scat singer too. To help her deliver, aboard are:  Dawn Clement (piano, keyboards), Chris Symer (bass), and D'Vonne Lewis (drums). They totally support Kendrick.  Even the solos are economical and inherently part of the song structure.
When studying at the Thelonious Monk Institute, Kendrick had the opportunity to work with iconic musicians like Herbie Hancock, Wayne Shorter, Terence Blanchard, Danilo Perez and Brian Blade. Blanchard, more than the others, really encouraged her to write her own material. Even though her first album, 2014's Here was full of original songs, she consciously wanted to mix both originals and covers this time out. She mostly keeps with personal themes in her own songs, commenting on marriage, motherhood, and family issues. Yet, her opener "Never You Mind" is a socially conscious message aimed at the Black Lives Matter Movement with lyrics like these – "you come from a legacy of warriors, and though there's fear/Know that fear's what fueled the fire of courage that led us here."
On the delicate "You Two" she sings about and to her two three and half year old twin daughters. "Scorpion" has a NOLA feel as Kendrick adds a bluesy side, singing about the dangers of falling for someone you know has a dark side. "Secrets" is the most dramatic tune here, an intense jazz ballad where her vocals are at their emotive best. She conveys anger at a relationship marred by betrayal. The others are the seductive "Boxed Wine" and her empowering closer, "Flying."
The covers are carefully chosen and reflect personal moments too. As a young girl she was obsessed with the film Pretty Woman and its soundtrack. Hence, Lauren Wood's "Fallen." She had a teenage crush on John Mayer and decided to record his rather obscure "3×5."  The others are tunes she's performed live many times such as "I've Got No Strings" from the film Pinocchio and her totally scat version of "It Could Happen to You." The most well-known cover is "The Very Thought of You," to which she gives a peppier, more contemporary arrangement. The lesser known "The Lonely One," where you hear her harmonium in the intro, was recorded by one of her major inspirers, Nat King Cole.
We encourage you to learn more about this emerging vocalist by visiting her website, www.johnaye.com.  In the interest of brevity, here are some highlights. In 2013 she was nominated for an Earshot Jazz Golden Ear Award as "Northwest Vocalist of the Year." She recently earned the title of Professor of Music at Cornish College of the Arts in Seattle, where her specialties are Jazz voice, composition and arranging, and she instructs on these courses: Beginning Jazz Standards, Modern Afro Pop, and Black Music Matters.
Johnaye Kendrick is an emerging, gifted, and important artist for these times. She's one to follow.
[amazon_link asins='B07DKT9MQR,B00JYQ3O86,B07DKY26MW,B00JYQ3V1Q,B07DL3ZSPT,B07DL1RDMM,B07DKYRF9Y,B07DKYN7R2,B07DKXYMZL' template='ProductCarousel' store='maasc-20′ marketplace='US' link_id='a1388341-b5ba-11e8-8e56-7908e9906edc']