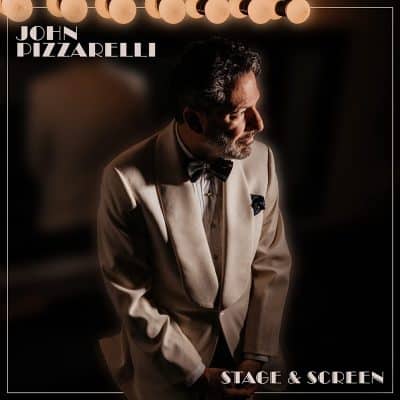 John Pizzarelli
Stage & Screen
Palmetto
Having just witnessed a performance from John Pizzarelli and his trio, the same musicians that grace, Stage and Screen, it's not surprising to see the guitarist/vocalist/songwriter devote an album to the Great American Songbook. That's primarily what he's been doing for the past 40 years whether it be Frank Sinatra, Nat King Cole, Paul McCartney. Richard Rodgers, and Duke Ellington, among others. His trio features one of the new generation's emerging pianists, Isaiah J. Thompson (check his recently issued debut as a leader, Power of the Spirit), and bassist Mike Karn. Thompson, who Pizzarelli first met as a teenager, has been playing with Pizzarelli since 2019 (when he was 21 years old) and Karn for the past seven years so this is well-oiled unit, a drummer-less trio in the tradition of Nat King Cole's configuration. Pizzarelli has tremendous vocal phrasing while his vocal itself is straightforward, confident, and unassuming. He can sing in unison with his guitar, can scat with the best, and plays a unique Moll signature 7 string Archtop guitar.
In the time-honored tradition of jazz, which has sourced many of its most famous songs from Broadway musicals or films (think "My Favorite Things," "I Cover the Waterfront," and so many others way too numerous to mention), Pizzarelli's set here includes songs from nine decades. He begins with the up tempo "Too Close for Comfort" from the 1956 musical Mr. Wonderful. It's one that his dad, the legendary Bucky Pizzarelli recorded with Zoot Sims. You'll hear him sing wordless vocals in unison with his guitar as well as scat here, establishing the basic approach throughout for the vocal tunes. Just about every solo from Thompson too is a revelation in terms of rhythm and harmonic sense so assume you'll get one of those in every song as you do here. Karn is no slouch either. They not only work well as a trio but make their own lively individual statements. Pizzarelli edited, with composer Jason Robert Brown's permission, "I Love Betsy" into a more concise three verse song.
His guitar prowess comes to the fore especially on the instrumental "I Want to Be Happy" which sets a blistering pace, one that's no problem for Thompson and Karn either. "Tea for Two," also penned by Vincent Youmans and Irving Caesar is given a ballad treatment in the vein of the Blossom Dearie version. "Just In Time," from 1956's Bells Are Ringing is a light swinger, almost in the mode of Mose Allison with bluesy piano from Thompson and a declarative turn from Karn. "Some Other Time," from Bernstein's On the Town, is rendered as a sensitive guitar solo while "Where or When," from the 1937 Rodgers and Hart musical Babes in Toyland is give a bossa nova treatment. Several songs from Oklahoma! are merged into a nine-minute instrumental suite, beginning with both strong arco and pizzicato work from Karn that sets the stage for tremendous lyrical turns from his trio mates.
The sublime "Time After Time" comes from the Sinatra songbook, as he introduced it in the 1947 MGM film, It Happened in Brooklyn. It's Pizzarelli's best vocal in the set. "You're All the World to Me" Is from the 1951 movie musical Royal Wedding with Fred Astaire and features blistering guitar and piano work and a killer walking bass line. This trio masters the breakneck tempos. Although "As Time Goes By" stems from Casablanca, Pizzarelli sings it as if he's singing about current times as his guitar playing reveals a flair for the blues. In closing, he pulls a rarity, "Coffee in a Cardboard Cup," from the Kander and Ebb musical, 70, Girls, 70, again emphasizing the trio's ability to SWING, and play with ridiculous facility and fluidity in their trademark rapid runs.
This is one of those recordings that may not strike with great impact upon first listen, given the familiarity of many of the songs but on repeated listens, the musicianship of these three players as a trio and individuals is remarkable to the point where you'll hear some impressive moments that went right by you the first time.