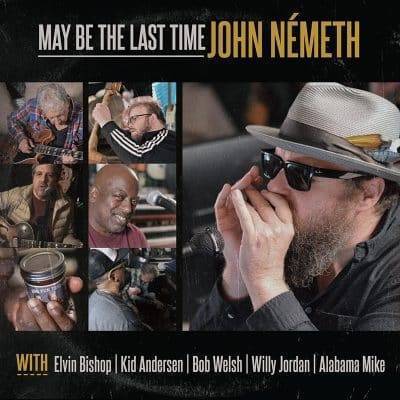 John Nemeth
May Be the Last Time
Nola Blue
The aptly named May Be the Last Time, along with being a great recording is, as much as anything else, a testament to the warmth and communal sharing of the blues community. Responding to a possible career-ending and life-threatening illness to award-winning bluesman vocalist, John Nemeth, his West Coast brothers of Kid Andersen's Greaseland community stepped up for what could have been Nemeth's last recording. Nemeth said – "I recorded this album before my jaw amputation surgery, which took place in late May. It's called May Be the Last Time because I didn't know then and I still don't know, if I will ever sing or play again like I used to. I have to say the magic of this performance is beyond this world and maybe the greatest of my life." Now, for some good news. The surgery was successful and based on some social media clips, he has begun to perform again.
The now Memphis-based Nemeth was once a West Coaster with folks like multi-instrumentalists Kid Andersen and Bob Welch in his band. Elvin Bishop is a longtime friend who has the vocal lead on "Stealin' Watermelons" and Willie Jordan, who used to play drums for Willie Dixon, played cajon, drums, and takes it on the classic Wilson Pickett & The Falcons' "I Found a Love." The album is full of choir-like background vocals supplied by Alabama Mike, Andersen, Jordan, and Welch. The material, for the most part, is comprised of well-known covers, three from Bishop, and a couple of Nemeth originals. The tunes may be familiar but some of the arrangements are anything but, especially the treatment of the opening "The Last Time," which in no way resembles versions from Irma Thomas, The Staples Singers, or The Rolling Stones. Nemeth brings a sense of humor to the track while his bandmates share in the fun, singing like indeed "it might be the last time we sing together," as they then deliver the well-known chorus amidst Nemeth's passionate harp playing.
Sticking with the theme, the band covers Elvin Bishop's "Rock Bottom," a tune co-written with Jo Baker in 1972, imbued by Welch's pounding piano, supportive bari sax, and stinging lead guitar from Bishop as Nemeth again blows for all he's worth. Nemeth does his own swaying, soulful "Sooner or Later" from his 2014 Memphis Grease album that won a BMA for Best Soul-Blues album in 2015. The background vocals, as on the first couple, really flesh this one out. J.B. Lenoir's classic "Feeling Good" begins a cappella with Nemeth's strong vocals leading the charge, to simple claps, Andersen's upright bass and Welch's understated guitar, the band puts oomph behind "all the money in the world spent on feeling good." Bishop's weathered vocals on his own "Stealin' Watermelons" are a sharp contrast to Nemeth's dulcet tones. John, of course, pitches in with harp and joins the background chorus.
Nemeth shares the vocal lead on Pickett's soul classic with Jordan, a tune perfectly suited to the immense vocal pipes of both, but one that not many other singers would dare attempt. Nemeth and band render it faithfully to the original, which is even more remarkable. The loose nature of this session comes to the fore again in their upbeat treatment of "Sexy Ways," an early R&B chestnut from the pioneering Hank Ballard of The Midnighters. Nemeth then steps for one his favorite live show staples, Junior Wells' down-and-dirty "Come On In This House." Welsh pounds the barroom piano for Nemeth's hilarious tune, also from Memphis Grease, "Elbows on the Wheel," as Nemeth considers his wife's advice, to take up a new career as a truck driver, injecting some humor into his harp solo as we hear strains of "Yankee Doodle Dandy." There's little doubt, that despite the circumstances, this would like rank at the top of fun sessions any of this crew ever participated in.
Willie Jordan thumps the cajon for Slim Harpo's "Shake Your Hips," done perhaps most famously by The Stones on Exile on Main Street. The session ends with appropriate optimism with Elvin Bishop's "I'll Be Glad" with these lyrics – "Bad luck hit me like a brick in the head. Anybody else, it would have killed them dead, they say it don't kill you it will make you strong…I'll be glad when I get my groove back again." There's an unbridled joy in the background vocals that inevitably rattled the walls of the studio – like a cry to the heavens.
As of this writing, those prayers have thankfully been answered. And let's not take Nemeth's words lightly about it perhaps being his greatest performance. The album has already skyrocketed to the top of charts and is sure to earn multiple BMA nominations. Kudos to Andersen and crew for stepping up in a big way.
Help Support Making a Scene
Your Support helps us pay for our server and allows us to continue to bring you the best coverage for the Indie Artists and the fans that Love them!
Make a one-time donation
Make a monthly donation
Make a yearly donation
Choose an amount
Or enter a custom amount
$
---
Your contribution is appreciated.
Your contribution is appreciated.
Your contribution is appreciated.
Donate
Donate monthly
Donate yearly
You can donate directly through Paypal!
Subscribe to Our Newsletter