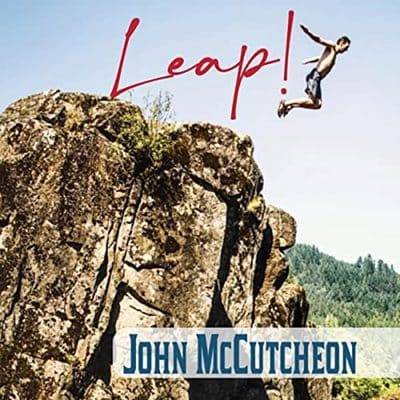 John McCutcheon
Leap!
Appalseed
In discussions this summer about the Newport Folk Festival and Philly Folk, this writer, viewing these lineups commented that "there just aren't that many real folk singers left." Well, John McCutcheon is indeed one of those few real folk singers putting out vital material as he's been doing for five decades now. On Leap! His stories span ages, landscapes, and urban locales. Like any committed folksinger, McCutcheon shines his keen eye on contemporary times, drawing parallels with history along the way. He retains a sense of humor through it all, regaling us with lighter ditties, to balance the heavier topics. Leap! is McCutcheon's 43rd album and the third with songs written during the pandemic, (2020's Cabin Fever: Songs from the Quarantine and 2021's Bucket List) when he went on a writing binge. He packs lots in, 18 songs in fact, running for 68 minutes in keeping with the other two which also had as many songs.
McCutcheon gathers frequent collaborators as guests including Irish flutist Seamus Egan, and singers Kathy Mattea, Tim O'Brien, and Tommy Sands. Drummer Robert "Jos" Jospe and guitarist Pete Kennedy adding to the stellar core band of fiddler Stuart Duncan, keyboardist Jon Carroll, and bassist JT Brown. McCutcheon is a perfectionist at his craft, each note in the right place and with a warm baritone vocal delivery that makes for easy listening.
Among the highlights are "The Troubles," ostensibly about Ireland's twentieth century conflicts but more importantly in the parallels McCutcheon draws to our divisive U.S. He is joined by Tommy Sands, a peacemaker in the strife of Northern Ireland, to give the tune more credibility and impact. "Second Hand" is about Esther Cohen, a Holocaust survivor from Greece, who spent her life chronicling her experiences with school children. From here forward any information on that despicable event will be second hand. "Shadowland" is inspired by the film Through the Shadowlands, the story of CS Lewis' marriage. Late in life, Lewis called our life on this earth "Shadowland." NOTE: At this writing the lyrics to these songs were not yet available but keep checking folkmusic.com/leap!lyrics
Other highlights include "Third Way," about his father-in-law, an immigrant's first day at his first job in this country, touching on the segregated Jim Crow South along the way. "If you're told you have two options, no matter what they say, it's best to understand there's often a third way." "Sorry Land" is about the devastation of strip mining, done not as a dirge but an unexpected upbeat singalong. "Song When You Are Dead," nodding to John Prine, is a witty look at a commissioned eulogy.
Throughout there are nostalgic and astute observations on life. The opener "The Ride" has a tentative kid taking a brave leap at the local quarry (perhaps the inspiration for the title), as he recalls his grandfather's words, "If you ain't livin', then you're dyin'." "Listen" adds to old cliché that love is blind that it is deaf as well. McCutcheon seems to especially cherish the line from Molly McCully Brown's line he used in "Mistaken" – "most of what I love mistakes itself for nothing."
As stated, there aren't many of McCutcheon's kind left. Enjoy his stories. We know it won't be long before he produces another great batch of them.
Help Support Making a Scene
Your Support helps us pay for our server and allows us to continue to bring you the best coverage for the Indie Artists and the fans that Love them!
Make a one-time donation
Make a monthly donation
Make a yearly donation
Choose an amount
Or enter a custom amount
$
---
Your contribution is appreciated.
Your contribution is appreciated.
Your contribution is appreciated.
Donate
Donate monthly
Donate yearly
Subscribe to Our Newsletter