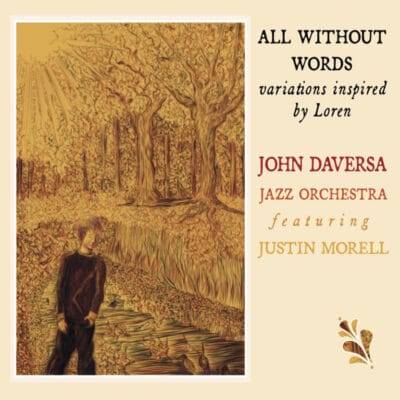 John Daversa Jazz Orchestra (featuring Justin Morell)
All Without Words: Variations Inspired by Loren
Tiger Turn
Multiple Grammy winner, trumpet master, bandleader, composer and arranger John Daversa continues his string of poignant, imaginative, and vastly different projects with this captivating work – All Without Words -Variations Inspired by Loren. And yet, he does not compose, arrange, or even conduct the orchestra that bears his name. He is just the principal soloist in this lush orchestral trumpet concerto composed, arranged, and orchestrated by his friend, guitarist Justin Morell. Loren is Morell's autistic son. This work should raise awareness of autism and draw considerable attention for its stunningly gorgeous musicianship. Given that the trumpet is the solo instrument, it will evoke those Miles Davis-Gil Evans orchestral collaborations, but this is much different musically, is played with a much larger group of orchestra members, and importantly is a heartfelt work that serves an important purpose.
Loren struggled with the basics of communication from a very young age and lost his ability to speak by the time he was three years old. Raising an autistic child certainly is challenging but the bond between child and parent is often incredibly strong. At Daversa's request, Morell wrote this orchestral work, portraying the trials, successes and memorable moments of raising non-verbal Loren, now 16 years old. The basis for these compositions is summarized by Morell this way, "Loren can be wonderfully spontaneous and always in the moment. One evening, I sat with him and listened to the singing and sounds he often makes, recording them on my phone. I quickly returned to the recordings and transcribed two different segments of beautiful melody. These segments became the theme that is the basis for the eleven variations." In other words, Loren's voice is represented by Daversa's masterful trumpet sound that soars above the orchestra – counting strings and instruments some 35 musicians as well as eight-person choir.
The album was recorded, as are most of Daversa's projects, at the Frost School of Music recording facilities at the University of Miami, where Daversa is Chair of Studio Music. He assembled an orchestra comprising some of the top jazz and classical musicians in South Florida (Troy Roberts on saxophones and Tal Cohen on piano as just two examples). Most of them are associated with the Frost School but not all of them. Due to the pandemic each section of the orchestra was recorded separately adhering to social distancing on the expansive main concert stage. Daversa said it was not difficult to recruit the musicians, even during the pandemic, as they aligned with the music and even more so, its intent.
As a composer, Morell has been influenced by Bach, Bartok, and Brahms but also jazz composers such as Herbie Hancock and Wayne Shorter. The music here even contains some pop elements as each of the eleven variation reflect a different aspect of his life with his son from the early struggles of communication to finding ways to deal with autism, to celebrating even the smallest victories. This began as a personal endeavor, but it will inevitably be treated as a musical message that focuses more awareness on autism. Morell says, "What began as a mission to celebrate neurodiversity became an opportunity for me to connect with my son and hear his voice in a way I had not before. The music is born of intense emotion- sometimes painful and sometimes joyful – and of hope for a compassionate future where all people are loved and respected for their humanity."
The work runs for over 73 minutes and it is well worth hearing it in its entirely as the twelve sections mark a journey of sorts as indicated by titles such by the probing "Searching but Never Finding" to the tightly rendered "The Urgency of Every Moment" where Daversa's trumpet just keeps reaching to the next level to the metronome-like, ostinato laden "A Day Is Forever –Like Any Other" to the peace and triumphant calm of the final two "Learning Simply to Be" and "It's Enough to Be Here, Now." Daversa's remarkable tone and passionate playing whether expressed in high-pitched squeals or majestic soaring lines represent the many aspects of Loren's myriad of emotions across the selections.
The project was produced by three producers, five-time Grammy winner and three-time Latin Grammy winner Kabir Sehgal alongside Doug David and Chris Taylor. This is one of the most beautifully eloquent pieces of music this writer has heard in recent memory, certainly in this year of 2021 so far. Expect to see it in Grammy conversations both for Morell in composition and for Daversa's amazing work as soloist.
Help Support Making a Scene
Your Support helps us pay for our server and allows us to continue to bring you the best coverage for the Indie Artists and the fans that Love them!
Make a one-time donation
Make a monthly donation
Make a yearly donation
Choose an amount
Or enter a custom amount
$
---
Your contribution is appreciated.
Your contribution is appreciated.
Your contribution is appreciated.
Donate
Donate monthly
Donate yearly
Subscribe to Our Newsletter
Find our Podcasts on these outlets