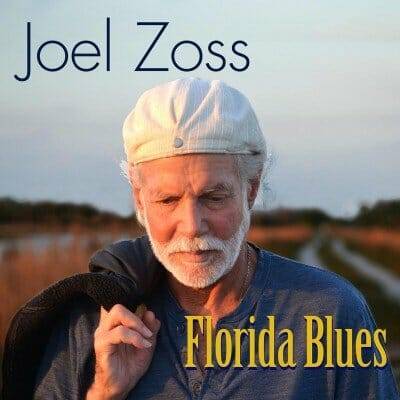 Joel Zoss
Florida Blues
Bluzpik
Joel Zoss is a singer, songwriter and award winning author. Although born in Pennsylvania Zoss grew up in New Jersey, Minnesota, and Rhode Island. He graduated from The College of The University of Chicago in 1966. Zoss spent his summers in Martha's Vineyard where he began performing with Alex and James Taylor.
In 1972 Bonnie Raitt recorded Zoss' song "Too Long at the Fair" on her break through second album "Give It Up". Another song of his "I Gave My Love a Candle" appears on Raitt's 1973 follow up "Takin My Time". Zoss released his first self titled album in 1974 on Arista Records. He has since performed with many artists including B.B. King, Etta James, John Hartford, Taj Mahal, Vassar Clements and Little Feat. Zoss' songs have been recorded in multiple genres; from Blues to Bluegrass.
During the 1980's and 1990's Zoss authored or co-authored over twenty-five non-fiction books mostly on baseball. "Diamonds in The Rough" written in 1989 with historian John S. Bowman was cited by The New York Times as one of the best baseball books ever written. Zoss is also an International PEN short story winner and won a National Endowment for the Arts Fellow of Creative Writing award for his novel "Chronicle" published in 1980.
Zoss didn't record another album until 2008 when he released "Lila" on his own Catalan label. In 2012 Katie Melua recorded her own version of the song "Too Long at The Fair".
This new studio recording features the trio of Zoss, acoustic guitar and vocals; Jeff Adkins, bass; and Matt Calderin, drums and percussion. Eight of the ten songs are new originals.
Zoss opens with "Have You Seen My Rider" with the lyric "have you seen my rider, have you seen my seen my pal, have you seen my sister, have you seen my gal". Other highlights include the relevant "Papers of Light", the beautiful "Riddle Song", and the socially appropriate "Street Vet Chant". My favorite however, and the song that should receive the most amount of airplay, is "Vodka and Red Bull" with the phrase "I got a good buzz on". "Follow Me I'll Turn Your Money Green" sounds like its traditional but it's not. Included are two covers; Big Bill Broonzy's "Keys To The Highway" and Leadbelly's "Goodnight Irene".
Zoss' songs are haunting melodies with great lyrics evoking beautiful mental images. As a songwriter and performer Zoss is the classic troubadour.
Richard Ludmerer