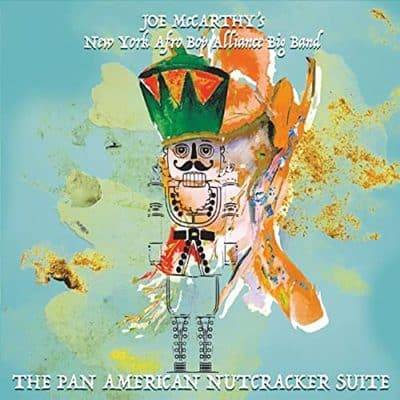 Joe McCarthy's New York Afro-Bop Alliance Big Band
The Pan American Nutcracker Suite
By Jim Hynes
We associate Tchaikovsky's ballet, The Nutcracker, with the Holiday season so this may seem a bit early. Yet the score is timeless. Drummer/leader Joe McCarthy's 18-piece New York Afro Bop Alliance Big Band (NYABA) is not the first large jazz ensemble to interpret the work either as Duke Ellington and Billy Strayhorn did their own version of the 1892 work in the sixties, but McCarthy's is a new and inventive reimagining in many ways. He draws on influences from Venezuela, from traditional Chinese drumming, from New Orleans, and purposely avoids emulating Ellington's version while nodding to him in one swinging sequence.
Scanning the personnel, you'll find some of the premier names in jazz. Session conductor Vince Norman leads a four member trumpet section of Nick Marchione, John Chudoba, Brandon Lee, and Alex Norris; a woodwind section of Andrew Gould (lead alto saxophone), Alejandro Aviles (alto saxophone), Ben Kono and Luis Hernandez (tenor saxophones) and Frank Basile (baritone saxophone); a trombone unit of Mark Patterson, Ryan Keberle, John Yao, and James Borowski (bass trombone); a percussion section comprised of McCarthy on drums, with Luis Perdomo (piano), Vinny Valentino (guitar), Boris Kozlov (bass), and Samuel Torres (percussion).
Not only are we hearing the iconic Tchaikovsky work, but few large jazz ensembles have dared to incorporate so many cultural textures into any project, not just this one which infuses rhythmic traditions from Cuba, Africa, Brazil, and China. This results in an infectious mix of funk, classical, and the Afro-Cuban foundation that has long defined McCarthy's big band. This is the groove that marks the familiar opening "Overture" with trumpeter Norris the principal soloist. "March" begins with its traditional Bolero snare intro and moves into mambo and then straight-ahead jazz, featuring solos from Luis Perdomo (Miguel Zenon) and tenorist Ben Kono. Perhaps the best-known movement of the ballet, "Dance of the Sugar Plum Fairy," is transformed into a cha cha rendered in 6/8 time, ideal for a grand ballroom. Soloists Frank Basile and Ryan Keberle occupy the low end while Perdomo and Aviles add the "sugar."
The nod to Ellington occurs in "Trepak (Russian Dance)" as McCarthy's drumming begins the piece in mambo mode, morphing into 6/8 and bringing a storm-like fury from the various soloists. While the title references Russia, we feel transported to a sweaty club in Havana. We are then transported to Spain as McCarthy takes his cue from Gil Evans and Miles Davis's Sketches of Spain in "Arabian Dance," introducing a flamenco element, mixed with Afro-Cuban rhythms and a soaring solo from Andrew Gould. "Chinese Dance" is more elegant as one can visualize a series of pirouettes around the Chinese drum and percussion patterns laid down by McCarthy on drums and Torres on congas. "Dance of the Reed Flutes" is inspired by the rhythms of Brazil, as the brassy piece features a fiery trumpet solo from Marchione and later fluid guitar work from Valentino. "Waltz of the Flowers," an ideal one for Venezuelan pianist Perdomo, closes the project with a Joropo rhythm from that country as Valentino this time takes to the acoustic for his solo. As heard throughout, there are many example of terrific ensemble passages, this one being especially strong for the woodwinds, although the brass put a heavy exclamation on the last note.
This is a truly transportive recording, taking the familiar into new realms, consistent with McCarthy's reputation as a true innovator of the Afro-Cuban style, an uncanny ability to honor tradition and look forward at the same time.
Help Support Making a Scene
Your Support helps us pay for our server and allows us to continue to bring you the best coverage for the Indie Artists and the fans that Love them!
Make a one-time donation
Make a monthly donation
Make a yearly donation
Choose an amount
Or enter a custom amount
$
---
Your contribution is appreciated.
Your contribution is appreciated.
Your contribution is appreciated.
Donate
Donate monthly
Donate yearly
You can donate directly through Paypal!
Subscribe to Our Newsletter