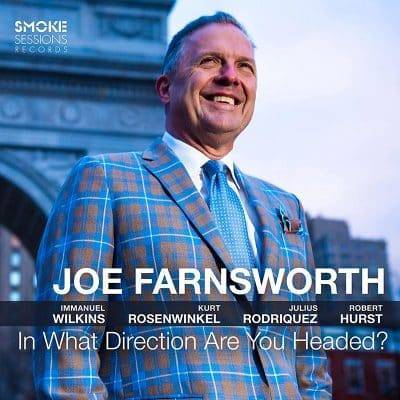 Joe Farnsworth
In What Direction Are You Headed?
Smoke Sessions
In What Direction Are You Headed? is the third album as a leader on Smoke Sessions for " Time to Swing," drummer Joe Farnsworth. He has built his reputation as one of the best straight-ahead drummers in jazz for the likes of Wynton Marsalis, George Coleman, and prior to that a staggering litany of greats including McCoy Tyner, Harold Mabern, Horace Silver, Benny Golson, Cedar Walton, Barry Harris, Johnny Griffin, Lous Donaldson, Cecil Payne, Pharoah Sanders, Kenny Barron and more (Whew!) But, as the title suggests, Farnsworth makes a shift with this recording. Instead of backing the elders, he turns to members of his generation and those of a younger one in the most contemporary setting he's played in on record. The "his generation" quintet members are guitarist Kurt Rosenwinkel and bassist Robert Hurst. Reaching younger, he's tapped the versatile pianist/keyboardist Julius Rodriguez and alto saxophone great Immanuel Wilkins. With Wilkins and Rosenwinkel on the front line, two from Philly who inherently have similarities in styles, mostly grounded in a bluesy sound.
Having played at the Village Vanguard with a surprise call from Rosenwinkel, Farnsworth enjoyed the gig so much that he decided that his next project would be with the guitarist. Wilkins has received so much overwhelming acclaim for his two Blue Note recordings that he was a no brainer. The same could be said for the Juilliard trained Rodriguez who turned heads last year with his Verve release Let Sound Tell All (covered on these pages). The multiple Grammy winner Hurst is one that Farnsworth has wanted to play with for a long time now as both have traveled in similar circles with Wynton and Branford Marsalis, Mulgrew Miller, Diana Krall and others. Together, they comprise as star studded a quintet as you'll find. One other consideration, not necessarily stated by Farnsworth, but one that he was likely aware of is that Rosenwinkel's distinctive, lyrical guitar sound blends very well with lyrically oriented saxophonists as heard on the guitarist's classic mid-2000 Verve period with Mark Turner on Heartcore and Joshua Redman on Deep Song up to this year's pairing with altoist Jim Snidero, Far Far Away or the more recent with the live recording from Tobias Meinhart and Berlin People, Dark Horse. If you've heard any of those, you're bound to enjoy this one.
Rosenwinkel's touch is present from the outset with his composition, "Terra Nova" leading off the set followed by "Filters." The former first appeared on the guitarist's 2006 Vanguard date, The Remedy, and the latter on 2001's The Next Step. The free floating "Terra Nova" captures the aforementioned lyrical approach of Rosenwinkel and Wilkins while the latter's staccato and start-stop rhythms call for more vigorous kit work from Farnsworth. Again, the frontliners play impressively in unison and individually as Hurst drives a sturdy bass line and Rodriquez comps emphatically. So, just two tracks in, Farnsworth is teetering on the edge of the mainstream. And, he has a frenetic solo to boot.
In a means of safeguarding against a complete plunge into this newer world, Farnsworth decided at the outset to have one of Harold Mabern's compositions be the bridge between the past and the future, thus the title track. Yet, despite his long tenure with Mabern, Farnsworth had only played the composition once, at Mabern's final gig, once again at the Village Vanguard. The tune dates to 1971, recorded on Lee Morgan's last studio album. Farnsworth contacted Mabern's son, Michael, for permission to use it. You can read the interview in the liners between Michael and Farnsworth for additional insight but as you listen, the first instrument you hear is Rodriguez on Rhodes, immediately setting the stage for an updated approach. It seems as if the drums are set a little more prominently in the mix here; one can't help but admire Farnsworth's deft and steady touch as the musicians stretch out in hard bop mode, with Wilkins especially inspired, blowing furious, squawking and shrieking clusters that motivate Rosenwinkel and the drummer to engage in kind.
Appropriately Wilkins' lush ballad "Composition 4" follows, with elegant soulful lines from the composer and rambling bluesy acoustic piano from Rodriquez as Rosenwinkel colors in the spaces. The pianist presents the hard motoring "Anyone but One" as the group again burns with hard bop gusto, flying at ridiculously fast tempos, especially shining moments for the frontliners, Rodriquez, and the leader. Rosenwinkel's ballad "Safe Corners," also sourced from The Remedy, steers us into calmer waters (or corners) as the guitarist and altoist engage in light call and response to Hurst's firm plucking and the drummer's subtle, unobtrusive support.
The Farnsworth penned bluesy "Bobby No Bags" captures Hurst's nickname due to a lost luggage experience while on tour with Diana Krall. It proves to be a feature for the bassist and reveals especially strong interplay between the bass-drum tandem as well as animated solos from the three other quintet members. They close with one that's been a favorite for many ensembles in recent years, Donny Hathaway's "Someday We'll All Be Free." It's also a nod to the past as it was one of Mabern's favorite tunes and Hathaway was his favorite singer. Listen to how gorgeous the opening lines are from Wilkins, Rosenwinkel, and Rodriguez as Farnsworth chooses just steady, insistent beats to keep it moving. This may well be the best version of the tune this writer has heard, It just chills.
Whatever direction Farnsworth heads will likely prove fruitful. This one certainly does as it's an early favorite for one of the year's best.
Help Support Making a Scene
Your Support helps us pay for our server and allows us to continue to bring you the best coverage for the Indie Artists and the fans that Love them!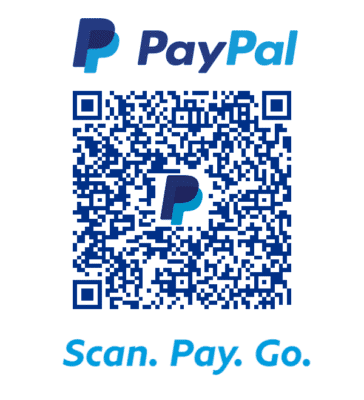 FOLLOW US ON INSTAGRAM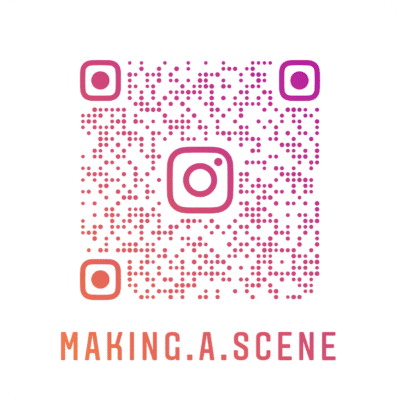 Subscribe to Our Newsletter