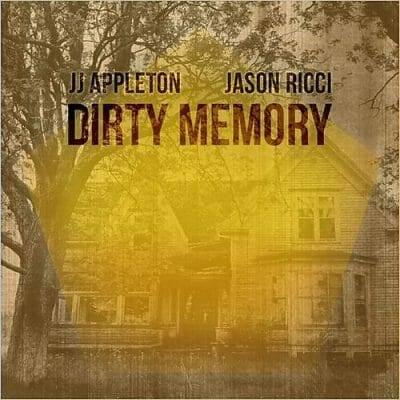 JJ Appleton and Jason Ricci
Dirty Memory
Old Boy Network
JJ Appleton was born in 1976. His father was a Dartmouth professor who turned him on to the Folkways Records catalogue. At the age of ten Appleton saw Sonny Terry and Brownie McGhee and got hooked on the Blues. Other influences include Albert King, Stevie Ray Vaughan and Johnny Winter. He attended the Berklee College of music in Boston and is a singer, songwriter and guitarist.
Jason Ricci recorded his first album in 1995. My favorite early album of his is 2001's "Feel Good Funk". Ricci formed the band "New Blood" in 2002. Ricci released two albums on the Eclecto Groove label; 2007's "Rocket Number 9" and 2009's "Done With The Devil". Ricci was nominated for a Blues Music Award as Best Harmonica Player in 2009 and won that award in 2010. Ricci also shares a Grammy award for his performance on Johnny Winter's last album 2014's "Step Back". Ricci currently tours with his band Jason Ricci and The Bad Kind.
This is an all acoustic album featuring Appleton, resonator guitar and vocals; and Ricci, harp and vocals. They are supported by bassists Tim Lefebvre or Neal Heidler.
Appleton has written five new songs for this album. The Elmore James styled opener "Leaning Blues"; the sexy "Can't Believe It's This Good"; the philosophical "Just Enough"; the road worthy "At The Wheel Again" and "Come On Over, Come On By". Appleton's guitar playing on the later is beautiful.
Ricci contributes three originals including the autobiographical "New Man" and "Demon Lover". Ricci's harp playing is fabulous throughout the recording but especially on his solo harmonica instrumental where he incorporates some Lee Oskar "Low Rider" licks.
The selected covers are Blind Willie Johnson's "Nobody's Fault But Mine"; the Jagger/Richards' "Black Limousine" and "It Ain't No Use" written by Jerry Williams, Gary "U.S." Bond and Don Hollinger; and recorded by Jerry Garcia and Merl Saunders in 1972.
The tradition of an acoustic Blues duo with guitar and harmonica is often referred to as Piedmont Blues having it's origins in the Piedmont area which includes North Carolina and the surrounding states. The traditions foremost exponents were Sonny Terry and Brownie McGhee. Today there are very few significant recordings in this style. Appleton and Ricci have done a great job of keeping this tradition alive.
Appleton states that recording these songs with a world class harp player like Ricci fulfills a lifelong desire. A tour in support of this album is being planned.
Richard Ludmerer