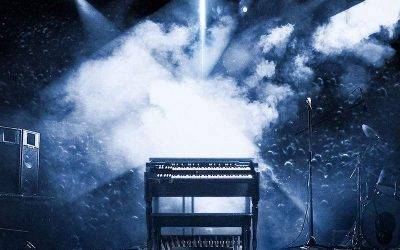 Jimmie Smith
Live in Music City: Jimmie Smith Plays Jimmy Smith
Woodward Avenue
The inevitability of this concept will likely bring a "you must be kidding" chuckle at first but it's a terrific show by Hammond B3 organist Rev. Jimmie Smith honoring his almost namesake, the iconic jazz organist Jimmy Smith. "Tribute to the Hammond Legend," was performed and recorded at The Rutledge in Nashville last year before a joyously appreciative audience, presented by several sponsors including Hammond Organ USA as part of the summer NAMM Expo. In addition to a full band with horns, it also featured two other outstanding Hammond players: Jim Alfredson and producer, Grammy nominee Paul Brown (Bobby Rush), who also plays for The Waterboys where he's simply called Brother Paul
Rev. Jimmie Smith is a practicing Minister based in Atlanta, whose musical style blends gospel organ and traditional and modern jazz. Smith is a charismatic entertainer who know how to quickly draw the audience in. For this special show, Smith not only played the Hammond B3 but featured the smaller Hammond Sk2 Performance keyboard in tandem with the B3 to create some different textures. The show was not intended to be a strict reading of Jimmy Smith but a 21st century interpretation of Smith's spirit and influence.
The set opens not with "The Cat" from Lalo Schifrin, a horn-drenched spirited romp that has guitarist James DaSliva and The Reverend's explosive organ solos in the spotlight. It's one of standouts in Jimmy Smith's catalog and features Paul Brown as the second organist. (Note: Brown also plays in a band with guitarist Paul Brown to whom he is not related. Brothers Brown will release their sophomore album, Uptown Blues on this same label. You can see the five and a half minutes "The Cat" in the YouTube clip.
Given that the album clocks in at eighty minutes, most of the other tunes are more extensive. "Get Yourself a College Girl" is the kind of slow simmering we most often associate with Jimmy Smith. Here Jimmie lays back, letting the briskly swinging DaSilva hold sway before yielding to trumpeter Jon Paul Frappier. Then, halfway through the Reverend delivers a mesmerizing solo. The band then stretches out on another gem from Jimmy Smith's catalog, "Midnight Special" as Jimmie, after his blazing intro, mostly supports around the dazzling solos from tenor saxophonist Chris West, guitarist DaSilva, and acoustic piano from Paul Brown. Next is Jimmy Smith's classis "The Sermon," which melds in lines from James Brown's "I Feel Good," as fellow Hammond Master Jim Alfredson improvises in tandem with Jimmie and the band. Reverend Jimmie then offers a rather tongue-in-cheek apology for switching to blues, rendering Muddy's "I've Got My Mojo Working" where Jimmie sings and the horns build to a shattering crescendo. And, that's only the first half of the show.
In his own heartfelt "I Really Love My Hammond." Reverend Jimmie brings out guest vocalist Bishop Dr. Jeronn C. Williams. The fiery Jimmy Smith classic, "Root Down," showcases the Hammond pyrotechnics of Brother Paul, a difficult act to follow. So, Reverend Jimmie ups the ante, together with Da Silva, for a psychedelic approach to the gospel favorite "Oh Happy Day." Drummer Marcus Finnie solos on the intro to "Funky Broadway" which leads into a Reverend Jimmie tune "Only God Can" where he emphatically states his faith, dedicating it to cancer survivors.
This past year has seen a renewed interest in organ trios and the Hammond. While Jimmie Smith presents a far larger ensemble here, and by and large, more energetic music than the classic late '50s and '60s ear of organ trios, his mastery of the instrument in undeniable. This is an absolutely blow the roof off the place performance!
[amazon_link asins='B07DQ3ZX1M' template='ProductCarousel' store='maasc-20′ marketplace='US' link_id='9de3ad7a-9afc-11e8-9796-ed45cb32c88c']