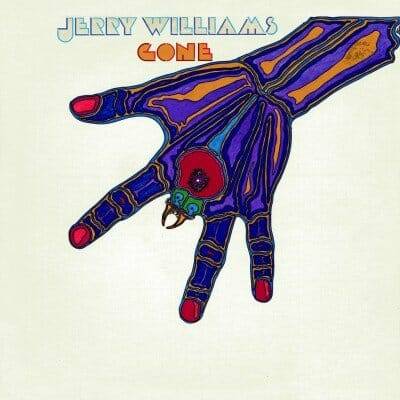 Jerry Williams "Gone" www.RealGoneMusic.com
Jerry Williams (AKA Jerry Lynn Williams) is more known as a songwriter than solo artist. From this recording Delbert McClinton covered and notched a hit with Williams' "Givin' It Up for Your Love." From later Williams' albums; Eric Clapton covered "Forever Man," "Pretending" and "Running on Faith," with millions of copies sold. The aforementioned Clapton, Stevie Ray Vaughan, Mick Fleetwood, and Nicky Hopkins all of played on Williams' latter-day solo albums, but none of this aptly rewarded Williams with any fame and/or name recognition.
1979's "Gone" was produced by Chris Kimsey his first project following the production of the Rolling Stones' "Some Girls" album. Kimsey brought in the (connected-at- the-hip) team of "Duck" Dunn and Steve Cropper plus drummer Jeff Porcaro, with a horn section plus other well-known luminaries like James Jamerson's bass, and Red Young's keyboards. Ten tunes comprise "Gone;" eight written by Williams with two covers.
Speaking of the Stones the title track opens this recording with a "Miss You" like funky/disco beat mostly derived from Ed Watkins' bass lines and Porcaro's in the pocket drumming, but it's edgier, Watkins and Porcaro stay on and drive the beat similarly on "Easy On Yourself." You'd have to figure that Cropper and Dunn had a hand suggesting Otis and Zelma Redding's "I've Got Dreams to Remember" has an expected Stax vibe and Cropper's distinctive guitar with a Memphis-like horn chart. "Talk To Me" drives like a smash up the middle for an easy single. How about covering a chaotic but heady cover of Horace Silver's "Song For My Father" where I do not know where these lyrics originated? Most know Delbert McClinton's "Givin' It Up For Love" but I never heard this original version – that's solidly deep from the heart of Texas. "Getting Stronger" is high intensity, wild and kicks below the belt from end to end. "Philosphizer" adds James Jamerson's bass and Jerry Seiwell (Wings) on drums tearing it up with Red Young's clavinet. In conclusion Williams' closes with "This Song" unaccompanied on this haunting and mysterious finale.
The Los Angeles Times eulogized Williams in '05 when he passed as "probably the most successful unknown songwriter in rock and rhythm and blues." But only a handful knew of Jerry Williams' songwriting proficiencies. Thirty-six years on, "Gone" reappears on the appropriately titled Real GONE Music label. In summary "Gone" mixes a bit of Williams' unique blend of soul, funk and rock that coagulate into a (almost) lost piece of Texas based art. In all honesty I wasn't previously aware of Jerry Williams' musical achievements, but will now dig deeper into his other solo album archives.
For 16 years Bob Putignano has been pivotal at WFDU with his Sounds of Blue radio show (Wed. & Fri. 9am-1pm) www.SoundsofBlue.com – 2015's most pledged to ($21,000+) radio program at http://wfdu.fm Previously a contributing editor at Blues Revue, Blueswax, and Goldmine magazines, currently the Music Editor for the Yonkers Tribune www.YonkersTribune.com – www.MakingAScene.org & www.wfdu.fm/Whats-Happening/Bob's Music Reviews/bobs music reviews/ Bob was the 2003 recipient of the "Keeping the Blues Alive" award (given by the Blues Foundation in Memphis) for his achievements in radio broadcasting. Putignano can be contacted at: bob8003@yahoo.com