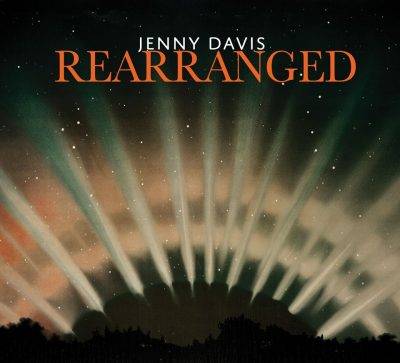 Jenny Davis
Rearranged
Three Penny
Just seeing the name Jenny Davis, not to mention her half smiling face in the promo materials, may lead one to believe that this is your basic jazz vocal album. Yet, while it has some of that character, it's much broader with some very imaginative instrumental configurations and performances. That's because Davis is not just simply a superb singer, she is a progressive composer and bandleader where her art of composition is the focus here. All but three works were composed by Davis. She collaborates with three- time Grammy nominated Seattle-based pianist Jovino Santos Neto. He brings his trio to album, contributes an arrangement and helped Davis recruit 11 other contributors including the Yeoman Warders Sax Quartet and vocalists Lorrie Ruiz and Vanessa Litrell.
Davis is 20-year veteran holding two prestigious degrees and now also serving as in-demand educator. She is all about change. Rearranged is also referred to as The Yeoman Warders Project, dedicated to those who show empathy and respect for universal human rights. The central theme is reflected in the trilogy of "Come With Me," Yeoman Warders" and the two versions of "Rearranged." They are intended to change hearts and minds through music. "Come With Me" is performed with Neto's trio together with vocalists Davis and Litrell. Davis' lyrics celebrate the beauty of truth while highly acclaimed bassist Chuck Deardorf takes a most lyrical double bass solo.
"Yeoman Warders" is a suite in the three movements for the saxophone quartet, the first wholly instrumental work Davis ever composed as she acknowledges the Charles Mingus' Big Band, John Coltrane and the spirit of Gil Scott-Heron. Her imagination is quite impressive. The Prelude, entitled "Utopian Changes" expresses a time of innocence between a mother and a child, based on the belief that no harm will come to the child. "Minor Blues" follows representing the truth unfolding and the need to stand guard in the face of lies, untruths, even hatred. The final segment depicts the "Mother Bear" and her anger toward an unsafe culture.
"Rearranged" is a prayer, sacred, and orchestrated for a string quartet. The two versions include a live version with Sirius String Quarter and a studio version performed by Neto's trio with Davis on vocals for both. "Rearrange Me," Davis pleads meditatively in her lyric, asking to be changed "into someone choosing love/transform my anger/rise above."
There's plenty more of course. The first notes you hear are Brazilian beats opening "Aceptar," a vocal bossa nova in which horn and vocal lines merge. Saxophonist Kurt Festinger blows a potent tenor solo followed by Neto's piano. She then covers Herbie Hancock's "What If I Don't" with the trio backing her. Other highlights include a cover of Bob Telson's "Calling You," a song of yearning highlighted by Dmitri Matheny's flugelhorn solo. Davis' original "Answer the Call,' one that moves from pensive to dramatic moods, highlighted by Davis' vocal, Heather Bentley's violin and Neto's piano.
"Gemini Tango" reveals her penchant for Argentinian music, buoyed by David Lange's accordion Davis's lyric which is a play on romance and astrology. "Wise Up" is another of Davis' totally instrumental pieces, based on a series of scales and musical patterns that musicians from Schoenberg to Coltrane have adhered to. Award winning alto saxophonist Mark Taylor joins Neto's trio where each member engages in vigorous dialogue and trade some phrases. Neto, impressive throughout, demonstrates a full range of skills here from angular arpeggios, crashing chords, and some imaginative melodic lines.
Yes, this is a highly ambitious album – elegantly complex which lends itself to repeated listens. The high caliber musical talent will likely have you missing her strong lyrics the first time through. Hit repeat; there's plenty to absorb in this beautiful work.