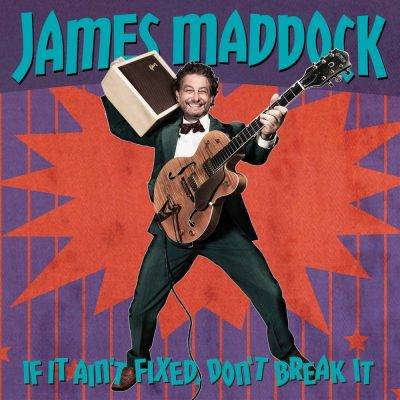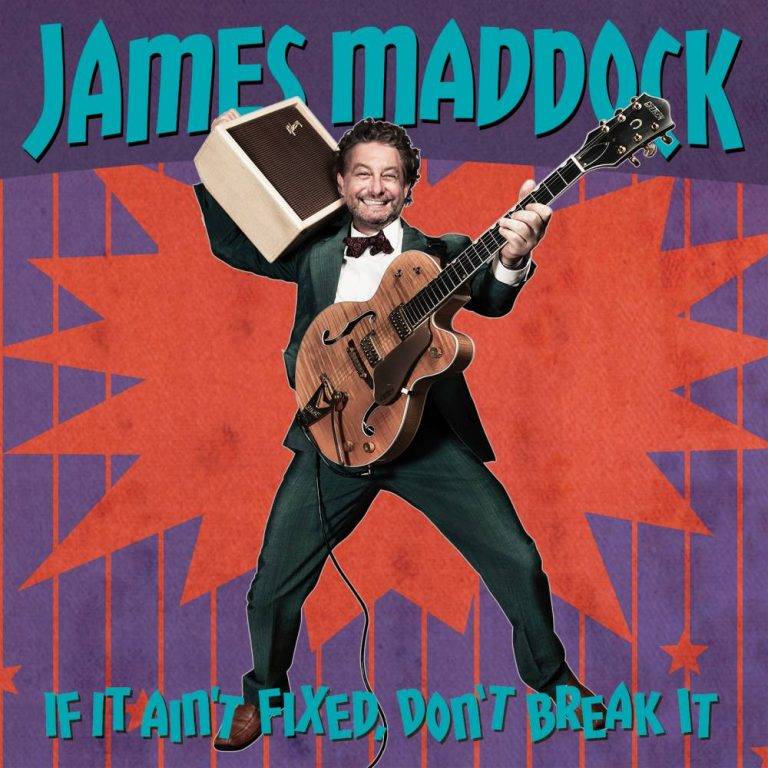 James Maddock
If It Ain't Fixed Don't Break It
The newest album by James Maddock is a reflective American songbook James Maddock style. "If It Ain't Fixed Don't Break It" takes you back in time. It's new music by a reflective rocker and a soulful crooner. These songs are a nod to music that shaped who we are and what we stand for.
I first met James Maddock at an after gig party in New York City hosted by mutual friends. It was a few albums back and I've seen him many times since. In writing this review I've come to realize how really good and diverse James is as a guitarist. On stage he can't do it all, but on this album he does precisely that, and brilliantly I might add. James produced the album, sings and plays all the guitars on the album. Aaron Comess plays drums, Ben Stivers provides all the keyboards, and Drew Mortali is on bass. Backing vocals are provided by Joy Askew and Shannon Conley.
"Discover Me" opens the album appropriately enough. The guitar on this takes me back to Glenn Campbell and the Wrecking Crew. It's a rollicking piano rocker that's an amalgamation of 70s surfer melded with rhythm and blues rock 'n' roll. Is it about a career or is it about a girl? Whichever, it's worth discovery.
When you've crossed that line in a relationship and you can't take it back. That's "No Love In Our Love". The relationship has become a misunderstanding you say, let's walk this back a bit. This isn't what you think it is. There's no love in our love.
"Loretta" is a brilliant cover of a Townes Van Zandt song. James makes it a rocker and strengthens the songs legacy proving once again that a good song can cross genres.
"Ain't Leaving My Girl For You" is a warning to all girls out there that guys are dogs and they'll tell you anything for a good time. The Hammond B organ and backing vocals lends itself to a nice Hitsville USA vibe.
Knife edge is an instant favorite that is beautifully composed. The songs melody builds to crescendo just like someone on the edge. It's a warning to anyone looking to take advantage. The searing guitar solo it timed perfectly and is straight and to the point. Fantastic lyrics, this song gets replayed a lot.
I'll call this next song to be nominated for song of the year if not the song for our times. The song starts with silence as the Hammond B-3 organ warms up. "Calling My People" is masterfully composed. James's gretsch guitar is tonally perfect. This song is for the reverend Al Green or the Staple Singers. Lyrically it's a call for anyone on the right side of history to take a stand.
"Music In The Stars" is James at his crooning best as a band leader at an old dance hall. The accordion and percussion provide the backdrop for the singing and flamenco style acoustic guitar. A child's memory plays out in an old man's mind.
Keeping with the bandstand theme "Don't Lie to Me" is a great call and response song. Featured are the Hammond and piano.
Dad's guitar is ethereal electric guitar is the only instrumental on the album and features Hawaiian style playing.
"Land Of The Living" is the 50s rock or 60s rocker soccer sock hop Jerry Lee Lewis rocker I could imagine standing up at the piano picking a chair back well as Chuck Berry on guitar.
Get this album if you're yet to discover James Maddock. It ain't fixed, but it's not broken either. This album and artist is entertaining and real. Hopefully I'll see you at the next show. Bring a friend.
[amazon_link asins='B07G43FC5M,B00DFU7MZS,B004GYDFOO,B00JH8JW9Q,B074WJTZ3C,B00XJ30M6W,B00XZSZI6U,B00WZBW1Y0,B00E73A92K' template='ProductCarousel' store='maasc-20′ marketplace='US' link_id='e421455e-f504-11e8-995d-4fb17af2ba60′]