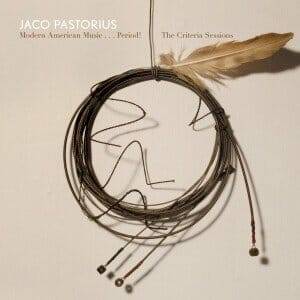 Jaco Pastorius "Modern American Music … Period! The Criteria Sessions" Omnivore Recordings
Jaco Pastorius' major solo debut appeared in 1976 on Epic Records, many of the tracks had their beginning two years earlier when a twenty-two year-old Pastorius booked time at Criteria Studios to work out songs and jam. Eventually six of those session tracks were culled from acetate and would find their way onto that '76 album. Until now some songs remained unreleased and they are now offered in a pure and unedited form for the very first time.
"Modern American Music… Period! The Criteria Sessions" contains some of his earliest studio work. Jaco is backed by drummer Bob Economou, Fender Rhodes keyboardist Alex Darqui, percussionist Don Alias, and steel drummers Othello Molineaux and Cederik Lucious. Unlike his '74 relatively unknown I.A.I. label album (also titled) "Jaco" with producer/pianist Paul Bley, guitarist Pat Metheny and Bruce Ditmas' drums, those tracks offered an unfocused/distorted Metheny which could have been magnified by the albums poor sound quality. Conversely these Criteria Sessions sound crisp; melding avant-garde sounds with elements of bop, fusion, and wide open improvisation that occasionally radiate lush and dreamy musical backdrops.
Pastorius' bass solo opens this set with Charlie Parker's short (2:55) "Donna Lee," yet the remaining songs are all credited to Jaco. The bizarre "Balloon Song (12 Tone)" is next, followed by "Pans #1" which is exactly what you would expect with chaotic steel drums. Ah but the spacey and lengthy "Havona/Continuum" grooves sumptuously for over ten minutes. The hip sounding "Kuro" percolates with resounding percussion, sleek keyboards, and Jaco's propulsive bass-lines. The dreamy "Continuum" features Jaco's bass taking the lead playing over the tasty percussion and airy keyboards. The pans return on "Opus Pocus (Pans #2) which is also flavorful and punchy. The free-formed "Time Lapse" is pretty wild with "out" keyboard playing, more extravagant percussion, and Jaco's thumping bass. There's an alternate "Balloon Song (12-Tone) that meanders for far too long (12:52,) that is somewhat filler material. Another alternate take, this time on "Time Lapse" logs in at about a minute longer than the previous uneventful take, and makes for more wasteful CD space. The closing "Forgotten Love" could have been used for outer-space soundtrack material that makes for a pretty and pleasant finale that's apropos.
In summary this disc features eleven tracks from Jaco and company recorded at Criteria, plus liners from Metallica's Robert Trujillo, and Pastorius' biographer Bill Milkowski (who is also a journalist for Down Beat and Jazziz magazines.) There also are previously unseen photos from the family's archives that add a warm touch. Final note: This material was exhumed and restored in conjunction with the 2014 documentary "Jaco, the official Record Store Day" film.
Other Jaco Pastorious factoids:
Jaco is inducted in the Down Beat Jazz Hall Of Fame.
Jaco was a Member of Weather Report.
Jaco played with Joni Mitchell, Pat Metheny, Ian Hunter, Herbie Hancock, Hiram Bullock and Jimmy Cliff amongst others.
Jaco's Fender Jazz Bass, (also known as the) "Bass of Doom," is currently preserved and used by Metallica's Robert Trujillo.
For fifteen years Bob Putignano has been pivotal at WFDU with his Sounds of Blue radio show: www.SoundsofBlue.com – Previously a senior contributing editor at Blues Revue, Blueswax, and Goldmine magazines, and currently the Music Editor for the Westchester Guardian Newspaper www.WestchesterGuardian.com and now at: www.MakingAScene.org
Putignano can be directly contacted at: bob8003@yahoo.com
Bob Putignano: www.SoundsofBlue.com
Weekly Music Editor at: https://www.WestchesterGuardian.com – NYC area Newspaper Now celebrating 15 + years on the air at WFDU https://wfdu.fm