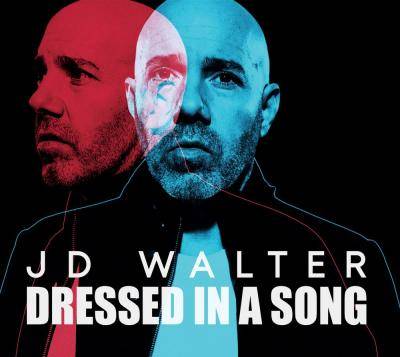 J D Walter
Dressed in a Song
Self-released
This is a comeback for jazz vocalist JD Walter, the unexpected kind. With a reputation for being somewhat eccentric, adventurous, and the so-called "progressive electronic vocalist," Walter returns from a life-threatening heart condition and surgeries on his heart and vocal cords to deliver an intimate album of mostly acoustic piano duets. Working with three veteran pianists that he's worked with over his 25 years, as well as three highly regarded others, Walter delivers seven tunes, a collection of standards and originals.
The producer is Walter's cohort, Grammy winning producer and veteran jazz A &R exec Al Pryor. The opening title track has accompaniment from Taylor Eigsti, "You Go to My Head" from Jim Ridl, "What the World Needs Now" from Orrin Evans, and "Can It Be Done" by Jean-Michel Pilc. Walter duets with Marc Cary on his original "Brother John" but changes the configuration for his own "The Last Muse" by employing a backing quartet comprised of pianist Julius Rodriguez, bassist Ben Wolfe, drummer Obed Calvaire and vocalist Becca Stevens, who also plays charango.
While recording the album, Walter 's health issue took him off the road and away from the studio for several years. Before the scare, he recorded the haunting 5/4 version of "What the World Needs Now" (expressed as a prayer for peace), the vigorous, semi-Latin styled "You Go to My Head" and the loose, capricious "Can It Be Done," a classic NOLA blues once recorded by Weather Report. The title track which is also the emotional theme of the album, "Dressed in a Song" was also recorded before his illness. It's dedicated to the mother who adopted him at age one and raised him. She was and is a musician who gave him his escape into music.
The two originals came post-surgery. The non-duet "The Last Muse" begins with Becca Stevens plucking the charango and later backing Walter with angelic harmony vocals. This is an expansive lyrical 11-minute piece expressing love through reflective images that illustrate vignettes from his early courtship of his current girlfriend. Rodriguez's backing piano produces some unusual chords and a breathtaking emotive solo, supported beautifully by Wolfe and Calvaire. "Brother John" is a powerful homage to Walter's best friend who took his life almost a year ago. It also serves as cathartic for Walter who battled his own depression and financial hardships while away from music.
The final track on is Walter's unique take on the traditional hopeful hymn/lullaby "All Through The Night," which he used to sing as a child to fall asleep to when he was afraid. Remarkably, in addition to adding a bit of vocal scat, he showcases all the pianists on the album except for Taylor Eigsti, sometimes two or three at a time. The album includes a version of the song that is edited down from his original recording, which featured a four-minute intro that morphs like a puzzle from one pianist to the next, and sometimes in tandem and as a trio.
Walter is a truly unique vocalist who reshapes songs in unthinkable ways as best evidenced perhaps by the most well-known song here, "What the World Needs." His style is intense and thoroughly engaging. And, besides that, you'll hear some of the best jazz pianists gathered in one place. It does demand a focused, concentrated listen to appreciate the countless nuances from Walter's phrasing and wide vocal range to the dynamics of his accompanists.