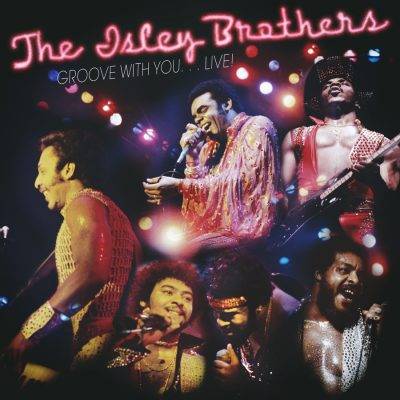 The Isley Brothers "Groove with You…Live!" www.RealGoneMusic.com
Originally recorded at Bearsville Sound Studio in Woodstock, NY from 1980 – this live set was buried until last year's Record Store Day (2015) release as a limited edition vinyl LP. Around the same time it was also made available as a digital download titled "Wild in Woodstock," but never as a CD album until now. For better or for worse: this Real Gone Music disc release retains the overdubbed crowd noise that makes it "feel" like a live concert – but it wasn't. Nonetheless all of the Isley's; (Ronald, Rudolph, O'Kelly, Ernie and Marvin) along with brother in-law Chris Jasper, drummer Everett Collins and percussionist Kevin Jones play on as if they were performing in front of a sold-out crowd at Madison Square Garden.
The album starts with an introduction by a guy named Gorgeous George as the band tears into "That Lady," it's instantaneously apparent (especially with Ernie Isley's nonstop guitar shredding) that the band is red hot and on fire. Shifting to a romantic soul groove on "Here We Go Again," and they keep the heat on simmer for the sexy "Don't Say Goodnight (It's Time for Love.)" The medley "Hello It's Me/Footsteps in the Dark/For the Love of You" also maintains a seductive mood than become raunchy with nasty and dirty funk on "Take me to the next Phase," and roll into power-glide on the high-paced "Fight the Power." The title track is another love affair that's dreamy and soulful as is their segue to Seals and Crofts' lengthy interpretation of their smash hit "Summer Breeze." Note midway this "Summer Breeze" alters course and allows Ernie Isley's guitar to wail. "Say You Will" is another uplifting message with powerful vocals and another nonstop excursion for guitarist Ernie Isley, man this guy plays with intensity. It's off to the races with "Livin' the Life/Go for Your Guns" a high-powered romp the soars towards the stars when guitarist Ernie Isley lifts-off again with another potent guitar segment that ends the song and the performance/concert.
This era of the Isley Brothers illustrates their electric strength, top-shelf vocals and overall arrangements. They are performing as if their lives depended on it at nearly the top of their game. I took a look at the digital download version and noted that reissue producers Gordon Anderson and Joe Marchese tinkered with the song sequencing – making the flow of this CD version sound like you'd like a concert to unravel with a good feeling smartly punctuating the festivities of a memorable performance that also concludes with a group-effort knockout punch.
As per usual with Real Gone Music releases their use of knowledgeable journalists elevates and adds additional value to this album and to most of their releases. In this case Joe Marchese liners covers the history of the Isley Brothers band from their 1959 beginnings and onward. Interview quotes from Ernie Isley and Chris Jasper uplifts his six page essay and the entire (classy) sixteen page booklet. Enjoy.
For 17 years Bob Putignano has been pivotal with his Sounds of Blue radio shows. On-demand Homegrown Sounds of Blue internet radio shows can always be found at: www.soundsofblue.com/radioshowsmp3.htm
Sounds of Blue also streams on Wed & Fri at John Sinclair's www.RadioFreeAmsterdam.com Previously a contributing editor at Blues Revue, Blueswax, and Goldmine magazines, currently the Music Editor for the Yonkers Tribune www.YonkersTribune.com & www.MakingAScene.org Bob was also the 2003 recipient of the "Keeping the Blues Alive" award (given by the Blues Foundation in Memphis) for his achievements in radio broadcasting. Putignano can be contacted at: BobP@SoundsofBlue.com Become friends with Putignano at: https://www.facebook.com/bob.putignano.1