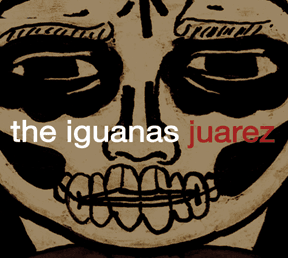 The Iguanas
Juarez
Piety Street Files and Archaic Media
Based in New Orleans, La. The Iguanas are a roots rock band. They combine Conjunto and various other Latin styles with R n' B. Imagine a cross between The Sir Douglas Quintet and The Blazers of East Los Angeles. The Iguanas consist of Joe Cabral, vocals, sax, bajo sexto, and keyboards; Rod Hodges, vocals, guitar and accordion; Rene Coman, vocals, bass and keyboards; and Doug Garrison, drums and percussion.
This is The Iguanas eighth studio recording. Their most successful to date maybe "Nuevo Boogaloo" on Jimmy Buffet's Margaritaville Records released in 1994. Some of the songs stick in your head like "Oye, Isabel" and "Boom, Boom, Boom" which was featured on "Homicide: Life on the Street". The Iguanas followed that with 1996's "Super Ball" which included the song "Benny's Cadillac". In 1999 they released "Sugartown" on Koch Records. Then in 2003 they recorded "Plastic Silver 9-Volt Heart" on the Yep Roc label. Their recording output was disturbed by Katrina but they returned to the studio in 2008 to record "If You Should Ever Fall on Hard Times". In 2013 they released "Sin to Sin" on Piety Street. "Juarez" is this year's follow up recording.
The opening track "Love, Sucker" features Cabral's hot sax and a dance groove. The frat style chorus repeats the title. "Blues for Juarez" is a bit of film noir featuring old Mexico. "Soul Kiss" is a youthful exuberant and sexy sax based piece. "Wedding of Chicken and Snake" is a Latin groove inspired by the Woody Allen movie "What's Up, Tiger Lily" and features organ and accordion. "Let's Make That Magic Happen one more time" features a pleading baritone saxophone. "Dame Tu Reloj" is sung in Spanish. Coman's bass and Hodges' guitar add some color to this tale of desperation. "Matamoros Way" is an accordion driven polka. "It Keeps Raining" was originally recorded by Fats Domino.
"Problems With You" is a polka about marriage. "La Cumbia De Chon" is about Chon, a loveable drunk. It is a cumbia originally recorded by the late Steve Jordan. "Slumming" is a poke at "fair weather friends and sometime residents of New Orleans". "When the Weather Breaks" features some beautiful guitar from Hodges.
The Iguanas have become a New Orleans institution which in their case is better than being in any other institution. They have become my favorite New Orleans band. You should go out of your way to hear these guys; they're insanely good.
Richard Ludmerer