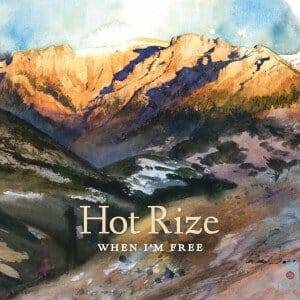 Hot Rize
When I'm Free
Ten in Hand Records
Hot Rize, originally from Colorado, released their first self titled album in 1979 on the Flying Fish Record label. The band released six studio albums and disbanded in 1990 but not before being named the first "Entertainers of The Year" by the then newly formed International Bluegrass Music Association. They've re-united this year and currently have the number one album in Bluegrass.
Lester Flatt and Earl Scruggs had a radio show called "Martha White Biscuit and Cornbread Time", and the band took their name from the leavening ingredient found in Martha White flour. The band consists of original members Tim O'Brien: mandolin, fiddle and lead vocals; Pete Wernick: banjo and vocals; Nick Forster: bass and vocals; and newest member Bryan Sutton, guitar and vocals.
Since the breakup of the band each member has individually achieved their own success. O'Brien has over a dozen albums many on the Sugarhill imprint. He is a great songwriter but my personal favorite is 1992's "Red On Blonde" on which O'Brien covers the songs of Bob Dylan.
Wernick is a genre bending bandleader who has albums under his own name and sports the nickname Dr. Banjo. He served fifteen years as President of the IBMA.
Forster is radio host of eTown a show that is a blend of environmental concern and musical discovery.
When their former guitarist Charles Sawtelle passed away in 1999, they asked Sutton to join them for an occasional reunion. Sutton's credits include being the former guitarist in Ricky Scaggs' Kentucky Thunder; and six times being named the IBMA Guitarist of the Year. They often talked about formally reuniting, recording new material and touring. Thus the title "When I'm Free" and I guess they finally were.
The band has contributed eight new songs. "Western Skies" "epitomizes the band's Boulder origins"; it was written by Forster and O'Brien. "Blue is Fallin" and "You Were on My Mind This Morning" were authored by O'Brien. "Sky Rider" is from Wernick. "I Am the Road" is sung and written by Sutton with Forster.
"I Never Met a One Like You" was written by Mark Knofler. "Burn It Down" is from Los Lobos' David Hidalgo and Louis Perez, and is sung by Forster. The band also re-arranges two traditional songs "A Cowboy's Life" and "Glory in the Meeting House".
This is no holds barred pickin' of the highest caliber. The mandolin, banjo, and guitar solos are stunning. O'Brien's vocals and the harmony provided by the band provide a great re-union. Long may they live.
Richard Ludmerer