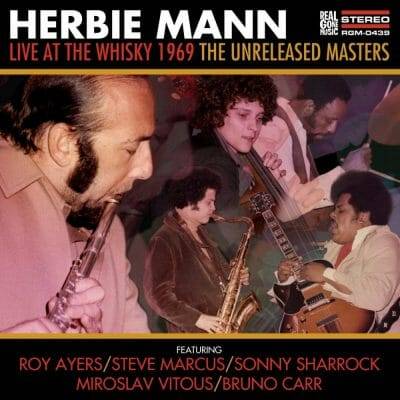 Herbie Mann "Live at the Whisky 1969 The Unreleased Masters " 2-CD'swww.RealGoneMusic.com
The original 1969 "Live at the Whisky A Go Go" vinyl LP on Atlantic Records was produced by the legendary Nesuhi Ertegun (an early originator at Atlantic) recorded by fabled audio engineer Wally Heider via his mobile truck on one-inch tape. Mann and company were captured live during the same dates as this previously unreleased two CD set. I suspect due to LP restrictions the 1969 album release contained just two songs (one per side) "Ooh Baby" (15:07) authored by Chris Hill – Columbus Baxter, and on the flipside "Philly Dog" (14:06) written by the great Rufus Thomas. Both of these cover songs are rendered here but are not the same versions that appeared on the previously issued LP. The touring lineup included drummer Bruno Carr, avant-garde guitarist Sonny Sharrock, his wife Linda Sharrock whose whacked-out vocals continue to give me nightmares, tenor saxophonist Steve Marcus, bassist Miroslav Vitous who later went onto Weather Report, the poplar vibraphonist Roy Ayers, and Herbie Mann's flute.
Disc one: "Untitled Jam" (7:21) credited to all of the performers opens this album in a loose but spirited groove. The somber "Tangier" authored by Donovan Leitch, seamlessly segues into Tim Hardin's "If I Were a Carpenter" is excruciatingly lengthy (24:21) to endure, consists of self-ingratiating solo after solo. Mann's popular "Memphis Underground" (originally from the album of the same name) grooves in a more cohesive manor and is easily the standout track of disc one. "Ooh Baby" is seven minutes longer (21:37) than its predecessor on '69's "Live at the Whisky A Go Go" LP; suffers from similar excessive soloing as "Tangier/If I Were a Carpenter," also exposes Sonny Sharrock's out-of-tune guitar playing. Disc one concludes with the traditional and short (4:06) "Scarborough Fair," with little fanfare.
Disc two: Starts with the painful "Black Woman" where I can only describe and compare Linda Sharrock's vocals to an in-heat Yoko Ono, weirdness prevails, this tune was authored by her husband Sonny which is no surprise considering his off-the-wall guitar playing on this recording and throughout his career, I never got Sonny's bombastic and nerve-wracking guitar playing and none of that changes here. Miles Davis' "All Blues" brings the band and presumptively the audience back to normal with a pleasant and realistic (6:01) rendition. There's more tripped-out madness on the second take of Tim Hardin's "If I Were a Carpenter" this time not coupled with Donovan's "Tangier," but somehow it's lengthier at (25:49,) again I don't get it. Rufus Thomas's punching "Philly Dog" (10:46) is a wonderful funky affair that allows the great Roy Ayers and Steve Marcus to step-up and stretch-out sharply. Oh no, it's another Sonny Sharrock composition "Portrait of Linda in Three Colors, All Black," that had me reaching for the remote to fast-forward onto the next track. A brief version of "Battle Hymn of the Republic" segued with Ben Tucker's classic "Comin' Home Baby," is short yet sweet (5:12) with neat flute-saxophone tradeoff riffs by Mann and Marcus. Disc two concludes with a broiling "Chain of Fools" that was authored by the recently deceased great Don Covay, a tune that was made immensely popular by the Queen of Soul: Aretha Franklin.
These Unreleased Masters present two discs of soul-jazz rock along with some prolonged jams of psychedelic meandering. This project was conceived by music journalist Pat Thomas who compiled four pages of informative liner notes, but there are too-often unneeded and unwarranted editorial opinions. Even though this album was recorded at the same time as the Atlantic Records LP release "Live at the Whisky A Go Go:" I'm still trying to figure out how the Atlantic moniker/insignia was authorized for use here? I wonder how the Ertegun's would've felt and dealt with the use of their forever famous and immediately identifiable Atlantic trademark?
For 17 years Bob Putignano has been pivotal at WFDU with his Sounds of Blue radio show (Wed. & Fri. 9am-1pm) www.SoundsofBlue.com – http://wfdu.fm Previously a contributing editor at Blues Revue, Blueswax, and Goldmine magazines, currently the Music Editor for the Yonkers Tribune www.YonkersTribune.com & www.MakingAScene.org Bob was also the 2003 recipient of the "Keeping the Blues Alive" award (given by the Blues Foundation in Memphis) for his achievements in radio broadcasting. Putignano can be contacted at: BobP@SoundsofBlue.com