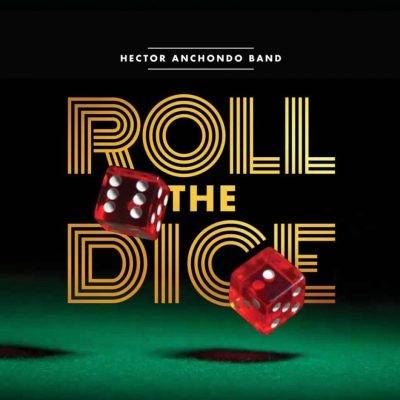 Hector Anchondo Band
Roll The Dice
Independent
Hector Anchondo was born in Omaha but raised on a farm near Salem, Missouri. He picked up the guitar when he was sixteen and has learned quickly. He moved back to Omaha in 2000 because there were more places to play. He formed his first band, Anchondo, and released his debut recording in 2002. "Rookie of The Year" was an album of mostly energetic Latin grooves.
The following year Anchondo released an acoustic rock album "Somewhere in Middle America" and followed up with 2004's "The Audience is Waiting"; and 2008's "Kings of Nowhere". When the economy crashed Anchondo went solo and began concentrating on the blues. He formed a new band, The Hector Anchondo Band, and in December of 2014 released "Young Guns". Since then he has shared the stage with Mato Nanji of Indiginous, Magic Slim, Royal Southern Brotherhood and Coco Montoya. The Hector Anchondo Band was a semi-finalist in the 2015 International Blues Challenge held in Memphis. In 2016 they competed again making it all the way to the finals.
Currently The Hector Anchondo Band includes Anchondo, guitar and vocals; Khayman Winfield, drums and backing vocals; Justin Shelton, harmonica; Josh Lund, bass; and Matt Russo, percussion. The horn section includes Eric Stark and Kenny Glover. All of the songs were written by Anchondo except for the lone cover.
"Dig You Baby" opens with Shelton's harmonica as Anchondo sings "I can't have no woman messin' around with me". The horns come in on the bridge before Vizztone recording artist Amanda Fish turns the song into a duet. Anchondo ends with a fabulous guitar solo.
"Masquerade" and the title track, "Roll The Dice", are two more spirited vocals from Anchondo. On the former Shelton plays some great harp while Drew Tvrdy joins Winfield on the backing vocal. The latter is an inventive groove with the lyric "that's how the dice rolls".
It's a talent to write songs that are original but sound vaguely familiar, "Face It Down", is completed with another guitar solo from Anchondo. "Sometimes Being Alone Feels Right" is another good lyric.
"Jump in The Water" is a fun song "do you want, do you want, do you want, to go to the waters edge", "Jump, Jump in the water". Anchondo's fluid guitar notes and vocal clarity are a pleasure. "On Your Mic, Get Set, and Sing" is another vaguely familiar sounding song. Both of these are great children's songs.
Anchondo's crazy guitar intro opens "Black Magic Woman" a 1968 single written by Peter Green of Fleetwood Mac. It later became a hit for Santana and appears on their 1970 album "Abraxas". Anchondo has got that Latin sound down pat. Lund's bass; Russo's percussion; Shelton's harp, and Winfield's drums pepper the tune.
Anchondo states he is honored to be playing with "a great group of talented, soulful, fellow musicians". Spoken like a true bandleader.
Richard Ludmerer
Products from Amazon.com
‹
›