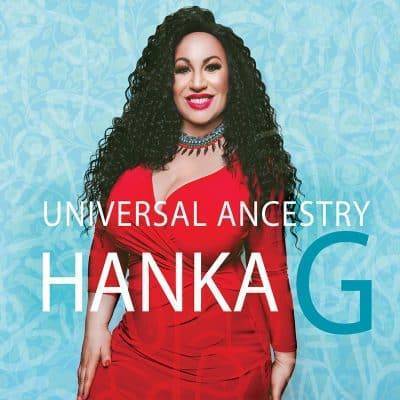 Hanka G
Universal Ancestry
Culture Bridge
As stated here previously, discovering a new artist often takes different forms whether by recommendation of friends, a glimpse at a video, or by viewing the accompanying musicians supporting the leader. The latter is the case for New York-based Slovak vocalist Hanka G (Gregusova), who with Universal Ancestry is releasing her first album here in the states. Her esteemed company includes three producers and outstanding jazz keyboard artists, Shedrick Mitchell, James Hurt, and Rodney Kendrick. Additionally, backing musicians include Marvin Sewell (guitars), Antoine Roney (tenor and soprano sax), David Ginyard (electric bass), Taru Alexander (drums), Rashann Carter (electric and double bass), Nathaniel Townsley (drums), Sherrod Barnes (electric guitar), and background vocalists Keesha Gumbs and Terelle Tipton. Slovakian artists Sisa Michalidesova (flute) and Veronika Vitazkova (fujara) also participate.
Hanka has released three albums in Europe with her 2017 Essence drawing attention from Cassandra Wilson who urged her to come to New York. Her love of jazz grew out of her exposure to the great Black American jazz masters, and she immersed herself in the NYC jazz and gospel scenes. She is moved by spiritual music and found a home in the Memorial Baptist Church in Harlem, baptized there, becoming the lead alto singer for almost two years, introducing her to gospel royalty and its many great songs. Her rich warm tone gives her the versatility to cover and fuse jazz, gospel, R&B. and Slovak folk music – a unique mix indeed.
She begins with one made famous by Whitney Houston, "All the Man That I Need," one of three tracks produced by Mitchell who plays both piano and organ behind Hanka's soaring vocal, supported by the background vocals and a searing guitar solo from Barnes. Interspersing gospel throughout, she follows with "Be Grateful," by Walter Hawkins, a contemporary force in gospel. Again, Mitchell is at the helm and on the keys as he is for her take on Donny Hathaway's R&B/gospel "Someday We'll All Be Free," emblematic of her empathy for the struggles of African Americans.
Chaka Khan's "Through the Fire" is the first of seven songs produced by James Hurt, another stirring example of how Hanka can belt it out. She pays tribute to the African American female singers who have influenced her style, first with Phyllis Hyman who first recorded McCoy Tyner's 'In Search of My Heart" and Pharoah Sanders' "As You Are," the latter with her soaring vocal taking on more urgency through Roney's emotive soprano solo. Roney's burning tenor, Sewell's guitar, and Alexander's fiery drumming all imbue the former. In both cases Hanka exerts the kind of power that only best can bring. It's no wonder that Cassandra Wilson took notice. In this vein, Hanka also puts her stamp on Abbey Lincoln's "Throw It Away," with further angst provided by the aforementioned players as well as Kendrick on acoustic piano while Hurt plays Rhodes. While these kinds of tunes are clearly Hanka's strength, she lets us know she can swing too as she does on "Them There Eyes," an old chestnut from 1930 vintage.
Hanka is also an innovator as one of the first to fuse Slovak folk music with jazz as she did on her album Essence. Here she teams with Hurt, who is the first American jazz to transform Slovak folk songs into jazz. She sings them in both Slovak and English, beginning with "Dance, Dance," a popular Slovak children's song arranged in a slinky R&B style with Sewell adding his always interesting guitar licks. "I'm Such a Pretty Girl" gets a pop veneer with Hanka singing it in an Eastern Slovakian dialect. The unusual instrument that opens "The Bird Has Started Singing" is the fujara, a unique Slovakian flute, once use dby shephers in the field. It is quite large and allows for overtones. Hence its deep mediative timbre perfectly suited for this melancholy tune, a rather odd one to close with but revealing the quieter, more subtle nuances of Hanka's tremendous vocal chops.
Hanka G has arrived; instantly making her mark as one of the most moving vocalists of these times.
Help Support Making a Scene
Your Support helps us pay for our server and allows us to continue to bring you the best coverage for the Indie Artists and the fans that Love them!
Make a one-time donation
Make a monthly donation
Make a yearly donation
Choose an amount
Or enter a custom amount
$
---
Your contribution is appreciated.
Your contribution is appreciated.
Your contribution is appreciated.
Donate
Donate monthly
Donate yearly
Subscribe to Our Newsletter