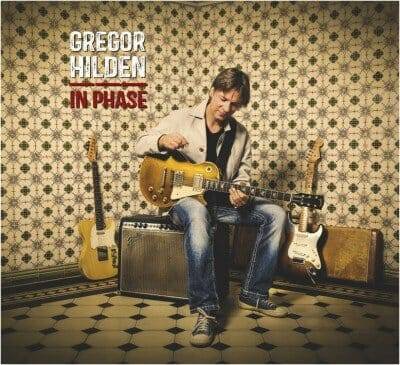 Gregor Hilden "In Phase" www.acoustic-music.de
From Germany guitarist Gregor Hilden's all instrumental "In Phase" recording is a joy from beginning to its almost sixty minutes end. Thirteen tracks are included, ten authored by Hilden and three are fairly well-known covers.
Setting the tone; Ralph MacDonald's forever classic "Mr. Magic" (made enormously famous by Grover Washington Jr.) smartly opens this recording like a fine concert performance, Hilden doesn't emulate (Mr. Magic's original guitarist Eric Gale) but niftily summons a seventies vibe with taste and grace sounding a bit more like Larry Carlton. Hilden's ballad/title track follows and takes his time with immaculate tone and a thoughtful delivery landing softly. The fiery "On Flow" stomps, note the rhythm section digging down and Thomas Hufschmidt's solid keyboard solo that sets-up Hilden for a dual guitar overdub jam with himself that's particularly creative. The funky "Rock-Zabern" stutters and shifts into a nice jam first with Hufschmidt's keys followed by a slow burning excursion from Horst Bergmeyer's B3 as Hilden takes it home with another zesty guitar solo. The well-written "Desert Song" demonstrates the telepathic interplay between Hufschmidt's keys and Hilden who chooses his guitar notes carefully and imaginatively for the (welcomed) long fade. "Springtime" gets a breezy lift from Bergmeyer's organ as Hilden's guitar billows like season changing milder aired temps. Kenny Burrell's often-covered "Chitlins Con Carne" is rightfully introduced by Hilden who simmers the pot to a stove-splattering boil, Bergmeyer's organ adds grease for the middle segment, and Hilden adds the zesty seasonings that make for good pickings. I'm not sure who Naylor is but "Naylor's Blues" gets deep and dirty with the blues, note Hilden's journeyman like patience that builds towards its near frenzy. The rhythm section of bassist Martin Engellien and drummer Dieter Steinman sets the groove for Hufschmidt's keys and Hilden's natty guitar outro on his "Greg's Funk." Hilden's ninety-three second "63" sort-of segues to Peter Green's "Fleetwood Mac" that scorches and burns, the entire band takes to Hilden's intro adding fire to the mix, but other than Bergmeyer's hot organ break and Engelien's bass solo; this one is all about Hilden tearing it up – at times playing off Steinmann's drums near the ending. "In Phase" closes somewhat delicately on the aptly titled "Farewell Blues," an appropriate conclusion to a solid recording.
If you prefer music that's diverse, flavorful, and dynamic, look no further toward Gregor Hilden's "In Phase." All of its ingredients derive from a guitarist who has total command of his instrument, who consistently illuminates his craft as a guitarist – and as a bandleader. Prior to this recording I was unacquainted of Hilden's abilities, but at fifty-one years of age Hilden warrants additional attention to not only his past but also to his future recordings. Details at: www.GregorHilden.de
For sixteen years Bob Putignano has been pivotal at WFDU with his Sounds of Blue radio show (Mon. & Wed. 9am-1pm) www.SoundsofBlue.com – Previously a senior contributing editor at Blues Revue, Blueswax, and Goldmine magazines, currently the Music Editor for the Yonkers Tribune www.YonkersTribune.com – www.MakingAScene.org & www.wfdu.fm/Whats-Happening/Bob's Music Reviews/bobs music reviews/ Bob was the 2003 recipient of the "Keeping the Blues Alive" award (given by the Blues Foundation in Memphis) for his achievements in radio broadcasting. Putignano can be contacted at: [email protected]
Bob Putignano: www.SoundsofBlue.com Wed. & Fri. 9am-1pm: http://WFDU.fm Now celebrating 15 + years on the air in the NYC area Music Editor: www.yonkerstribune.com, www.makingascene.org & wfdu.fm/Whats-Happening/Bob's Music Reviews/bobs music reviews/