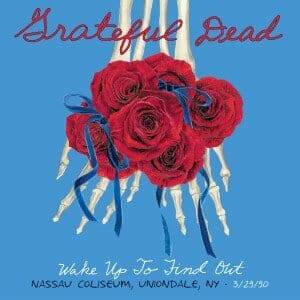 Grateful Dead "Wake Up To Find Out" 3 CD's Nassau Coliseum, Uniondale, NY (3/29/90) www.Dead.net – www.Rhino.com
The last Grateful Dead studio album "Built to Last" was released in '89, at this time the band decided to concentrate their efforts on their live performances, which by the time of this concert had disintegrated into being a mere glimpse of what they once were prior. I never liked this period, and had stopped going to their concerts around '84, Garcia (who passed just five years later) lost his edge, and the band pretty much evolved into a "greatest hits" touring unit, which used to be okay for the Dead but their creative flare had flamed out. Additionally I never cared for anyone's use of MIDI electronics and found the Dead's use of these electronics, plus the over-amplified drumming was nothing more than a cloak-crutch that was utilized to help mask the downward-spiral playing chops that evaporated. Despite my negativity, at this time the Dead were one of the highest dollar grossing touring bands that often performed in stadium concert arenas, not my cup a tea either.
To my surprise there are some stellar moments here. The band sounds invigorated and better focused because this was the night they would be jamming with jazz saxophonist Branford Marsalis who makes his first appearance near the end of the first set. Therefore forget about most of the first set (disc one) which contains a series of botched lyrics, an overdose of computer generated notes, and hideous later day versions of Dead staples that (back in the day) ruled the roost. Not here.
Supposedly Branford was invited by the Dead's bassist Phil Lesh to sit in with the band for one tune late in the first set: "Bird Song," a somewhat often performed Garcia tune that has a jazzy feel. But as Marsalis recalls, "Jerry and I hit it off. He noticed that a lot of things I was playing were based on things I heard him playing. He was grinning." During the first set break the Dead insisted Marsalis join them for their entire second set starting with an airy and exciting "Eyes of the World" into the offbeat rhythms of "Estimated Prophet," onto an out of control train-wreck of "Dark Star," that crashes and burns into a nightfall of burnt volcanic charcoal ash. Eventually it's "Turn on Your Love Light" first made famous by Bobby "Blue" Bland, adopted by the Dead's Ron "Pigpen" McKernan, and after Pigpen's passing it was again exhumed this time by Bobby Weir and the band. Marsalis was later quoted saying "I didn't know what to expect, what I experienced was what I remembered music to be in my younger years, something that I'd felt was lost long ago. There were no set lists and the music came first. It's an experience I will always remember with great fondness."
In summary this "Wake Up to Find Out" is by far the best later day Dead I've ever heard. They were obviously sparked by the presence of Branford Marsalis. But be forewarned that not all of their communicative jamming was all that remarkable. Yet there certainly are some lofty exchanges (especially between Garcia and Marsalis) that make this three CD (slightly historic) set worthwhile to own, as it was a unique experiment wrought with synergistic interplay. Jam on and enjoy.
For fifteen years Bob Putignano has been pivotal at WFDU with his Sounds of Blue radio show: www.SoundsofBlue.com – Previously a senior contributing editor at Blues Revue, Blueswax, and Goldmine magazines, currently the Music Editor for the Westchester Guardian Newspaper www.WestchesterGuardian.com and now at: www.MakingAScene.org Bob was the 2003 recipient of the "Keeping the Blues Alive" award (given by the Blues Foundation in Memphis) for his achievements in radio broadcasting. Putignano can be directly contacted at: bob8003@yahoo.com
Bob Putignano: www.SoundsofBlue.com
Weekly Music Editor at: http://www.WestchesterGuardian.com – NYC area Newspaper Now celebrating 15 + years on the air at WFDU http://wfdu.fm