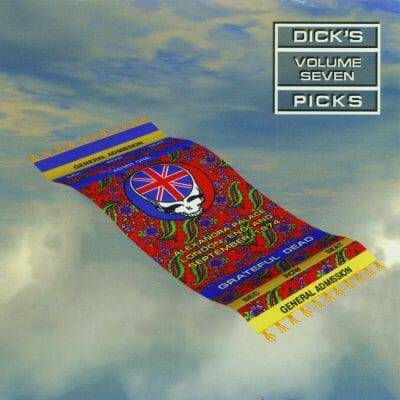 Grateful Dead "Dick's Picks Volume Seven" Alexandra Palace London, England – September, 1974 www.RealGoneMusic.com
The seventh volume of the Dead's "Dick's Picks" series is a no-frills and no liner notes Dick's Picks/three disc box with approximately three and one half hours of music. At this time the Dead's recent studio album "From the Mars Hotel" was released about two months prior. Interesting to note that two popular songs that debuted on "From the Mars Hotel" are CD One's opening "Scarlet Begonias," and conclude with "U.S. Blues" the last song on CD Three. Then again this box-set is not a singular performance – it's a pieced together collage of songs from three London shows from September, 1974. Otherwise the set is characteristic of early to mid '70s Dead with too often heard and uneventful covers of "Jack Straw," "Brown-Eyed Women," "Me and My Uncle" "Mexicali Blues," and "Mississippi Half Step Uptown Toodeloo."
CD One: Is the bottom rung disc where the only highlight is a causal but breezy (all by its self) "Scarlet Begonias" where the only harm comes from Donna Jean Godchaux's mouth. "Row Jimmy" is well suited for funeral music. The twenty-three plus minutes of "Playing in the Band" there's some fascinating playing by Garcia and Lesh and at times from Keith Godchaux's keys, otherwise there's not much else to say than to make note that Donna's vocals have started to morph to what you'd expect from Yoko Ono lungs.
CD Two: Starts clumsily with a full "Weather Report Suite" that rights itself when they open up and sail, once again it's Garcia, Lesh, Kreutzmann and Keith Godchaux coagulating like a jazz quartet, as Weir's either lost in the mix or is just MIA. Unfortunately "Weather Report" unfolds to a sleepy "Stella Blue," likely giving the audience an opportune time to hit the restrooms. The other highlight is a bouncy "Truckin'" that smartly shifts into (something I've never heard mentioned) "Wood Green Jam," it's actually nifty and spontaneous – concluding with the (almost) always gorgeous "Wharf Rat" that's a bit instrumentally different with heady (and not often heard) Garcia guitar riffs.
CD Three: Opens with another okay but typical "Me and My Uncle," an odd choice considering that (someone) had three nights of material to choose from. Another oddity is the solo shot of just "Not Fade Away" that doesn't segue to "Goin' Down the Road Feeling Bad," or anything else, long story (16:28) of "Not Fade Away" is good rock and roll but not memorable. Get your space suit on with a full tank of oxygen for a bizarre twenty-four minute "Dark Star" that had to have the British audience trembling in their seats or heading for the exits, especially during the sci-fi "Spam Jam" segment that should have been titled "Scare Jam." Out from the "Dark Star" space oddity is a pretty sweet "Morning Dew" that has powerful passages and seductive quiet moments though the band sounded a bit ragged near the ending. As previously mentioned "U.S. Blues" closes disc three, it's a fun rendition, but we've heard better versions.
This clearly wasn't the same fired-up Grateful Dead who played the UK and throughout Europe during their well-documented and legendary 1972 run. It's also telling to note that only a month after these London performances – the Dead retired for a year and a half.
*Note: These shows were recorded live on September 9, 10 and 11, 1974 at the Alexandra Palace, London, England. Musicians: Jerry Garcia – lead guitar, vocals, Donna Jean Godchaux – vocals, Keith Godchaux – keyboards, Bill Kreutzmann – drums, Phil Lesh – bass, vocals, Bob Weir – guitar, vocals.
As always: The rear covers of the entire Dick's Picks series had various – Caveat Emptor(s) "This compact disc has been digitally remastered directly from the original half-track 7.5 IPS analog tape. It is a snapshot of history, not a modern professional recording, and may therefore exhibit some technical anomalies and the unavoidable effects of the ravages of time."
`For 16 years Bob Putignano has been pivotal at WFDU with his Sounds of Blue radio show (Wed. & Fri. 9am-1pm) www.SoundsofBlue.com – 2015's most pledged to ($21,000+) radio program at https://wfdu.fm Previously a contributing editor at Blues Revue, Blueswax, and Goldmine magazines, currently the Music Editor for the Yonkers Tribune www.YonkersTribune.com – www.MakingAScene.org & www.wfdu.fm/Whats-Happening/Bob's Music Reviews/bobs music reviews/ Bob was the 2003 recipient of the "Keeping the Blues Alive" award (given by the Blues Foundation in Memphis) for his achievements in radio broadcasting. Putignano can be contacted at: bob8003@yahoo.com
https://open.spotify.com/album/2tDQBnR5OrbHg8mfGbetxf