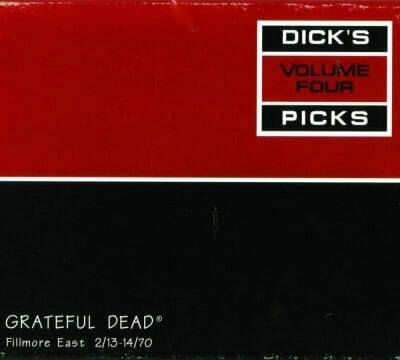 Grateful Dead "Dick's Picks Volume Four" Fillmore East 2/13-14/1970 – 3 CD's www.RealGoneMusic.com
February 13-14, 1970 is one of the Dead's most memorable appearances at Bill Graham's historic Fillmore East. This NYC Fillmore run was partially released on vinyl in '73 "History of the Grateful Dead, Vol. 1 (Bear's Choice,)" named after (Bear) Aka: Owsley Stanley the band's soundman, tape recordist and head chemist. Yet even though this recording is taken from the same Valentine's Day eve performance; none of the songs from 1973's "History of the Grateful Dead, Vol.1 (Bear's Choice,)" appear on this "Dick's picks Volume Four." Moreover; there wasn't a "History of the Dead, Vol. 2 (Bear's Choice)" nonetheless one could title this Dick's Picks Four as Owsley's Bear's Choice Vol. 2, or another psychedelic tab from Owsley.
Disc one: TV host and FM DJ "The Cool Ghoul" John Zackerle introduces the band to an enthusiastic crowd wishing everyone a very happy Valentine's Day, talks to the audience about how he was going to come down the aisle in a casket but it broke, then opines about "being bothered by the crabs I caught at Channel 47" a UHF television channel where Zach emceed a music show. He then goes on to say "this is glorious Sunday morning, the Grateful God-damn Dead" as they tear into "Casey Jones." Soul time via a psychedelically tinged "Dancing In the Streets" that energizes a party atmosphere as Weir invites everyone to get up and dance around. The "China Cat Sunflower – I know You Rider" is an early version that's not as grownup as later renditions but it also sparkles. Rounding out the CD is a nearly thirty minutes of "Dark Stat" bursts with abundant creativity and imagination.
Disc two: Starts with the basic intro of "That's It for Other One" followed by an electrified dual drum segment that evolves into the a torrid romp that soars dramatically eventually landing softly on the chorus of "Well you know he had to die" before blasting-off again into the cosmos. Then it's rhythm and blues time as Pigpen naughty soul vocal rips into a wild "Turn On Your Love Light." What a night and it isnt remotely over yet. These two songs comprise disc two in its entirety and are nearly equal in length of thirty minutes each for a combined total of over an hour. Through it all the rabid lower Second Avenue NYC Fillmore audience is eating out of the Dead's hands as the magic ensues. It's also noteworthy to mention the captured warm glow and attentive vibe of the Fillmore East. An experience unlike any concert realization I've ever experienced on record and/or in person.
Disc three: Buckle up and prepare for liftoff. Pigpen opens with his bluesy "Alligator" then the drummers do their thing for nearly thirteen minutes, the band remerges with a crackling "Me and My Uncle" (which isn't their typical later-day first-set rendition,) at the ending their high-octane charge emerges with an invigorated "Not Fade Away" ensuing for a few ticks shy of fourteen minutes – Garcia creates new instrumental passages from within this rock and roll classic. It's nonstop time; out from "Not Fade Away" and instead of the usual "Goin' Down the Road Feeling Bad" pops the rarely utilized and easily my favorite rendition of "Mason's Children" it's short but potent setting up an amazing "Caution (Do Not Stop On Tracks.)" It's here that entire band leaves the atmosphere, accelerates at breakneck speeds when Pigpen takes the microphone with choruses of "All You Need." You can barely hear a pin drop inside the Fillmore as I suspect the attentive audience is savoring the moment(s) especially during the now thunderous instrumental segments lead by Lesh's walking basslines. The Dead are amazingly responsive at this point even when Weir joins Pigpen for additional choruses of "All You Need," then back for another instrumental blastoff jam – whew! Fourteen minutes onward "Caution (Do Not Stop on Tracks) morphs into a Pink Floyd like "Feedback" sector that's actually very tantalizing and inspiring, the audience is receptive and seemingly fascinated. Nearly nine minutes later the Dead dust-off the gospel/traditional "We Bid You Goodnight," (performed acapella) tastefully capping off the one hour plus nonstop jam with warmth, and mutual appreciation between audience and band. It was a goodnight indeed! And as this was their second set of the night – it's nearly daybreak in NYC, and it also snowed during the late show. Imagine the musically charged deadhead freaks hurling snowballs and rolling around the streets on lower Second Avenue
What I always enjoyed about this recording is how the entire band sounded like they were being pumped through an experimental electronic tube especially the drummers. As an overall effort the Dead were operating on/at a very high plane, the atmosphere is unlike any other show I've heard – making this night uniquely special and forever memorable.
Recorded by Bear (Owsley Stanley) who also wrote the liner-notes reminiscing about this show and The Allman Brothers opening for the Dead and what an inspiration the Allman's were, going on to say how fantastic The Brothers were. Owsley closes his touching notes opining "listening to these tapes again after so many years (this three CD set was first released in 1996) was a real treat for me, remembering what a good time we all had in those early days of youth and hijinks. Owsley additionally explains why the songs from "History of the Grateful Dead, Vol. 1 (Bear's Choice,) were not included on this box-set; "the suits have their rules about copyrights and such, I would like to be able to present these shows the way they were, but I guess we must make do with what we have."
Musicians: Jerry Garcia – lead guitar, vocals, Mickey Hart – drums, Bill Kreutzmann – drums, Phil Lesh – bass, vocals, Ron McKernan – organ, percussion, vocals, Bob Weir – guitar, vocals
The rear cover of the CD carries the following message. Caveat Emptor: This compact disc has been digitally remastered directly from the original half-track 7.5 ips analog tape. It is a snapshot of history, not a modern professional recording, and may therefore exhibit some technical anomalies and the unavoidable effects of the ravages of time.
For almost 17 years Bob Putignano has been pivotal at WFDU with his Sounds of Blue radio show (Wed. & Fri. 9am-1pm) www.SoundsofBlue.com – http://wfdu.fm Previously a contributing editor at Blues Revue, Blueswax, and Goldmine magazines, currently the Music Editor for the Yonkers Tribune www.YonkersTribune.com & www.MakingAScene.org Bob was also the 2003 recipient of the "Keeping the Blues Alive" award (given by the Blues Foundation in Memphis) for his achievements in radio broadcasting. Putignano can be contacted at: BobP@SoundsofBlue.com