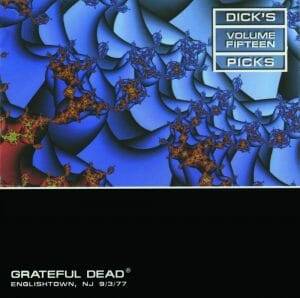 Grateful Dead "Dick's Picks Vol.15" Englishtown, NJ 9/3/77 www.RealGoneMusic.com 3 CD's
"Dick's Picks Volume 15" is a complete performance from Raceway Park in Englishtown, NJ, an outdoor event with over one-hundred thousand fans in attendance. The New Riders of the Purple Sage and The Marshall Tucker Band also performed. How do I know these details? I was there, but I almost didn't make it for two reasons: (1) the anticipated forecast called for ninety-five plus degree temperatures, and (2) WNEW-FM was simulcasting the show on the airwaves. Anyway I made the gig, and was glad I did.
This performance at Raceway Park was noteworthy. The show was their first performance in almost three months, and the first since the new release "Terrapin Station." They anticipated one-hundred thousand attendees and those expectations were exceeded. And this marked the first time they played "Truckin'" in almost two years.
My recollection of this long day was that the Dead's first two sets suffered from the excessive heat affecting their energy levels. But the coupling of "Bertha" into "Good Lovin,'"and "Sampson and Delilah" are hot, as is "Eyes of the World" flowing out of the brand new (and clunky) "Estimated Prophet." As the evening cooled they returned for a third set that started slowly with a swinging "He's Gone" which is where the magic materialized as they catapulted towards a thumping and intense "Not Fade Away" (20:07) and segued into a full throttled "Truckin.'" These last three song/jams (44:32 in total) saved and made my day. They encored with the brand new (and clumsy) "Terrapin Station," probably supporting their new LP. But it's anticlimactic and a hard act to follow with, so much so my buddies and I headed towards the parking lot. In summary this release is mostly about disc three – easily the highlight of this three-CD box set.
*Note: Tape archivist Dick Latvala was particularly fond of the '70s so it's not surprising that the first volume issued after his death is from that same decade. The following hilarious quote was included: "People of Earth: Greetings from the great beyond. I am contacting you at this time to assure you that all is well and to let you know that Dick's Picks shall continue in my absence just as before. My plans for future releases are well known to my teammates and they have sworn with their blood to remain true to the cause. I hope this release will alleviate any doubts concerning my posthumous powers." The Archivist formerly known as Dick
**Note: In many "Dick's Picks" albums, the name "LATVALA" can be seen somewhere in the album artwork, often carefully hidden. This was done to commemorate Latvala after his 1999 sudden heart attack at age fifty-six.
***Note: The always included Caveat Emptor: "This release was digitally mastered directly from the original tapes. It's a snapshot of history, not a modern professional recording. Therefore it may exhibit some minor technical anomalies and the unavoidable effects of the ravages of time."
****Note: Kudos to Betty Cantor-Jackson's accurate recording and Jeffrey Norman's CD mastering, the detailed sound resonates like it was captured yesterday, not thirty-seven years ago.
For fifteen years Bob Putignano has been pivotal at WFDU with his Sounds of Blue radio show (Mon. & Wed. 9am-1pm) www.SoundsofBlue.com – Previously a senior editor at Blues Revue, Blueswax, and Goldmine magazines, currently the Music Editor for the Yonkers Tribune www.YonkersTribune.com – www.MakingAScene.org & www.wfdu.fm/Whats-Happening/Bob's Music Reviews/bobs music reviews/ Bob was the 2003 recipient of the "Keeping the Blues Alive" award (given by the Blues Foundation in Memphis) for his achievements in radio broadcasting. Putignano can be contacted at: bob8003@yahoo.com
Bob Putignano: www.SoundsofBlue.com Wed. & Fri. 9am-1pm: https://WFDU.fm Now celebrating 15 + years on the air in the NYC area Music Editor: www.yonkerstribune.com, www.makingascene.org & wfdu.fm/Whats-Happening/Bob's Music Reviews/bobs music reviews/