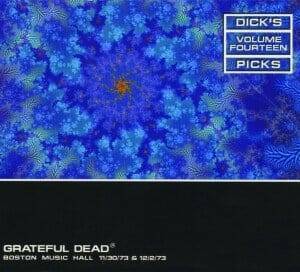 Grateful Dead "Dick's Picks Vol. 14" Boston Music Hall 11/30 & 12/2/1973 (4 CD's) www.RealGoneMusic.com
The deceased Grateful Dead tape archivist Dick Latvala selected the concerts for the Dick's Picks series, "Dick's Picks 14" is culled from their three-night run (only two nights are offered here) at the intimate Boston Music Hall, Latvala presents edited versions of the first and third nights (two CDs per.) 11/30 begins with "Morning Dew," 12/2 closes and encores with a second "Morning Dew," each show features a long "Playing In The Band" and "Weather Report Suite" the latter from their (then) recent "Wake Of The Flood" LP.
Highlights from the first night (disc one) include the opening "Morning Dew" that's followed by run of the mill first set short songs where there's minimal fireworks on the traditional "Don't Ease Me In," and Johnny Cash' "Big River." Ah but they close with a sprawling twenty-three minute version of "Playing In the Band" that bristles with creativity and telepathic interplay. Setting up (what should be an exceptional) second set.
Disc two (second set) opens with a pretty okay and extensive "Here Comes Sunshine." The drama unfolds into a nearly one hour non-stop jam that starts with an almost (fifteen minute) "Weather Report Suite" that winds its way to a fascinating (nine minute) "Dark Star Jam" towards a laid back but radiant (almost twenty minute) "Eyes of the World," that has unbounded beauty from all five band members especially Garcia who's particularly impulsive. The band must have sensed that it was getting late, so with a ten-fifteen second pause and savoring the warm applause from the crowd, they take us home with sharp rendition of a rocking (ten minute) "Sugar Magnolia." What a set and what a night! Witnessing this show was what folks (like me and many others) kept loyal fans returning and searching for additional and future magical performances as was heard and cherished on this very special night.
On the final night (disc three) they open with a pretty okay "Cold Rain and Snow" plus typical first set regulars like "Beat it on Down the Line," "Brown Eyed Woman," "Jack Straw," and "Ramble on Rose." Similar to the first nights first set we're treated to another somewhat unexpected long jam. Instead of the (twenty-three) minutes of "Playing In the Band" we get (almost sixteen minutes) "Weather Report Suite" that's a bit more tedious than the first nights version, but it's more deliberate, probably because it concluded their set. The second set opener (is also on disc three) and it's a rare opening "Wharf Rat" which is usually bottled for (in-the-midst jams,) but this nights segment continues (non-stop) for nearly (eighty minutes) seguing to "Mississippi Half-Step Uptown Toodeloo." (We now need disc four to complete their sweep.)
(Disc four) opens with (only twelve minute) "Playing in the Band" feels disjointed and chaotic with feedback and has several sci-fi terrifying moments. But they find their way back with an extremely spontaneous and somewhat structured (almost sixteen minute) "Jam" that tantalizes and hints at well-known Dead songs like "Going Down the Road Feeling Bad" but they never get there by constantly evolving and improvising songs within songs throughout this movement. The entire band is now (almost) sounding like an improvisational jazz band. Garcia's mostly leading the way but each of the five musicians remains attentive to each-others thoughts as the magic continues to a particularly soulful "He's Gone," (perhaps remembering it's only been several months that Pigpen passed.) Onward to the most laidback back but intuitive (almost fourteen minute) "Truckin'" that I can recall, with some nods to "New Speedway Boogie," and "Smokestack Lightning." So why stop now? The jam concludes (note how seamlessly they shift) to "Stella Blue" a song that I'm not particularly fond of but this version is distinctive especially considering how they ended with a soft landing. But there's more, Garcia thanks the audience and delivers a very heartfelt and emotional (just like the first night started with another fourteen minute) version of "Morning Dew." Talk about making a purposeful statement! But there seemed to be a lot of statements the Dead wanted to make in Boston via this three day tour: Something like; lets change our sound and flow, be more attentive to each-others playing, and lets playfully tease the crowd (and ourselves) and see how it works out. It's an extremely tasteful experiment, plus it sounds so sweet. Take a moment and judge yourself. This boxset (happily) took me by surprise, and stands unaccompanied as one of the most fascinating and unique Grateful Dead performances I can ever remember.
As always Dick Latvala's Caveat Emptor: "This release was digitally mastered directly from the original halftrack 7.5 ips analog tape. It is a snapshot of history, not a modern professional recording, and may therefore exhibit some minor technical anomalies and the unavoidable effects of the ravages of time."
Musicians (alphabetized by last names)
Jerry Garcia – guitar, vocals
Keith Godchaux – keyboards
Bill Kreutzmann – drums
Phil Lesh – bass, vocals
Bob Weir – guitar, vocals
Please note the absence of vocalist Donna Godchaux, and that there's only one drummer. These were very memorable and superior times for the Grateful Dead. Unfortunately this lineup was short-lived. A lot of the sounds you hear on this very fine (portrait) recording unraveled when Donna returned from having a child, and especially when Mickey Hart rejoined on drums…..
For sixteen years Bob Putignano has been pivotal at WFDU with his Sounds of Blue radio show (Mon. & Wed. 9am-1pm) www.SoundsofBlue.com – Previously a senior contributing editor at Blues Revue, Blueswax, and Goldmine magazines, currently the Music Editor for the Yonkers Tribune www.YonkersTribune.com – www.MakingAScene.org & www.wfdu.fm/Whats-Happening/Bob's Music Reviews/bobs music reviews/ Bob was the 2003 recipient of the "Keeping the Blues Alive" award (given by the Blues Foundation in Memphis) for his achievements in radio broadcasting.
Putignano can be contacted at: bob8003@yahoo.com
————————————————————————————————————————————————————————————————————————
Bob Putignano: www.SoundsofBlue.com Wed. & Fri. 9am-1pm: http://WFDU.fm Now celebrating 15 + years on the air in the NYC area Music Editor: www.yonkerstribune.com, www.makingascene.org & wfdu.fm/Whats-Happening/Bob's Music Reviews/bobs music reviews/