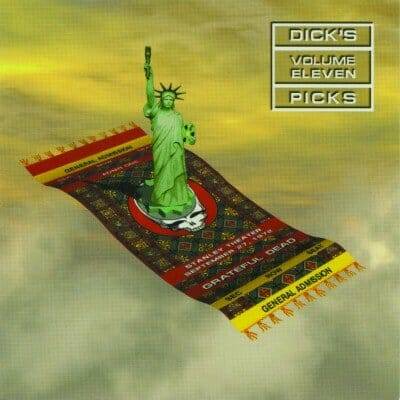 Grateful Dead "Dick's Picks, Vol. 11" Stanley Theater Jersey City, NJ 9/27/72 – 3 CD's www.RealGoneMusic.com
With the popular three LP "Europe '72" set available decades prior, it took ten "Dick's Picks" releases and nearly twenty-five years for the Dead's archivist Dick Latvala to exhume this 1972 three CD release. Latvala selects the middle date from a three-night run at the Stanley Theater in Jersey City, N. J. No one can question the quality of the sound from this old theater and the performance itself is solid and (at times) unique. Note the slow set opener of "Morning Dew" as the band really takes their time. But Jesse Fuller's "Beat it on Down the Line" picks up the tempo for rock and roll party time. These were also the days "Friend of the Devil" was performed at the similar speed they originally recorded it at, as the familiar first set warm-up tunes roll forward; Weir's "Black-Throated Wind," Mexicali Blues," are interleaved with Garcia's "Bird Song," Brokedown Palace," and "Tennessee Jed." These are not ear-catching versions but its evident everyone is attentive to each-other's playing suggesting that this might be a special night. The first set high-notes are a pretty and trippy "Bird Song," featuring two dreamy jams, the always reliable "China Cat Sunflower," "I Know You Rider" parlay, and the set closing "Playing in the Band" that had been evolving from a rock and roll dynamo into a mind-blowing intergalactic exploration (16:14.) For those counting, set one logs in excess of ninety minutes.
Set two opens with the then new "He's Gone" that scampers along for (13:31,) ending quietly. The pace accelerates with John Phillips "Me and My Uncle," Garcia's "Deal," and a scintillating and mind-bending "Greatest Story Ever Told" that erupts into a wah-wah guitar-bursting extravaganza. But set two is dominated by an over thirty minute "Dark Star" that truly trembles and explodes; unraveling into a rapid free-form (yet coherent) compelling jam. Garcia's full of flare-shooting creativity when (short-lived) weirdness sets in as this piece unfolds into a rare Garcia, Lesh, Weir trio. Finally Garcia sings (only) a single verse of "Dark Star;" "Shall we go, you and I while we can through the transitive nightfall of diamonds…" Then kick into another innovative instrumental segment that storms into a torrid "Cumberland Blues" a rare if not ever heard segue from "Dark Star." Garcia ignites on his first, second and third solos as they finally get clearance to land. Another unusual occurrence follows; a second set and mostly mundane "Attics of My Life." All is not lost as its Chuck Berry's thumping "Promised Land," followed by one of the Garcia-Hunter Grateful Dead anthems, an extended (8:44) "Uncle John's Band." At this point the set is nearly ninety minutes deep, but the band jumps on-board for the locomotion of "Casey Jones," ending their set. But it's not time take the Path subway back to Manhattan yet, walking back onto the stage Garcia says 'thanks a lot people," then Weir introduces "Well the joint was jumping" encoring with another merry Berry rocker "Around and around." Away they go with Garcia taking it up several notches on his second solo doing his best Berry impersonations with one more rocking and rolling fling before it was time to go home.
This show was recorded nearly forty-three years ago, and while 9/27 was a good one, but I think the next night was best. Checkout the soundboard tapes at: https://archive.org/details/gd72-09-28.sbd.bill.12657.sbeok.shnf and note the listener comments comparing 9/27/72 to the brilliant insanity that took place at the Stanley Theater on 9/28/72. How do I know this? I was there in the Stanley balcony on 9/28; a night that forever changed my musical views for life. Incredible!
The rear cover of "Dick's Picks 11" carries the following, Caveat Emptor: "This release was digitally mastered directly from the original half-track 7.5 IPS analog tape. It is a snapshot of history, not a modern professional recording, and may therefore exhibit some minor technical anomalies and the unavoidable effects of the ravages of time."
For 16 years Bob Putignano has been pivotal at WFDU with his Sounds of Blue radio show (Wed. & Fri. 9am-1pm) www.SoundsofBlue.com – 2015's most pledged to ($21,000+) radio program at http://wfdu.fm Previously a contributing editor at Blues Revue, Blueswax, and Goldmine magazines, currently the Music Editor for the Yonkers Tribune www.YonkersTribune.com – www.MakingAScene.org & www.wfdu.fm/Whats-Happening/Bob's Music Reviews/bobs music reviews/ Bob was the 2003 recipient of the "Keeping the Blues Alive" award (given by the Blues Foundation in Memphis) for his achievements in radio broadcasting. Putignano can be contacted at: [email protected]