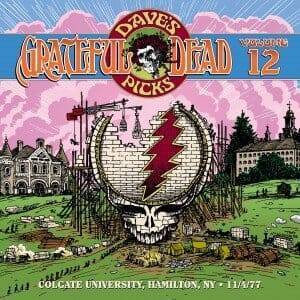 Grateful Dead: "Dave's Picks Volume 12," 3 CD's, Hamilton, NY (discs 1 & 2) Toronto, Canada (disc 3.) www.Dead.net – www.Rhino.com
This twelfth edition is taken from the band's performances at Colgate University in Hamilton, NY on November 4th, 1977 plus a third disc of (bonus) material recorded two days prior in Toronto, Ontario.
Only fourteen-thousand copies of this album were available for pre-order at www.Dead.net – this release sold out quickly. The late Dick Latvala's (Dick's Picks series) liner notes are (kindly) included for this concert saying: "this show must have destroyed everyone's mind, with the unique material specifically "Dupree's Diamond Blues," and "Iko Iko." One can easily tell that this was a special occasion by the way Lesh carries on at the beginning of the second set. There's a real fine transition between "Playing in the Band," and "Eyes of the World." We should also mention that this was an unusually intense "The Other One." While I've always respected Latvala I do not completely agree with his opinions here.
Disc one opens with a spirited "Bertha" that transitions (with Lesh's thumping bass lines) into an equally hot "Good Lovin'," Garcia's sharp, but I found that the drummers were recorded high in the mix, otherwise Betty Cantor-Jackson's recording is clean and beautifully detailed. Jerry displays super clean tone on "Brown-Eyed Women;" his signature vocals is also strong. Again Garcia sparkles on "Cassidy" with playful yet perceptive soling. Dusted off from the ashes "Dupree's Diamond Blues" makes a rare appearance that's clunky sounding but it always was, it's notable to mention that Jerry missed one of his lyric cues. The clear highlight from disc one is an earth-shattering "Let It Grow" thirteen plus minutes of soaring guitar from Garcia that's decisive and determined – appropriately closing their first set on a very high note. Next is Weir's arrangement of the traditional and punchy "Samson and Delilah" that somewhat segues into "Cold Rain and Snow" (this is upstate New York in November) where Garcia's vocals start to sound badgered.
Disc two is nonstop (seventy-four minute) segment that starts with "Playing in the Band" the band almost immediately drifts and dozes into a long soft and spacey jam that eventually strolls into a glistening "Eyes of the World." The Dead ignites with superlative twists and turns as Garcia runs wildly at torrid speeds, but as the band shifts to the repetitive "Estimated Prophet" things start to breakdown. Following Estimated Prophet is a very short (4:25) "The Other One" that is almost as meaningless as is the (also short) drum solo. Out of the drums comes "Iko Iko" that's nothing more than a watered down and slower "Not Fade Away." "Iko Iko" roams to a crawling "Stella Blue" that's far too long at almost twelve minutes, then back to a reprise of "Playing in the Band," where the good news is that there's no Donna Godchaux tribal screams.
Disc three is taken from a show recorded in Toronto two days prior. The emcee says "welcome to San Francisco." Was that announcer the future mayor of Toronto Rob Ford? Just kidding… "Promised Land" starts the show well enough, but "They Love Each Other" is a slow crawl offering zero creativity. "Me and My Uncle" plods and picks up some steam as they move into a focused and somewhat potent "Big River." "Candyman," "Looks Like Rain," and "Ramble on Rose" are all first set sounding and forgetful renditions. "Scarlet Begonias" conveys optimism until Donna start to moan and groan as they make their way towards their usual "Fire On the Mountain" without any fanfare. From their (than) latest recording the band closes with the title track (never one of my favorites) "Terrapin Station" where it's noteworthy to mention the marginal applause from the audience, even when Weir says good-night. Note: Given the cool audience reception and the lackluster Toronto performance; I'm doubtful that the concert promoter was rushing backstage to rebook the Dead for a future Ontario show.
In summary there's a lot to like on this final edition of the 2014 Dave's Picks series, especially on the first two CD's. But it should have been just a two CD collection, not three. As I suspect that the third disc (the Toronto performance) won't find many Deadheads looking to replay disc three.
For sixteen years Bob Putignano has been pivotal at WFDU with his Sounds of Blue radio show (Mon. & Wed. 9am-1pm) www.SoundsofBlue.com – Previously a senior contributing editor at Blues Revue, Blueswax, and Goldmine magazines, currently the Music Editor for the Yonkers Tribune www.YonkersTribune.com – www.MakingAScene.org & www.wfdu.fm/Whats-Happening/Bob's Music Reviews/bobs music reviews/ Bob was the 2003 recipient of the "Keeping the Blues Alive" award (given by the Blues Foundation in Memphis) for his achievements in radio broadcasting.
Putignano can be contacted at: bob8003@yahoo.com
Bob Putignano: www.SoundsofBlue.com Wed. & Fri. 9am-1pm: http://WFDU.fm Now celebrating 15 + years on the air in the NYC area Music Editor: www.yonkerstribune.com, www.makingascene.org & wfdu.fm/Whats-Happening/Bob's Music Reviews/bobs music reviews/