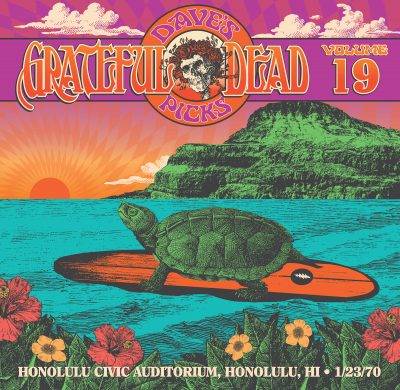 Grateful Dead "Dave's Picks Vol. 19" Honolulu, HI – 1/23/1970 (3CD's) www.Dead.net – www.Rhino.com
Even though the front cover states (Honolulu Civic Auditorium, Honolulu, HI: 1/23/70,) this three CD box-set collects (on discs one and two) performances from Jan. 23rd. But disc three is entirely dedicated to the second Honolulu performance on Jan 24th at the same Hawaiian venue.
Disc one: Opens with a sharp sounding "China Cat Sunflower" that segues to its most often utilized (traditionally arranged by the Grateful Dead) "I Know You Rider," (Lesh's backing vocals are atrocious,) as the band completes a rare trifecta shifting to the Bluesy "Black Peter," which was about to be released on their well-received "Workingman's Dead" album. Garcia breaks a string and Weir decides to fill the time spending three minutes telling lame jokes titled "The Yellow Dog Story." I don't know why Dave's Picks producer (David Lemieux) allowed this segment to be included? It's beyond my comprehension and is nothing more than a wasted filler track. Fortunately Pig Pen takes control and unleashes a sizzling, but short (5:41) "Hard to Handle" authored by Otis Redding. Next is an uneventful cover of Merle Haggard's "Mama Tried," then there's a tape meltdown during "Casey Jones" (also from "Workingman's Dead") which inexcusably vaporizes at a little less than ninety seconds. Begging the question: Hey Lemieux; what are you thinking by adding these uneventful pieces, do you really think there's added value? Where's Dick (Dick's Picks series) Latvala when we need him??? Also from "Workingman's Dead" Garcia and Hunter's "Dire Wolf" is pretty cute especially during the intro you'll hear a couple choruses of "Gonna Find Her." Pig Pen and the band rumble on "Good Lovin'" these older versions are different than later day Weir covers of the same tune. After a short and catchy instrumental intro and Pig's vocal, the drummers take a brief solo, then Garcia joins in with Lesh and Tom Constanten's organ creating a nifty instrumental jam climaxing with Pig's closing "Good Lovin'" vocal reprise. Closing disc one is a complete "That's it for the Other One" logging in at nearly twenty-two minutes long. There's another slightly longer drum break that sets-up Lesh's thundering baselines that introduce the jam segment. This "Other One" piece is faded out during a transition towards the beginnings of "Dark Star" on disc two. So was this two sets from this night – or one long performance? The liner notes do not offer any clues, and Lemieux's two and a half page essays are not specific, and speak in general terms about these concerts. It would have been nice to know the flow and order of these performances – which really isn't too much to ask.
Disc two: Starts with fading from "The Other One" on disc one and fading into the nearly nineteen minutes of "Dark Star" which is not erratic or chaotic and is melodically tender and trippy, though some of the vocal passages are dreadful. Following "Dark Star" is a powerful but relatively short "St. Stephen" (5:02) upshifting to Pig Pen's reading and ramblings on "Turn On Your Lovelight" which is (at times) a tour-de-force performance that accelerates, decelerates, and fascinates for a few ticks above the thirty-eight minutes mark. "Lovelight" concludes disc two as a non-stop one hour and two-three minute jam. At the conclusion, there's no goodnight's from the band, and the liners don't indicate, but I'd have to assume that this was the set ending tune for the January 23rd show. But I'm not certain if my assessments are correct, as there's no indication(s) within the booklet or via track-list/playlist.
Disc three: This time the track-list specifically state that all of the performances on disc three are from January 24th, but no specifics about if any of the songs were taken from the first or second set or if there were two sets? Again from the soon to be released album "Workingman's Dead" the lively "Cumberland Blues" introduces disc three in highflying fashion, but someone needs to turnoff Lesh's vocal microphone. "Cold Rain and Snow" bounces along for about five and half minutes feeling like a first set entry, as does "Me and My Uncle." But how about Pig Pen dusting off the Blues classic with his harp and vocals on "I'm a King Bee." It starts slowly then picks up steam but doesn't really hit the mark, probably why this tune was rarely covered afterwards by the band. Also seldom performed; the energetic "Mason's Children" authored by Garcia, Weir and Hunter; leaves a strong impression but doesn't explain why this song basically disappeared and fell off their radar screens. This "Mason's Children" seriously kicks butt, and is easily the best tune from this three disc box-set. "Mason's Children" had been previously issued on "The Golden Road" box-set, and on the expanded edition of "Workingman's Dead" on Rhino. OK; did we really need a second "Black Peter" on disc three?" But I did enjoy the second (but almost four minutes shorter) "Good Lovin'," especially with Lesh's rambunctious bass lines that energize Garcia's high-speed guitar passages. Unfortunately this rendition fades out without a conclusion and probably explains why this take was shorter than disc one's version. These last two tunes (from whichever set) gave the impression that the second night (January 24th show) was sparkier and more on point and focused than the first night. There's yet another fade in for a short (1:26) "Feedback" that lands onto the traditional "And We Bid You Goodnight," as Garcia tells the audience; "that's your groove take it with you." Ah but there's one more: "Dancing In the Streets" (9:18) is heady, funky and fun, and must have ended their January 24th second Hawaiian night set as Garcia says "thank you, thank you, see you all later."
In summary: Was the Weir monolog, the abbreviated version of "Casey Jones," and the second "Good Lovin'" on disc three, plus repetitive takes of "Black Peter," and that same third disc second version of "Good Lovin'" where the volume was faded down, and other fade ins and outs necessary for this three-disc set? These strange occurrences certainly leave an awful lot to be desired. So how about new Grateful Dead series that retires Lemieux from his duties at Dave's Picks, giving someone else a chance to take-over the Dead's archive vaults for future releases? Unfortunately folks like Dick Latvala and Owsley "The Bear" Stanley are gone, but there are others like Eileen Law and perhaps Richard Loren can handle these releases without gaffs like the multiple missteps on Dave's Picks 19. Though I must say; that through it all Volume 19 has several powerful performances and statements by the Dead. And for those (albeit limited) positives – are worth the price of owning this three disc box-set.
*Bear/Owsley Notes: These two shows from the Honolulu Civic Auditorium took place on consecutive nights – both shows were recorded by the legendary Augustus Owsley Stanley who was also known as Bear. Owsley was an American audio engineer, soundman and chemist, Owsley was also known to be the first individual to manufacture more than ten million doses of LSD that were called "Owsley Acid." Additionally he was the brainchild of the incredible Wall of Sound concert system, which was the largest concert sound system that anyone ever designed, built road-tested and toured with in 1974. This Wall of Sound was so enormous to transport – it almost bankrupted the band, but the sound was magnificent even at large outdoor arenas. For more about Owsley visit: www.TheBear.org Owsley is no longer with us but you'll find some fascinating essays and views offered by the man himself.
Personnel: Jerry Garcia: guitar, vocals; Bob Weir: guitar, vocals; Phil Lesh: bass, vocals; Ron "Pig Pen" McKernan: harmonica, percussion, vocals; Tom Constanten: keyboards; Mickey Hart: drums; Bill Kreutzmann: drums.
For 17 years Bob Putignano has been pivotal with his Sounds of Blue radio shows. On-demand Homegrown Sounds of Blue internet radio shows can always be found at: www.soundsofblue.com/radioshowsmp3.htm Sounds of Blue also streams on Wed & Fri at John Sinclair's www.RadioFreeAmsterdam.com Previously a contributing editor at Blues Revue, Blueswax, and Goldmine magazines, currently the Music Editor for the Yonkers Tribune www.YonkersTribune.com & www.MakingAScene.org Bob was also the 2003 recipient of the "Keeping the Blues Alive" award (given by the Blues Foundation in Memphis) for his achievements in radio broadcasting. Putignano can be contacted at: BobP@SoundsofBlue.com