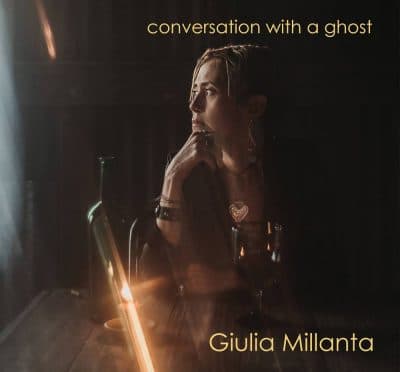 Giulia Millanta is a cosmopolitan Americana artist. Her newest album "Conversation with a Ghost" is crisp and refreshing. The melodies are masterfully executed. Each instrument is selective in accentuating Giulia's ethereal vocal. As expected from having a "Conversation with a Ghost", the tempo and vibe of the songs are hauntingly familiar. https://www.giuliamillanta.com/
"Conversation with a Ghost" is a wonderfully produced album. Each part is integral to the whole of the song. The title track balances delicate vocal with sparse yet intricate melody. "Lila (Spread Your Arms)" is intriguing with its rustic drum contributing a nice grooving beat, the dance between Spanish and electric guitar, and a backing vocal that is perfectly understated. "Lila" epitomizes Americana. "Blinded by the sun" is another favorite with its somber horn, groovy drum and a backing vocal that becomes more of a reverberated instrument of the rhythm section. "Expiration Date" is beautiful in its rambling acoustic, pedal steel, and bass, supported melody. "Enough is Enough" with its driving drum and horns give a slight hint of surfer rock. The songs encompassing this album are diverse, timeless, and inventive.
"Blinded By the Sun" music video
Linguistically agile, Giulia Millanta effortlessly blends language throughout the album. A singer songwriter, her songs are diverse, attributed in part to Giulia being a native Italian from Florence who moved to Austin, TX in 2012. Learning to play guitar at eight set her on her musical journey early. Having received the "New Sounds of Acoustic Music" award, Giulia gained endorsement by the renowned guitar makers Eko. As a musician, producer, writer and arranger, Giulia has released six solo albums and regularly tours throughout the USA and internationally. An accomplished guitarist, Giulia also plays ukulele.
The album "Conversation With A Ghost" produced by Giulia with Gabriel Rhodes (‪Willie Nelson‬, ‪Billy Joe Shaver‬), and recorded live with two of Austin's finest: bassist Glenn Fukunaga (‪Dixie Chicks‬) and drummer Dony Wynn (‪Robert Palmer‬) who have also been playing in her band for the last few years. The album also features the talents of electric guitarist ‪Marc Ribot‬ (‪Tom Waits‬), Joel Guzman (‪Paul Simon‬) on accordion, on horns John Mills (‪Aretha Franklin‬, ‪David Byrne‬) and guitarist David Pulkingham (‪Patty Griffin‬), guitarist and multi-instrumentalist Gabriel Rhodes and lastly Kimmie Rhodes sings background vocals.
"Conversation With A Ghost" to be released on Ugly Cat Records on June 22, 2018. A summer US tour followed by dates in the UK and Europe will see Giulia through the fall of 2018.
– Viola Krouse
[amazon_link asins='B07CPKFJX1,B00J5S1GWO,B004HLCU42,B01KP5BT0O,B00YBL5QKS,B07C6JH367,B00X57T36W,B014B669XK,B07CPNKTXF' template='ProductCarousel' store='maasc-20′ marketplace='US' link_id='55a91840-722d-11e8-8e92-dff1ce7f0874′]